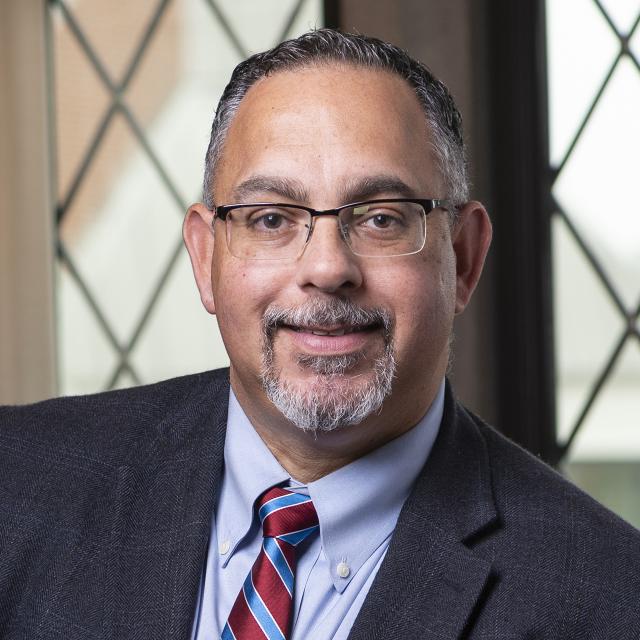 Education
College of the Holy Cross, A.B.; Yale Divinity School, M.Div.
Hobbies/Interests
Rowing, fishing, gardening
The Reverend Michael Spencer serves as Vice Rector for Faculty. He earned his A.B. in philosophy/classics, magna cum laude, from the College of the Holy Cross. After completing coursework in Yale's Teacher Education Program, he received his Master of Divinity, summa cum laude, graduating from Yale Divinity School as the ranking scholar. He subsequently earned a Certificate in Anglican Studies from Berkley Divinity School at Yale completing coursework for the Master of Sacred Theology. Reverend Spencer also holds a Certificate in School Management and Leadership from Harvard Business School and Harvard Graduate School of Education. He is currently pursuing his Doctorate in Educational Leadership from Virginia Theological Seminary.
After college, Reverend Spencer decided to try a brief stint teaching as an intern in the Advanced Studies Program at St. Paul's. That experience changed the direction of his life. After working at Tabor Academy and the Milton Academy summer programs, he went on to The Taft School where he served for ten years as school chaplain and dean of spiritual life and as founder and director of the Humanities curriculum integrating, Philosophy, Religion, English, and Ethics.
In 2007, he joined the St. Paul's faculty as dean of chapel and member of the Humanities Department. As dean of chapel, he developed a dynamic ministry and distinctive cathedral model for chaplaincy: expanding initiatives, establishing interfaith and Episcopal programs, developing new local and global outreach partnerships, and deepening the integration of social justice, diversity, environmental stewardship, and arts into school ministry.
Appointed as dean of faculty in 2015 and subsequently as Vice Rector for Faculty in 2017, Reverend Spencer's work has included revising the hiring process to incorporate data-driven assessment, reviewing school policies and procedures to strengthen healthy culture and deepen faculty training, developing a comprehensive instrument to assess workload and track professional learning, engaging in strategic planning for the School, and serving as co-chair of the community conduct board, school accreditation, and on many other committees. As a Cape Verdean-American and first-generation college graduate, Reverend Spencer's lived cultural experience informs his personal and professional commitment to the work of diversity, equity, inclusion, and justice. He has led efforts to strengthen the diversity of the faculty, develop strategic direction for DEI initiatives, and move the school forward toward becoming a Beloved Community.
Nationally recognized for his work, Reverend Spencer served as treasurer of the governing board of the National Association of Episcopal Schools (NAES) and currently serves as secretary and chair of advancement. He is the author of published articles, sermons, and poetry including a curriculum in Applied Ethics. He has presented at many national conferences including NAIS, TABS, and NAES. A former delegate to the International Parliament of World Religions, he served on the Graduate Council of Berkeley Divinity School at Yale, and on the board of directors for Forward Movement Publications.
Nurturing his passion for rowing which began as a four-year member of the varsity heavyweight crew in college, Reverend Spencer developed a successful rowing program at Taft, culminating in its first New England Interscholastic Rowing Association (NEIRA) championship, before coaching many medal-winning St. Paul's crews including gold medal victories at NEIRA (2012, 2017, 2018, 2019), The Scholastic National Regatta (2014), The Reading Regatta in England (2014, 2017, 2019), and the Henley Women's Regatta (2011, 2014, 2017 and the 2019 Peabody Cup Champions) where he coached the crew that recorded the second-fastest time in the history of that Henley event.
He lives on campus with his wife, Amy, their two children, and two energetic dogs. During the summer months, he serves as rector of St. John's Episcopal Church, a seasonal chapel on Fishers Island, N.Y.