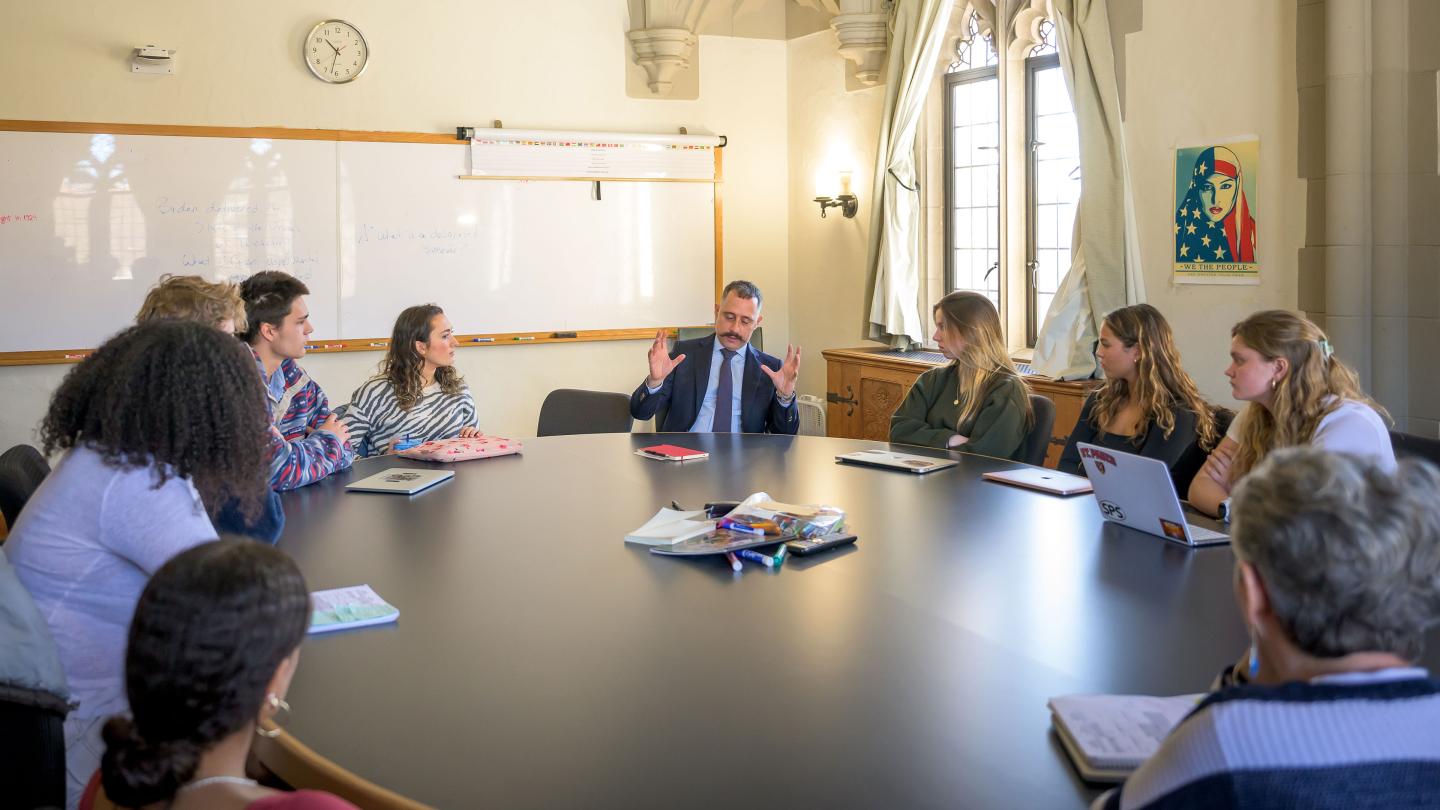 February 23, 2023
Brett Forrest '91 discusses journalism, politics, and his coverage of Ukraine during a daylong visit to SPS.
BY BARBARA K. PACELLI
On Feb. 10 — a day when news media were scrambling to cover Russia's offensive escalation in Ukraine and Ukrainian Volodymyr Zelensky's meetings with NATO leaders to request immediate increased support —Brett Forrest '91, a national-security reporter for the Wall Street Journal who has written extensively about the war in Ukraine, was far from the action. Instead, he was at his alma mater, where he first spoke in Chapel and later met with students to discuss his work and the role St. Paul's school has played in shaping his career.
Forrest opened his Chapel talk by describing a dynamic he frequently encounters: upon learning that he's an investigative journalist, people are eager to share information with him. Explaining that his first question for those would-be informants is always, "How do you know that?" he said he often discovers the information these individuals are sharing is not information at all, but rather rumor or hearsay. "These people can't remember where they heard it, they simply assumed it was true," he explained.
This [has] allowed me to make a fundamental conclusion: Our country is suffering from an epidemic of assumption. …even I am guilty of this," he said, adding, "but while most people have the luxury of assumption, I, as a reporter, have the responsibility to figure things out. I have also had the good fortune to travel widely and to bear witness to the world."
Forrest described his responsibility to bear witness in the context of being the first reporter to reach the Ukrainian town of Bucha in early April 2022, where he uncovered evidence of atrocities, including dead bodies, mostly civilians. Noting that his first-person accounts were a critical resource when the Russian government attempted to dismiss these atrocities as stage sets and propaganda, he then posed a hypothetical question to the SPS community: "Why should we care about this war?" He answered his own question by explaining that caring about the war in Ukraine is not only in our national interest, it also is in our human interest.
"This is what the education you are getting is all about — or should be: our human interest. In pursuit of [this], you all have a choice. You can be someone of opinion. Or you can be someone of substance. Aim high, question everything, be curious. Be your own investigator. Put down your phone and walk out into the world. Confront the world. Activate yourself. Seek information, banish opinion, eradicate assumption. Be substantive."
Following his Chapel talk, Forrest visited Chris Carter's American Politics class and Sarah Ludwig's Journalism class and participated in an open discussion hosted by Humanities teacher Josh Duclos. In American Politics, Carter opened with a question that her students were curious about: What should the U.S. government be doing in Ukraine? Forrest suggested that a good place to start would be reviewing what has been done. He and the students discussed the Pentagon's budget in relation to the amount of military support that the U.S. has given to Ukraine— since just before the war to now — and Forrest pointed out that it is roughly 3% "Ukraine is weakening our adversary for us, and we are paying relatively little for it," he said, but noted "that is one perspective." Indeed, when a student asked Forrest his opinion regarding whether U.S. President Joe Biden is doing a good job in terms of providing support to Ukraine, his response provided a different perspective: He noted that the United States and other countries are giving Ukraine the opportunity to help itself and proposed that the decision, thus far, not to send troops is wise.
Before Ludwig's class, Forrest perused recent editions of The Pelican, the School's student newspaper, which he was later invited to critique. The class discussion began with a student asking Forrest how he first got interested in journalism and he described assisting his father — a sports reporter — as well as an Independent Study Project with former Humanities Teacher George Carlisle. He told the class that Carlisle had given him free rein on the literature they covered and that their work together ignited his decision to be a writer.
When the conversation turned to work with sources, Forrest spoke about the importance of trust. "You want to get someone to trust you and you want to be trusted by that person," he said. Noting that he seldom has specific questions to ask sources, he explained, "My goal is not to interview; it is to have a conversation with somebody. And the goal is to listen but start to put elements together and guide somewhere to where [the] conversation needs to go. You should be in charge of the discussion, but also help the person calm down and become more himself or herself."
That approach was evident during Forrest's day on campus, as he put students at ease with his candor and engaged them in conversation that was both informative and thought provoking. "St. Paul's School gave me much," he said. "It stirred my desire for knowledge and gave me the confidence to pursue it."