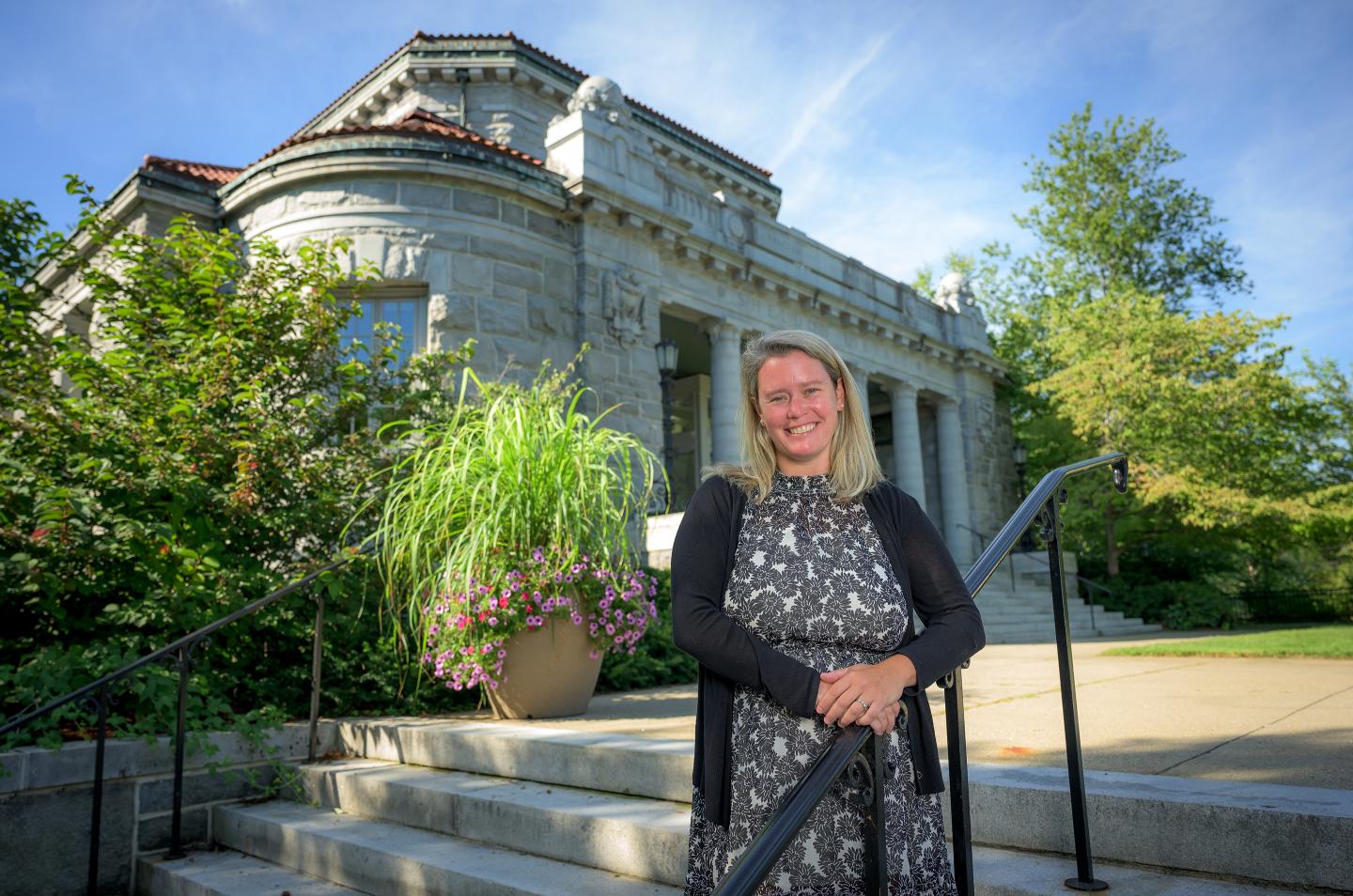 August 16, 2022
Dana Chapin Anselmi '98 joined the St. Paul's School faculty in June as the School's new dean of admission and financial aid.
When she and her family drove onto the St. Paul's School campus in late June with a moving truck in tow, new SPS Dean of Admission and Financial Aid Dana Chapin Anselmi '98 experienced a wave of emotion. A former form agent and member of a family of Paulies that includes siblings Lucy '02 and Seth '02, father John '66, late grandfather John '38 and both an uncle and a second cousin, Anselmi had been a regular attendee at reunions through the years, and St. Paul's was one of the first places she brought her husband, Donald, when introducing him to New Hampshire.
"The tree roots around Turkey Pond and the indents in the Schoolhouse steps seem more pronounced now, yet so much feels like it did in 1998," she says. "I pinch myself that I'm back in a place that played such a formative role in my development, and as I spend more time on campus, I feel a deep sense of belonging."
Anselmi realized early on that she was drawn to education. She spent many summers as a camp counselor, and both her undergraduate and master's degrees — from Middlebury College and George Washington University, respectively — include an education focus. Following stints at Santa Catalina School in Monterey, California, and Westminster School in Simsbury, Connecticut, she joins SPS from Berkshire School in Sheffield, Massachusetts, where she spent 12 years, most recently as the director of admissions. Returning to St. Paul's School, where her husband has also joined the faculty as associate director of the Advanced Studies Program, was a natural fit.
"I'm excited to reengage with a community that is familiar and also new at the same time," she says. "This is an exciting time to think with new eyes about how to help students build 'purposeful lives in service to the greater good.'" As an adviser and dorm parent — in addition to being mother to her own two boys, 7-year-old Hudson and 5-year-old Bridger — Anselmi says she's looking forward to high-fiving students in line at the dining hall, seeing them shine on stage or in the athletic arena, and talking deeply in the dorm.
As she prepares for the start of the school year and the 2022-23 admission cycle, Anselmi notes her gratitude for her Admission Office colleagues, including 2021-22 interim dean Derek Johnson, who returns to his role as an associate dean and director of multicultural recruitment. As her office begins the process of identifying and enrolling students who will live out the School's mission, she also expresses her appreciation for the leadership that has seen the School through some challenging times, particularly the School's 14th Rector, Kathy Giles.
Giles, for her part, is equally appreciative of what Anselmi brings to a critical role. In her message to the School announcing Anselmi's appointment, she noted, "Dana is impressive in her emotional intelligence as well as her analytic and leadership skills … She brings great experience as a 'school person' who has proven her ability to lead an admission and financial aid team on both operational and strategic levels."