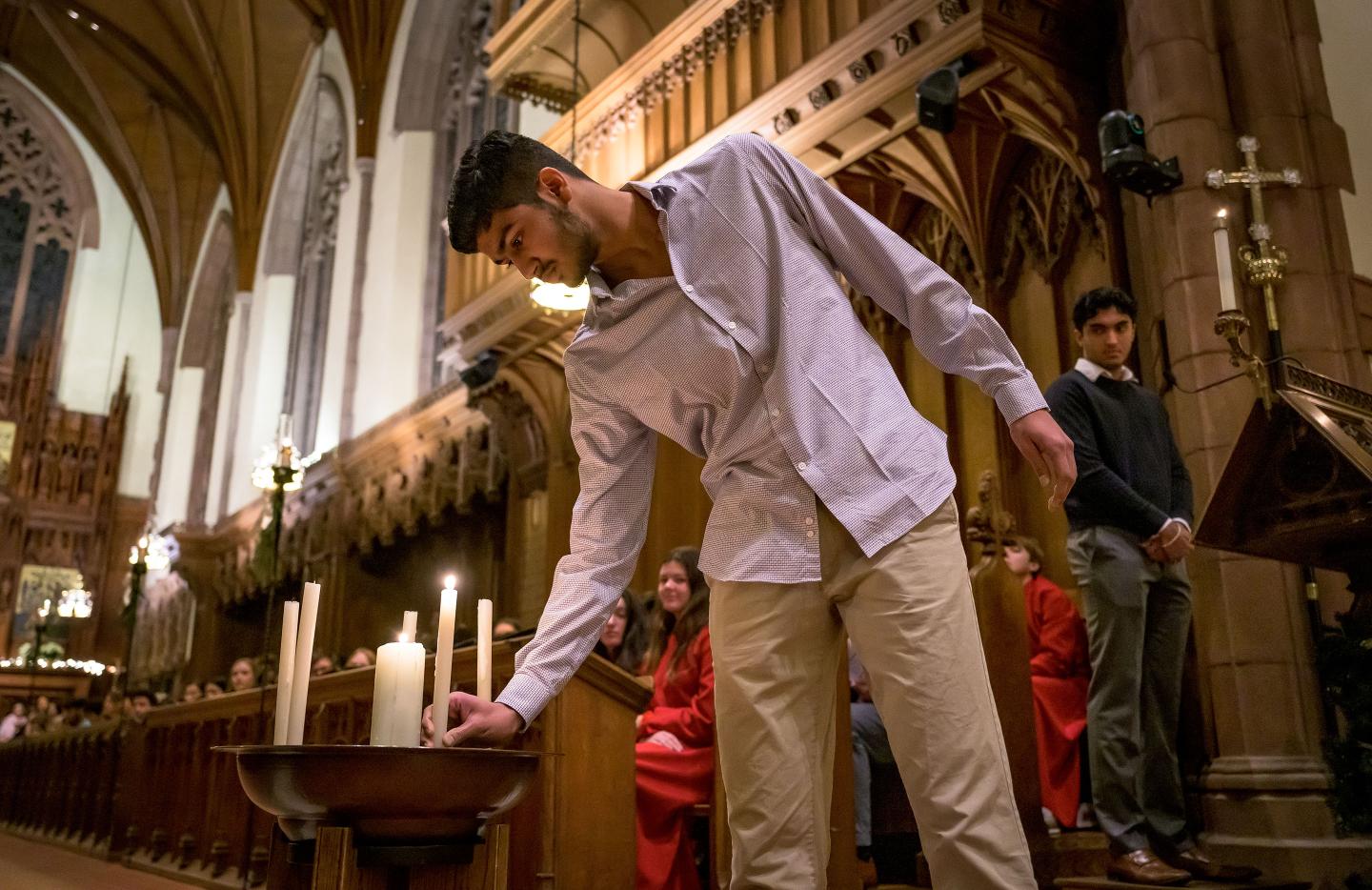 December 16, 2022
New SPS winter tradition celebrates different religions with stories, songs and candlelit rituals.
BY JACQUELINE PRIMO LEMMON
Jacketed and sweatered students and faculty, bundled up against the Millville cold following the season's first true snowfall, gathered in the Chapel for the inaugural Festival of Lights on the evening of Tuesday, Dec. 13. It would be one of the last times the whole School would congregate before the winter break, and the Chapel was brimming with anticipation of the holidays and vacation just around the corner.
"As we here in the Northern Hemisphere approach the longest night of the year next Wednesday, we are primed in the dark of this evening to watch the interplay of dark and light in our midst," began Chaplain Samuel Lovett at the start of the festival. "This service is an opportunity to consider the collective wisdom of light celebrations around the world that will be offered by students through words, music and ritual."
The Festival of Lights complements the annual Festival of Lessons and Carols, which was held for the 52nd time on Sunday, Dec. 11, and focuses on the Christmas story, with select readings, hymns and Christmas carols. The Festival of Lights — planned and coordinated over the past year by the Chaplaincy — brought Hanukkah, Islam, Diwali and Kwanzaa into the School's Chapel space, along with the Christmas story.
Awash in the glow of candlelight and the reverberations of cultural music, students shared origin stories of these traditions, all with an overarching focus on the triumph of good over evil, of darkness into light. Celebrations included the lighting of the menorah by the Hillel Society, the Hindu festival of lights, the divine light of Islam, the seven candles of Kwanzaa and the lighting of the Advent wreath.
"We were excited to offer the inaugural interfaith celebration of the Festival of Lights during this holiday season," says the Rev. Charles Wynder Jr., dean of chapel and spiritual life. "As an Episcopal school and interreligious community, we strive to foster an environment that promotes religious pluralism, increases religious literacy and supports the spiritual exploration and formation of all our students. The service created space, place and time for the students to share an array of stories and music about Hindu, Muslim, Jewish, Kwanzaa and Christian holiday traditions. It was moving to hear a unifying invitation through music and story for each of us to embody the light of peace, hope and love."
At the close of the festival and before the School gathered in the Upper for a holiday banquet, Rector Kathy Giles left everyone with a parting message: "The light that we kindle in our hearts and celebrate on this night shines in the darkness, and the darkness cannot overcome it. May the light that we radiate and reflect in our words and actions spread to all the darkest corners of this world, illuminate our paths and guide our feet toward justice and peace."