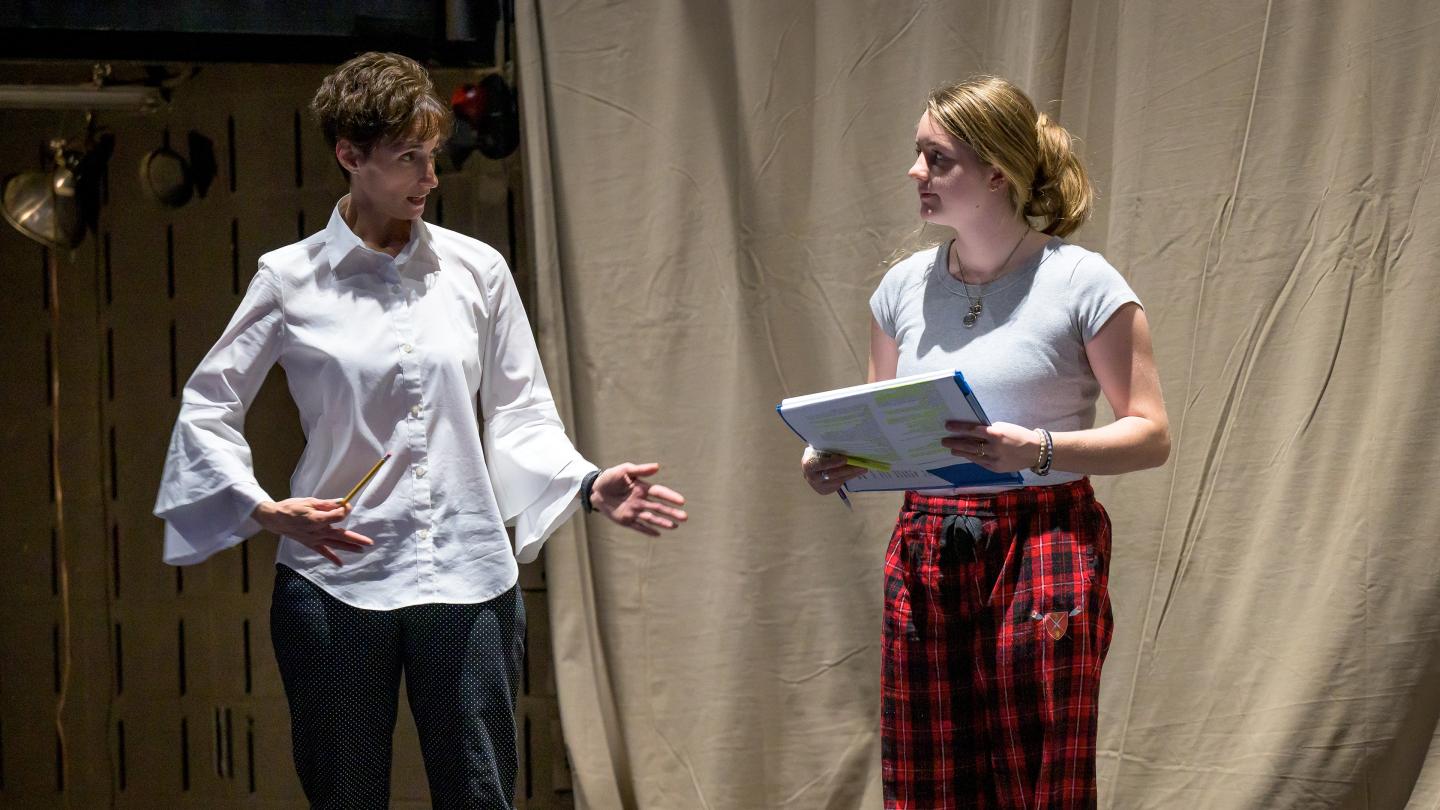 October 20, 2022
Director of Theater Kirsten McKinney taps into a deep background in acting, teaching and choreography — as well as students' sense of play.
BY KRISTIN DUISBERG
New Director of Theater Kirsten McKinney performed as Cassie, the lead character in "A Chorus Line," more than 100 times, earned two Tommy Tune awards for her work as a director and choreographer, and taught dance, theater and musical theater at the secondary school and college level for three decades before bringing her talents to St. Paul's School this summer. But she almost didn't go into theater at all.
"I first went to college to study marine biology — I love dolphins!" she says with a laugh. After high school, she had enrolled in a university in her hometown of Pittsburgh that had a strong marine biology program but not the level of arts offerings she had hoped would allow her to continue to pursue a passion for dance she'd followed since childhood. "Fortunately, my parents saw how miserable I was and suggested I take a year off to rethink my trajectory," she adds. "And then I got into the Boston Conservatory, and it changed my life completely."
McKinney transferred to the conservatory with the intent to focus on choreography, and as a senior became the first student to choreograph a main stage show. Her considerable experience as a performer — her very first audition was for the show "Gigi," and she was cast in the title role — came about out of a desire to understand what actors experience in order to provide them with better choreography. After graduation, faced with a choice between performing as "Chicago" bad girl lead Velma Kelly and work as an assistant choreographer for a "really good" summer stock theater and teaching acting, dance and choreography for the summer theater program at the Walnut Hill School for the Arts in Massachusetts, McKinney took the latter route — and ended up spending 23 years at Walnut Hill.
"It was a hard choice, definitely," she says. "But my junior year in high school, someone had asked me what my dream job was, and I'd said, 'I want to teach at a performing arts high school and I want to choreograph.' And so as difficult as it was to turn down that one opportunity, it was a chance to follow my dream, and I was incredibly lucky that that path was open to me so quickly."
Following her tenure at Walnut Hill and stops at schools in Texas and Virginia where she taught theater, dance, acting and choreography, that path brought her to SPS in July. Halfway into the Fall Term, she's already implemented a number of new initiatives in the Theater Department, including a tiered casting system aimed at making the theater program more broadly accessible to the student body.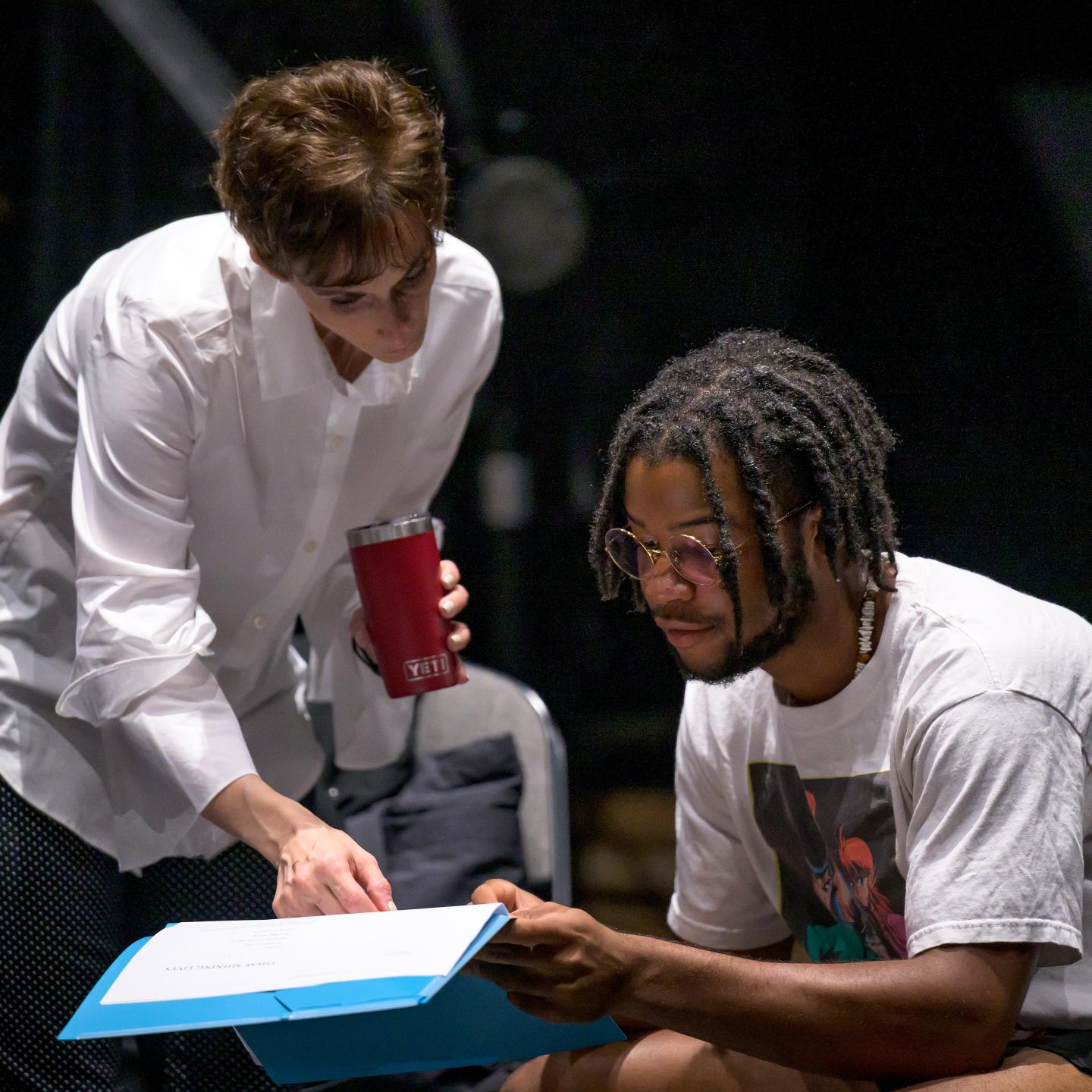 Tiered casting will allow students who have other afternoon commitments to still take part in theater, either in smaller roles that only require a few evening rehearsals per week, or through additional technical opportunities"
— Kirsten McKinney
This initiative, she says, is in direct response to feedback she got from students during her interview process, who had expressed a desire for the SPS theater program to be more visible and inclusive. For the most part, afternoon activities are either-or — a student can participate in afternoon athletics (including ballet) or they can do theater. "I've done tiered casting at my previous schools and it's worked really well as a way to bring the athletes on board, bring others on board who might not be able do afternoon theater because of other commitments. I'm sure it's not going to be perfect, but we'll tweak it as we go and see how the community responds."
In addition to tiered casting, which will debut with the Winter Term student-directed one-acts, McKinney has brought on the School's first Theater Teaching Fellow, Chloe Otterson, who specializes in dramaturgy and Shakespeare. She's also introduced a range of leadership opportunities for students — a student-led theater club, theater company captains and an artistic leadership team that includes student stage managers, assistant directors and assistant choreographers. The last of these roles will be realized in the spring, when McKinney and co. put on the School's first musical theater production since 2015.
Even the fall play, which will go on in the New Space theater during the weekend of November 11-13, has something new: a Sunday matinee performance. "We're doing 'These Shining Lives,' which is based on the true lives of four young women who worked for the Radium Dial Company in the 1920s and 30s as watch face painters," McKinney says. Literally poisoned by the work they were doing, which involved licking the tips of their radium-coated paintbrushes to create a more precise stroke, these women continued fighting for workers' rights even from their deathbeds — providing stirring testimony that is dramatized in the play. "It's a great story, and a timely one in talking about injustices and women's rights," she adds. "And we have some wonderful young actors bringing it to life on our stage."
Indeed, McKinney says the engagement and intelligence of the School's students has been one of the most exciting aspects of her new role at SPS. "Their love and passion for what they do is so palpable," she says. "And their intellect is just off the charts for this type of work, but they're also having the courage to try to open up their creative minds as well." That combination of intellect and creativity is also what appeals to McKinney about working with high school-aged students specifically. "I love this age group because they haven't lost their joy of play," she says. "They just need to be reminded of it."
If her first few months at SPS are any indication, McKinney is just the person for the job.