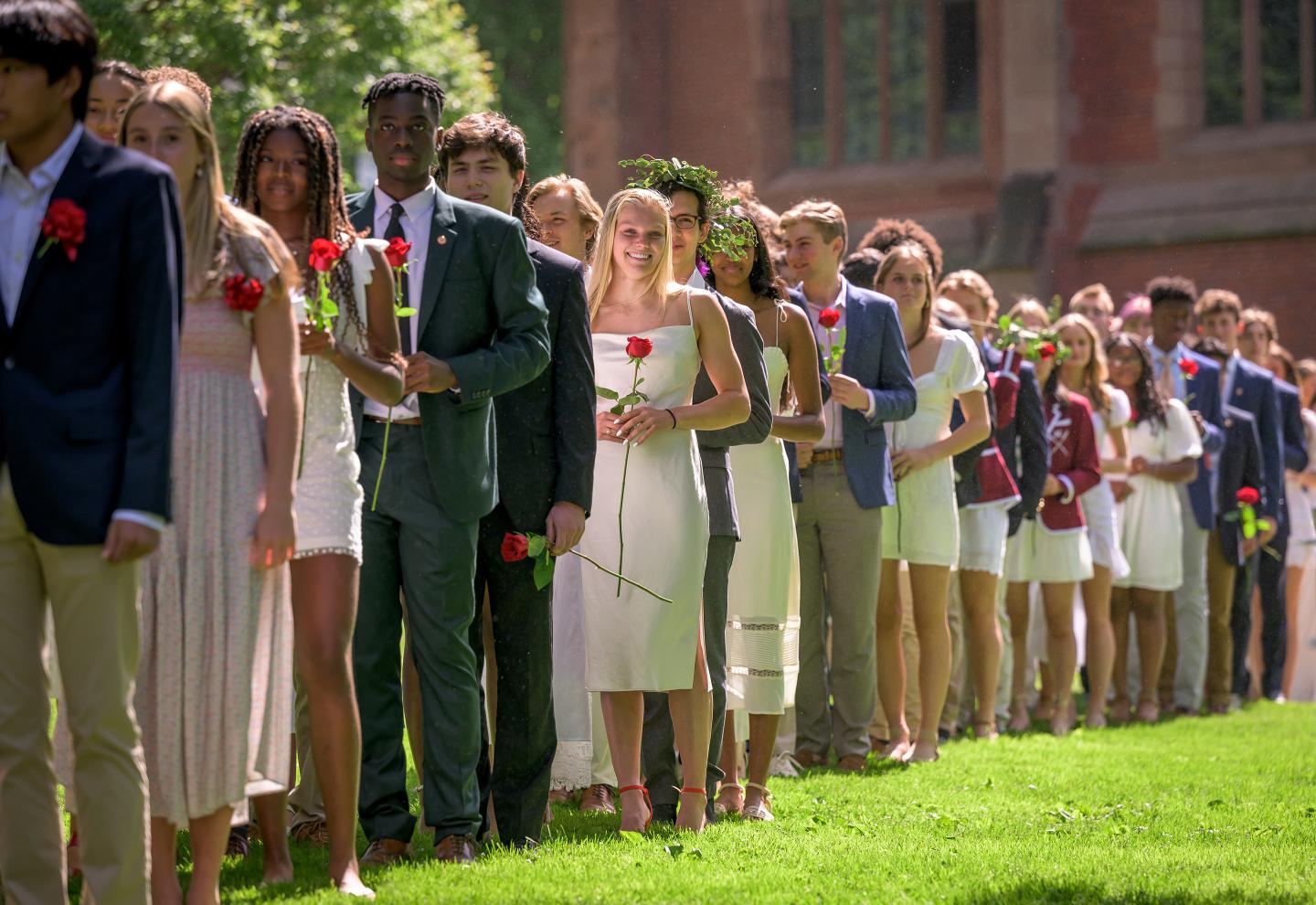 June 15, 2022
St. Paul's School graduates 146 members of the Form of 2022
On the morning of June 5, as "Pomp and Circumstance" accompanied the 146 members of the Form of 2022 out of the Chapel of St. Peter and St. Paul and across Graduation Lawn, the swell of emotion that rippled through the crowd was palpable. As much as that emotion was about the milestone event that was unfolding under picture-perfect conditions — clear blue skies and temperatures in the low 70s, a slight breeze stirring the trees that frame Lower School Pond — it also was about the anything but picture-perfect conditions the form had endured to reach that day.

"It is hard to even remember everything that has happened during these past four years," noted St. Paul's School Rector Kathy Giles. "The list of world events while you all have been here growing up is absolutely staggering." After outlining a list that included not just COVID-19 and climate change but also gun control, the #MeToo movement, Black Lives Matter, reproductive rights and much more, she concluded, "Form of 2022, you've been remarkable throughout the whole thing. You just kept on growing and learning. You just adjusted. Nothing could hold you back. Just being here today, with you, is huge cause for celebration."
Also cause for celebration was the fact that Graduation was the first in-person ceremony, with unlimited guests, to be held on Graduation Lawn since 2019. Families came from as nearby as Concord and as far away as the other side of the globe to participate in a weekend of events that included a traditional Baccalaureate service and Halcyon-Shattuck boat races as well as a first-of-its-kind Graduating Form Parade, and those who were unable to attend in person watched the Graduation ceremony via livestream.
In her Graduation remarks, Giles articulated her gratitude for the life of Teacher of Humanities Omar Brown, who died unexpectedly in January, and recognized three retiring community members: Director of Counseling Lisa Eberhart, Athletic Trainer Kelly Eaton and Teacher of Fine Arts Colin Callahan, who served the School for 39 years, most recently as head of the Arts Department and director of the Crumpacker Gallery. She spoke about the School Prayer as a beacon for how to live and how to treat others — a concept that had been raised at a memorial service for a SPS alumnus several weeks earlier, and then reiterated by Ted Landsmark '64 in his Baccalaureate address. "Our School Prayer demands that we be unselfish, compassionate and empathetic with our neighbors, and it comes from the tradition that defines everyone as our neighbor," she said.
Urging graduates to remember the line from the Prayer that reads, "Kindle in our hearts the honest purpose to do right," Giles closed with a charge for each student as they prepared to walk across the stage, receive their diploma and SPS Prayer Book and begin their lives as the School's newest alumni: "Take with you the joys of this life — the serenity of the ponds in the morning; the bells of the Chapel every 15 minutes; the sweaty practices, sleety and rainy meets and races and games, tough losses, hard tests, and long rehearsals; the range of experience you have lived throughout your time here, the growing and learning you have done, the lives of purpose in progress, the experiences you have shared that will continue to connect you as you and they ripen over time — take these with you and reflect on these things as you build good and honorable lives."
Echoing Giles' sentiments, Student Council President Eden Wright '22 shared her own reflections on the exceptional four-year journey of the Form of 2022. Noting the "perseverance, resilience and ultimate strength of this form," Wright said, "When our form was handed obstacles, we rallied together, as we always do, and found ways to push through joyfully … One of my favorite parts of the boarding school experience is simply how close you become with your classmates. … Oh, what a privilege we have had to grow with one another."
Many students received academic, community and athletic awards during Graduation or at ceremonies held earlier in the week. For a full listing, click on the stories below:
Graduation Week Presentations and Awards
SPS Athletes Recognized in Year-end Awards