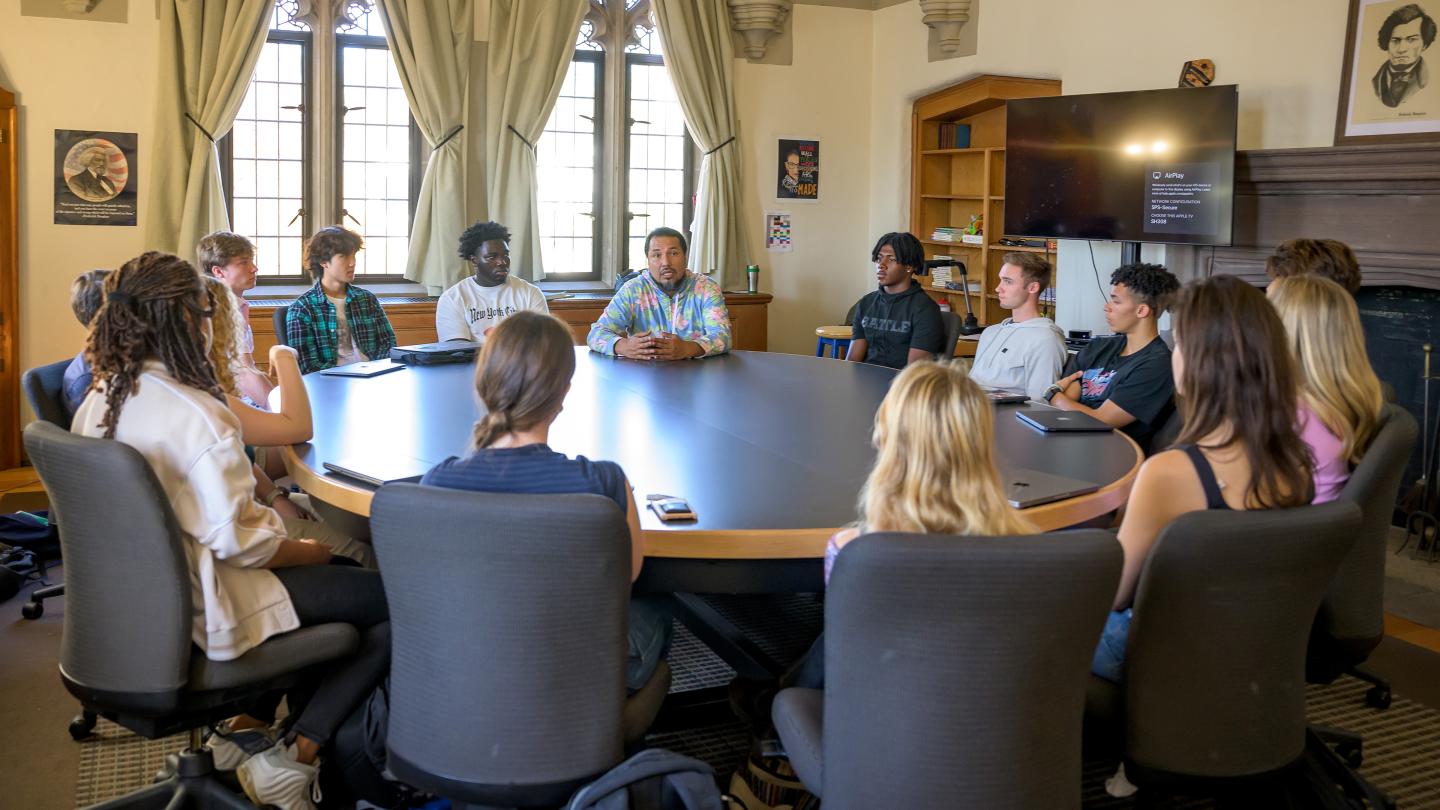 November 17, 2022
Guest speakers invite students to consider different cultural perspectives.
BY KRISTIN DUISBERG
Imagine an indigenous future.
Recognize that you can't solve problems using the same thinking that gave rise to them.
While differing in specifics, these two messages, delivered during two Chapels by guest speakers Adrienne Keene and Gyasi Ross, respectively, provided a common framework for discussions around the grounds as St. Paul's School kicked off its observation of Native American Heritage month. Keene, who visited on Nov. 1, and Ross, who spent the day on Nov. 7, shared their perspective as Native Americans, scholars and activists during Chapel Talks and in classroom visits. Both guests also stayed to share lunch and conversation with students and faculty.
A member of the Cherokee Nation and an assistant professor at Brown University, Keene is the founder of Native Appropriations — a blog that analyzes the way Indigenous peoples are represented in popular culture and addresses issues that include cultural appropriation in fashion and music and stereotyping in film and other media. In Chapel, she described autumn as the season of "bad native representation" — a time when football teams that use Native people as mascots get airplay, some citizens continue to refer to Indigenous Peoples Day as Columbus Day, and a romanticized view of Wampanoag/English settler relations is perpetuated in Thanksgiving marketing — but noted that remarkable progress has been made even since she began her blog.
"Twelve years ago, I couldn't have imagined the popularity of a show like 'Reservation Dogs,' or someone like Deb Haaland serving as the U.S. Secretary of the Interior," she said. "Realistic representation matters, and it is happening thanks in part to the work of Native activists and scholars." Inviting students to use Native American Heritage Month to imagine a future that holds space for Indigenous peoples in every field, she noted, "We are still here. We always have been here and always will be."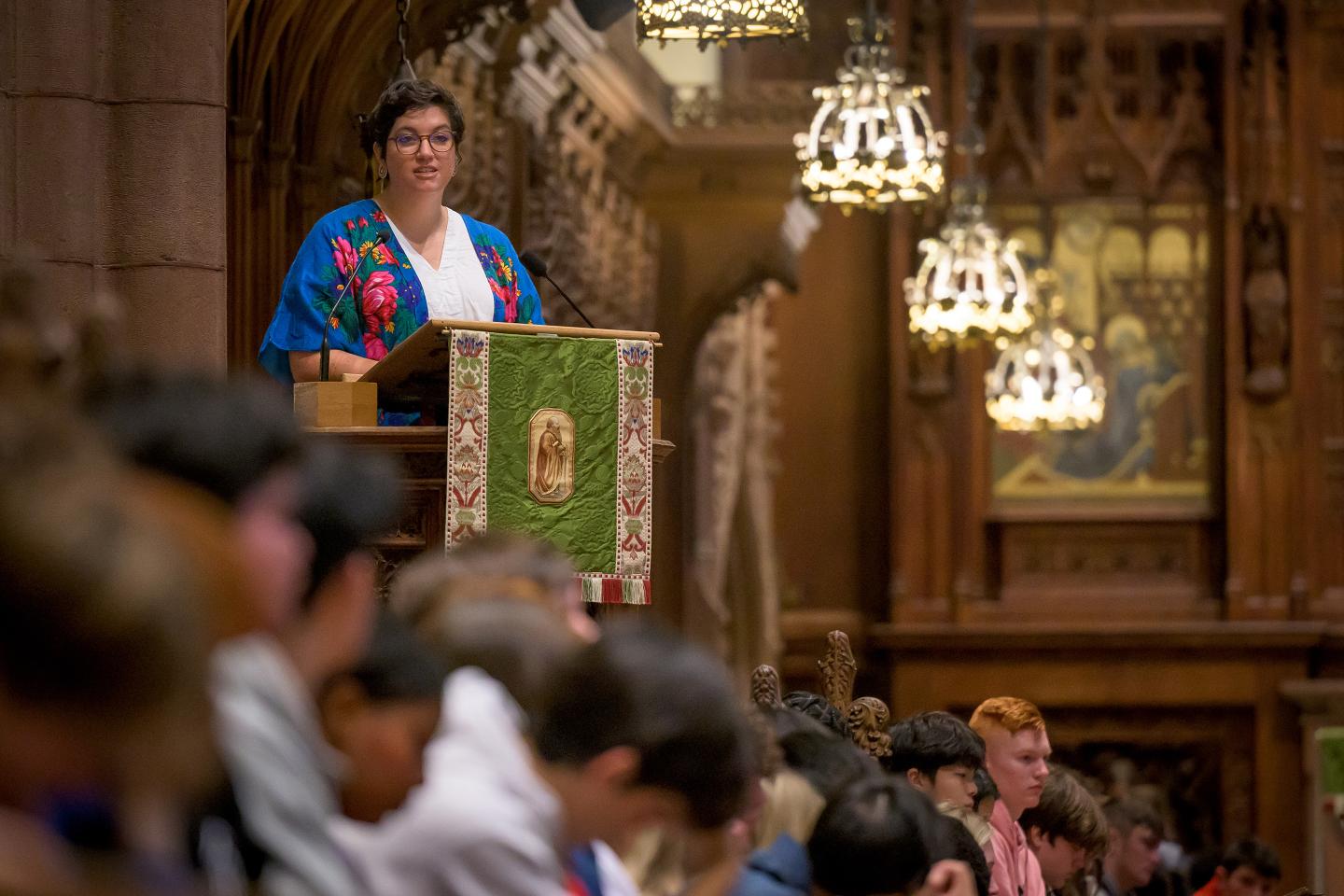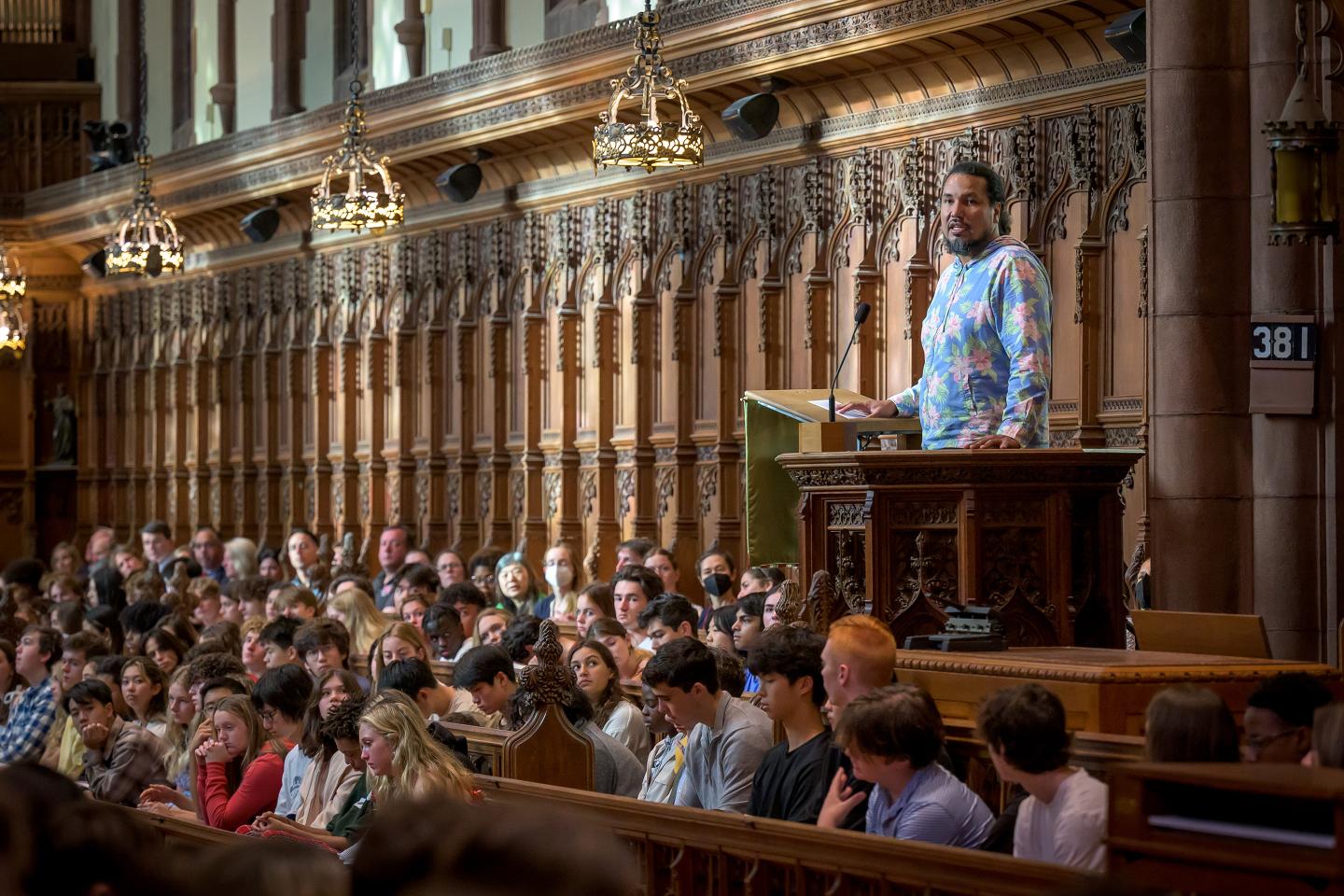 During his Nov. 7 visit, Ross took a personal approach, sharing stories both in Chapel and in classroom visits about his identity as a man of indigenous and Black heritage; his formative years on the Blackfeet Indian Reservation; and his journey through two community colleges, two tribal colleges and two universities to earn his undergraduate degree before earning a JD from Columbia University. An author, rapper, public speaker and storyteller as well as an attorney, he is the author of two books, the father of a teenage son and two younger daughters — and a firm believer in "creating strong visual cues for underrepresented people."
Sharing the story of his father's heroin addiction and incarceration following his military service in Vietnam with Rev. Sam Lovett's Religion, Race and Gender class, Ross explained, "I went to law school because I wanted the opportunity to be a small piece of breaking the cycle that my father fell victim to. I wanted to be the change my father didn't get." This, he explained, is just one example of what he means when he says it's important to recognize that you can't solve problems by using the same thinking that went into them — wisdom popularized by Albert Einstein. "It's easy to hate and to hurt, to be angry and frustrated," he added. "For me, breaking that cycle is about knowing the story behind the story."
For his part, Lovett appreciated the manner in which Ross' perspectives resonated with some of the broad questions that the SPS Humanities curriculum addresses. "Our religion electives look at how religions are embedded in culture, and the students in my course were able to see how the topics of Gyasi's talk — coaching youth sports, mentoring middle school students, and working as an attorney on behalf of those who need representation — involve rituals and ethical concerns that have historical and religious connections worth studying and understanding."