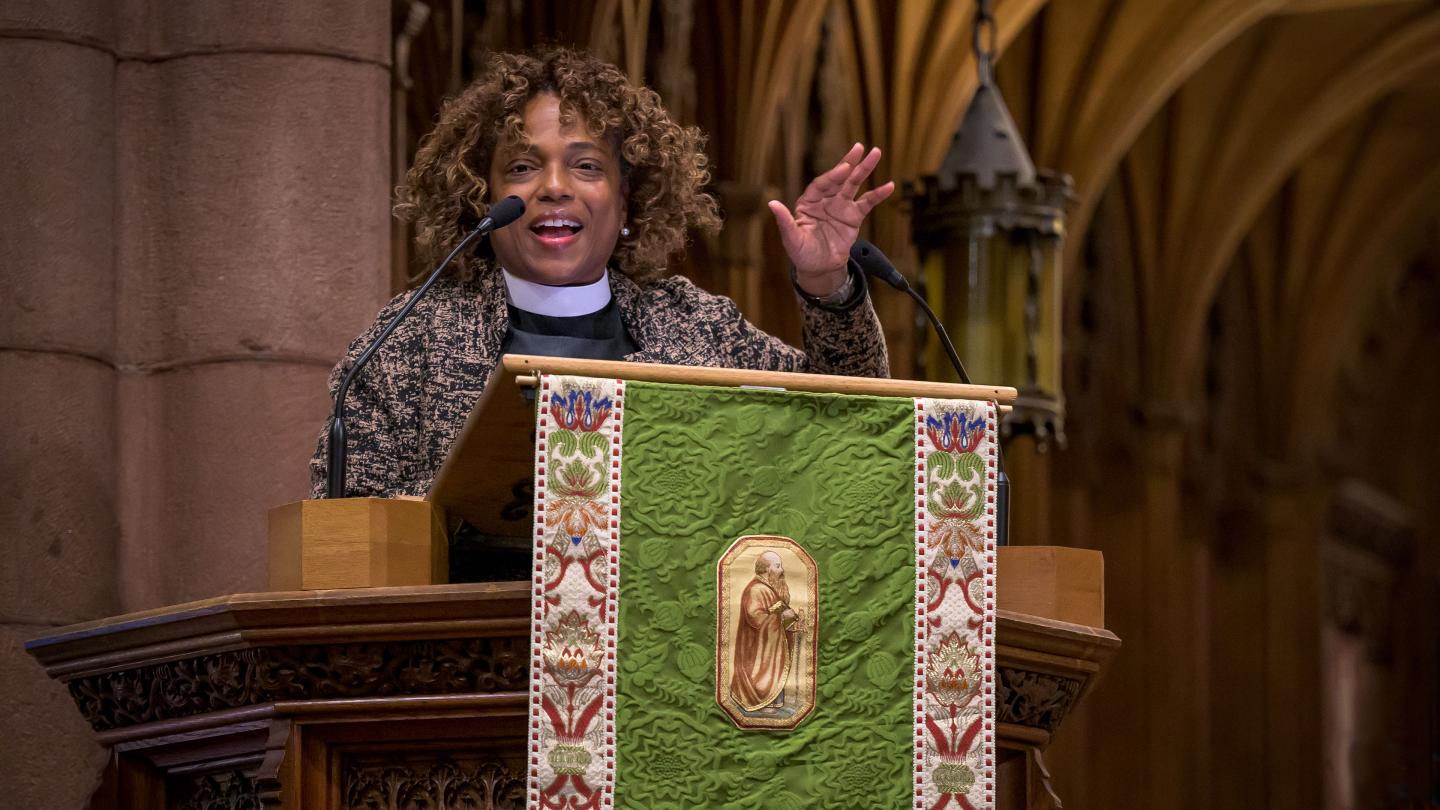 January 20, 2023
Keynote speaker, guest artists, dance and documentaries mark the day.
BY JACQUELINE PRIMO LEMMON
"This whole world will not know peace until every one of us recognizes how interrelated we are," said Rev. Melanie Mullen, the director of reconciliation, justice and creation care for the Episcopal Church, during a Chapel Talk honoring Dr. Martin Luther King Jr. on Monday, Jan. 16. In her speech, Rev. Mullen highlighted the connections between environmental/ecological rights and civil rights, noting that before there was an Earth Day, there were people marching and protesting for healthy working conditions, and Dr. King was among them.
Rev. Mullen's remarks followed a stirring performance of "Let My People Go" by Camerata Baltimore, a group that promotes the choral arts in underserved communities through performance, education and public outreach. The vocal prowess demonstrated by the group was rivaled only by the ancient sounds of the pipe organ as it accompanied the choir, the resulting swell of song filling the space.
A gentle mix of sleet and snow pinged against the Chapel's stained-glass windows as the School gathered to honor the life and legacy of Dr. King, and to reflect on the circumstances that led to his untimely death. The day's events included civil rights documentaries, faculty- and student-leader-led breakout discussions, an interfaith luncheon and additional performances by Camerata Baltimore in Memorial Hall.
Much of Mullen's work focuses on domestic poverty, racial reconciliation and justice and environmental stewardship. In her Chapel Talk, she said that the legacy of segregationist history extends to her own family in North Carolina. When they were making funeral arrangements for her grandmother, she said, her family became aware that even the cemeteries once were segregated: People of color were historically buried in cheaper land that flooded with each storm, washing away cemetery plots, while white graves were intact on higher ground.
"…And yet, I think Dr. King would tell us to still have hope," she said. "We have a history not just of pain, but a legacy of joy, of success, of overcoming."
It was the idea of this legacy that kicked off the documentary "Making Black America Episode 3: Through the Grapevine," which Fifth Formers viewed in the Captain's Room at the Hockey Center following Chapel. The Third Form screened "Backs Against the Wall: The Howard Thurman Story"; Fourth Formers watched "The Witness: From the Balcony of Room 306," and members of the Sixth Form screened "My Name is Pauli Murray."
Following their viewing of "Through the Grapevine," a group of 10 Fifth Formers met with Teacher of Science Rick Pacelli and Director of Diversity, Equity and Inclusion Initiatives Bethany Dickerson Wynder to reflect on what they had learned, what they want to do better and how SPS can be more inclusive of historically underrepresented students and faculty.
"People have more power as a group than they think," said Armaan Arora '24 when asked what he took away from the film. He cited the example of the 1955–56 Montgomery bus boycott and protesters' realization that they could have a "real effect and influence over the problem they were trying to solve if they could work together, and people started realizing they had to do their part to make change."
Valentina Barletta '24 said a major takeaway for her was the reminder that even desegregation was not always carried out with pure intentions: the Negro baseball leagues made a lot of money, and that was a key rationale behind white leagues integrating in the 1940s.
When the discussion turned to what improvements students would like to see at SPS, Jaeleen Baffour '24 said they'd like to see their peers get as excited about affinity events as for athletic contests. "It's really fun to learn about someone else's culture; you're having fun and learning at the same time, and that's what we're here to do at St. Paul's," Baffour said. But when it comes down to what each of us can do as individuals in the SPS community, Kaz Maksymowicz '24 said the most important thing is simple: just listen.
Following the documentary viewings and discussions, students had the option of attending an inaugural interfaith luncheon before an encore concert by Camerata Baltimore in Memorial Hall that saw the entire student body — as well as faculty and staff — up on their feet, dancing and clapping to a setlist that included the Black national anthem, "Lift Every Voice and Sing." The energy was electric as students made their way to Raffini Commons for birthday cupcakes and ice cream, in honor of MLK, of course. Because, as Rev. Mullen said at the closing of her Chapel Talk, "I have so many reasons to rejoice."