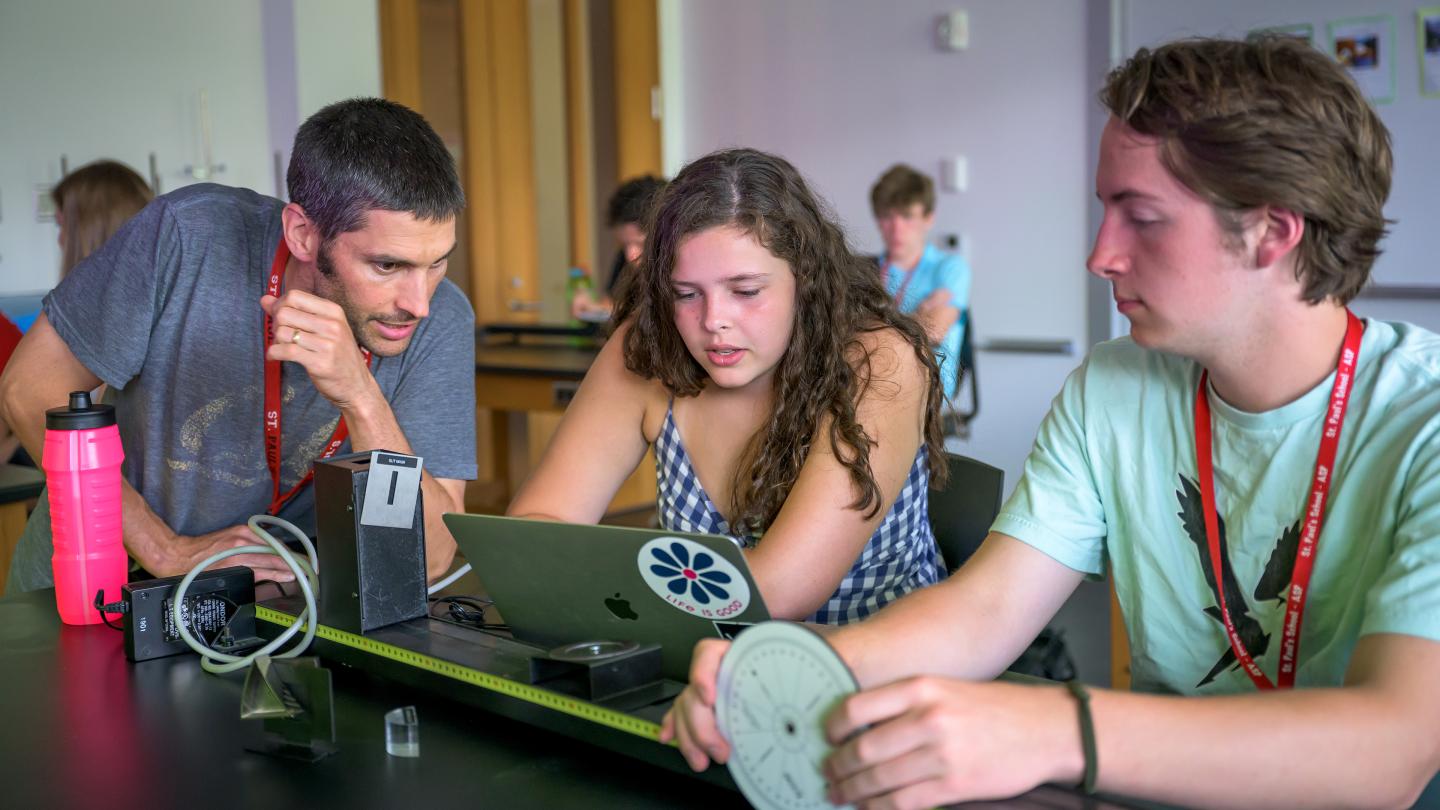 October 5, 2022
In Physics for Sustainability, one of the ASP's new classes for 2022, students studied a future driven by science and defined by possibility.
BY IAN ALDRICH
St. Paul's School Teacher of Science Ben MacBride began to contemplate the kind course he wanted to lead for his first ASP last winter. MacBride, who has taught at SPS for 10 years, was no stranger to the summer program. For several years he'd served as an ASP house supervisor, and in tandem with his own experimental ambitions, his proximity to the summer students inspired him to explore different teaching approaches that he couldn't always incorporate into the regular academic year.
"I wanted to create a course that was something I was really passionate about and something meaningful to all of us," says MacBride. "During the year we're often so pressed for time, so to really have the freedom to design a course where I didn't have to worry about testing or other classes was very appealing. And one of the areas I'm really passionate about in my life is living sustainably and trying to reduce our impact on the environment."
The result was one of two new ASP classes offered for the 2022 session, "Physics for Sustainability," in which MacBride presented a future driven by science and defined by possibility. For five weeks, the class of 10 rising public high school seniors looked closely at the power of different renewables and carbon reduction through a mixture of hands-on inquiry experiences, data collection experiments and project-based learning.
"A lot of times in high school settings the science is often contained in the classroom and not always necessarily applied to the real world," says MacBride, who earned a master's in physics from UC Berkeley. "And with this course I wanted to show that what students are studying is really relevant to the world today. A lot of what we did was kind of cutting edge and there weren't always solutions to some of the questions we were investigating. But I wanted them to feel inspired by the work so they could do their own research and work to change the world for the better."
MacBride's class took different forms and explored different settings. Students studied peer-reviewed papers from leading scientific journals and did their own analyses of different energy systems. In one instance, MacBride used a working model of a hydroelectric dam for the students to explore how they could efficiently raise the power output of the system. In another, they examined how the inclination angle of a set of solar panels affects its energy generation. Grounded in a classroom understanding of how different renewables work, the class then embarked on several field trips to see firsthand how some of these systems operate on a grand scale. There were visits to a hydroelectric plant in Pembroke, a research and development lab on the seacoast that specializes in thermo storage and even a coal fired facility in Bow that gave students an up-close look at the kind of operation renewables have begun to replace. In the final section of the class MacBride's students developed climate-friendly plans for their own hometowns or schools. Projects ran the gamut, from replacing traditional buses with hydrogen-powered vehicles to swapping out a school's heating system with more efficient heat pumps to requiring the use of alternative, climate friendly cements in new construction. MacBride was impressed by the engagement and curiosity his students brought to the classroom, as was his teaching intern, Henry Duisberg, a Syracuse University junior studying electrical engineering.
"It was just a phenomenal group," Duisberg says. "They were so eager to learn and they began to notice things about their own lives and communities with different eyes. Oh, this place doesn't have any bike lanes, I wonder why that is. Things like that."
MacBride says as he moves forward, he hopes to bring more of this elevated thinking about sustainability into his school year SPS classes. The very future depends on it, he says.
"One of the things I like most about physics is how it helps students become problem solvers," says MacBride. "It's really about being able to face a problem you haven't seen before and then relying on your strengths and understandings to tackle it and come up with a solution. It can be a hopeful thing to know you have that ability. We're faced with so many doomsday scenarios that it can be easy to feel overwhelmed by the work we need to do. But to see the positive work that we're doing, to see some of the exciting possibilities and all the cutting-edge work …. It's been hopeful to me and I want to pass that on to the next generation."