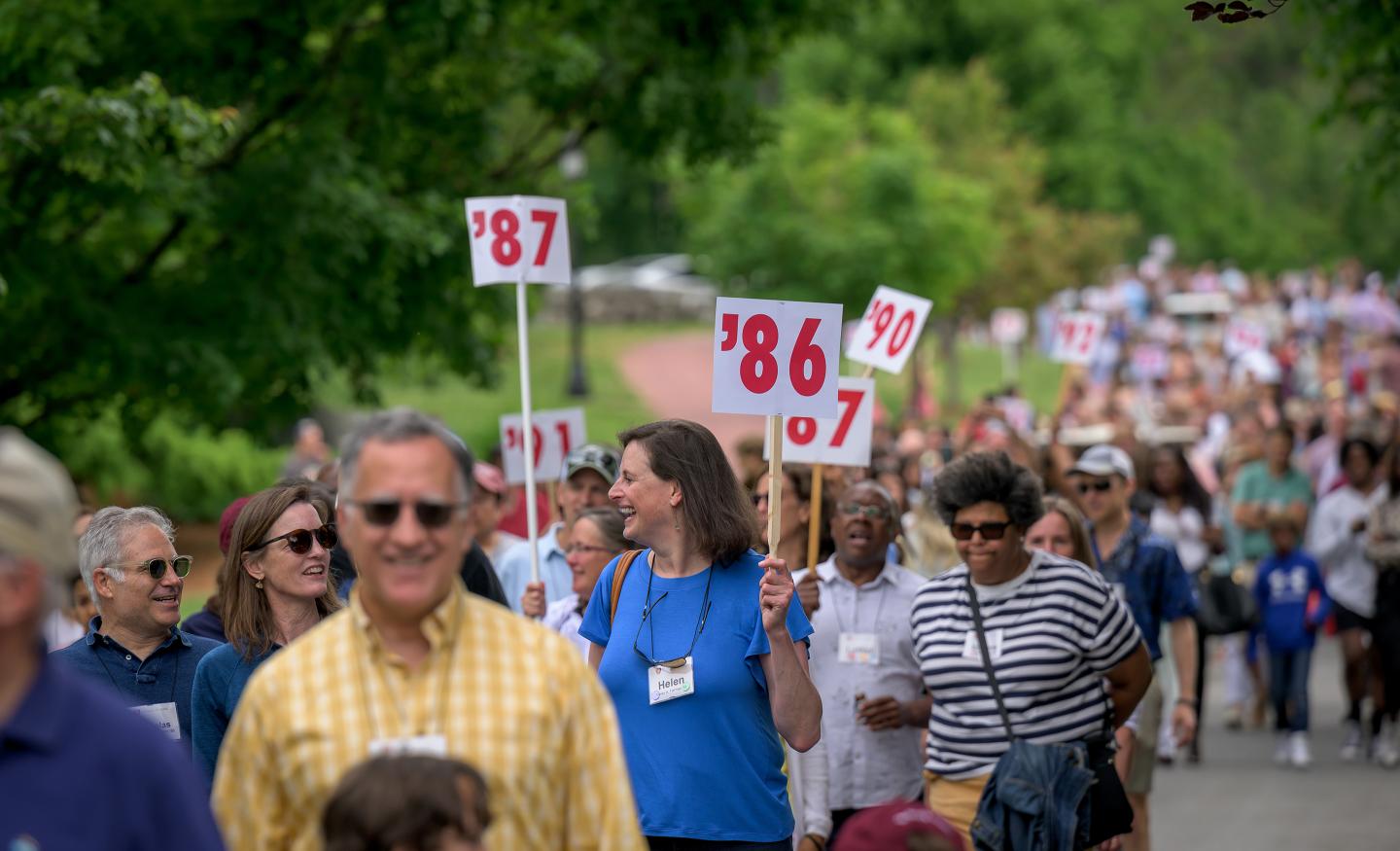 June 15, 2022
On June 10–12, alumni spanning 77 forms gathered for reunions three years in the making.
As the lone member of the Form of 1945 in attendance at Anniversary Weekend, Lou Stanton led the Alumni Parade from the Chapel of St. Peter and St. Paul to the Hockey Center, striding down Rectory Road with a vigor that belied his 94 years. But Stanton was hardly alone. Followed by three members of the Form of 1951 and six graduates from 1952, he led a group of more than 1,000 alumni who had traveled to Millville to celebrate the first in-person alumni celebration on St. Paul's School grounds in three years. The first Anniversary Weekend to take place separate from Graduation, it also was the first to welcome multiple adjacent form years — not just 2s and 7s, who were in-cycle this reunion, but also 1s and 6s, as well as 0s and 5s whose reunions were impacted by COVID-19 in 2020 and 2021.
"It was a fantastic experience to be able to have so many alumni from so many different years here," says SPS Chief Advancement Officer Scott Bohan '94, P'24,'25. "After such a challenging stretch, and with several great milestones to celebrate this year, bringing so many adjacent forms together felt like a really fitting way to welcome our community back to campus."

Among those milestones were 50 years of coeducation and 150 years of rowing at SPS, both of which celebrated culminating events during Anniversary Weekend with panel conversations and — in the case of rowing — the christening of a new racing shell. The "Her Purpose: 50 Years of SPS Women in the World" coeducation event culminated in the posthumous presentation of a George Cheyne Shattuck Fellow Award to Sarah Bankson Newton '79, who died unexpectedly in 2021.
Other highlights of the weekend were a memorial for former Interim Rector Clifford J. Gillespie P'79, '81 on Friday and the traditional Alumni Chapel Service, parade and luncheon as well as form photos, boat races and a 5K fun run on Saturday. Both days offered multiple opportunities for alumni to connect with formmates and fellow members of several affinity groups, with receptions on grounds hosted by the BIPOC and LGBTQIA+ Advisory Councils and the XIX Steering Committee. 
"I've come back every five years," said Bert Myer '62, one of many alumni who noted they take advantage of the opportunity to attend every Anniversary Weekend. "I have family ties here that start with my grandfather and include my father and uncle. It still feels like a magical place to me, even after 60 years."
Tricia Stanton '82, on grounds for her 40th reunion, attended the memorial for Interim Rector Gillespie on Friday and took part in the alumni boat races on Saturday afternoon. "It was so fun to be back out there," she said of being adopted by a boat of 1995 and 1996 rowers. "The conditions were perfect, and the perfect way to end my weekend back at St. Paul's."
On the eve of Anniversary Weekend, SPS welcomed back 61 members of the Form of 2020, many of whom were returning to Millville for the first time since the COVID-19 pandemic sent them home in March 2020. The alums gathered on Thursday, June 9, to participate in several of the SPS Graduation traditions they had lost to the pandemic two years earlier, including a Last Night Service, Form Dinner, and prom, before taking part in the weekend's reunion activities.
Stay tuned for more coverage of Anniversary Weekend in the coming weeks.