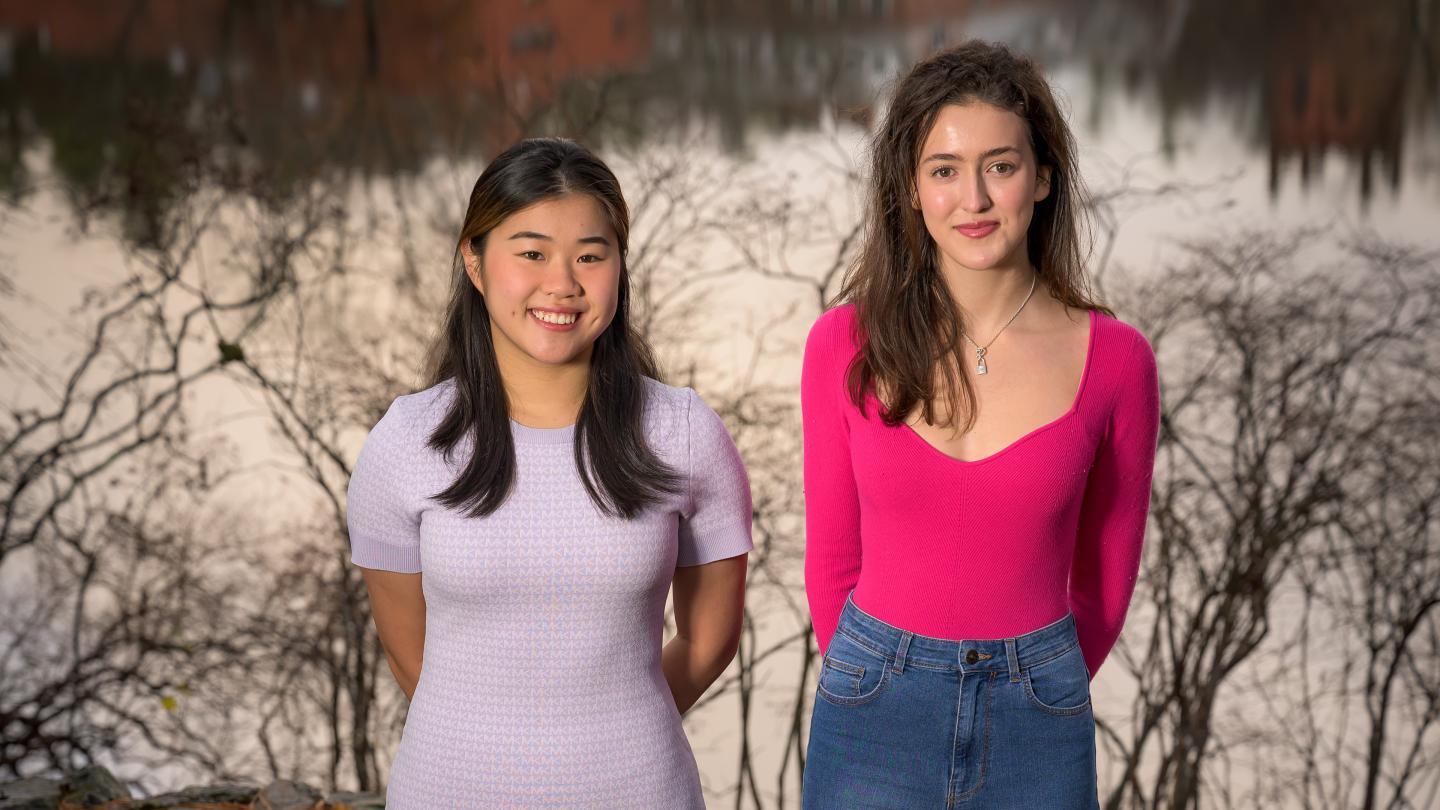 November 17, 2022
Tianzhi "Tina" Yang '23 and Devin McDonald '23 apply their study of classics to two very different, and very contemporary, questions.
BY IAN ALDRICH
In September, Devin McDonald '23 emailed Matthew Teitelbaum, the director of the Museum of Fine Arts, Boston (MFA), with an important request related to one of the museum's exhibits.
Over the preceding 11 months the Texas native and member of the Classical Honors Program (CHP) at St. Paul's School had delved deep into the symbolism of Medusa, an often-misunderstood figure in Greek mythology who is widely recognized for the thatch of snakes that take the place of her hair and whose violent death came at the hands of the Greek hero Perseus. A 2022 recipient of the school's Dickey Prize for Excellence in Greek, McDonald was no stranger to the Medusa narrative, but hadn't understood the toxic portrayals of Medusa's story until the fall of 2021, when she stumbled across an online store selling merchandise that portrayed a triumphant Donald Trump as Perseus holding the severed head of Hillary Clinton as Medusa.
"Symbols matter," says McDonald, the head of the SPS Classics Society and SPS Young Women's Club. "I think for people who haven't studied the classics it may have come across as typical partisan iconography or just a harmless twist on the story. But for me it was the first instance where I thought, wow, the classics can really help inform how I think about my own activism."
Over the ensuing months, McDonald read books and articles, anything she could get her hands on about the connection between ancient myths and feminist principles. In December 2021, the then-Fifth Former launched The Medusa Project (TheMedusaProject.com), an initiative to reclaim Medusa as a symbol of female strength and stop misogynistic appropriations of the Medusa myth. She collaborated with the CEOs of Redbubble and Zazzle, two online retailers, to remove products like the Clinton/Trump coffee cup she had seen, and connected with the leadership teams of several major museums across the country about amending biased descriptions of Medusa art.
In her email to the MFA's Matthew Teitelbaum, for example, McDonald called attention to the description of Arnold Bocklin's "Head of Medusa" as sexist and asked that it be rewritten. She didn't have to wait long for a response or a commitment to change the wording.
"I'm glad you wrote," Teitelbaum emailed back. "Good things will come of it, and I admire the commitment you bring to important work."
McDonald's story is part of the longer story about SPS's commitment to the classics. A robust Greek and Latin curriculum has been a core part of the school since its founding. And since those early days, says Teacher of Latin and Greek Ryan Samuels, the ideal has been to "encourage the pursuit of lasting knowledge and understanding that transcends time and place." But today's CHP also goes a step further by deepening students' understanding of the past so they can also be better critical thinkers about the present.
"It's important for us that we support students in making connections between the classical and modern worlds," says Samuels, who directs the CHP and holds the Joyce and Dietrich von Bothmer Classics Chair, "and do what we call engaged scholarship that analyzes the ways that classical antiquity has been interpreted and used, or misused, for contemporary political goals or appropriation."
Students become a part of the CHP in one of two ways. Those who come to SPS with a background in Latin can be invited to join upon admission to the School. Those without prior study can apply following their completion of a full year of honors Latin as well as Greek 1. Over the course of their time at SPS, CHP students continue to study honors Latin and are expected to take at least two sequential years of Greek. This year's program has numbers similar to prior years, with 29 students, including eight Sixth Formers.
Tianzhi "Tina" Yang is one of them. When she arrived at SPS three years ago, Yang says she was especially excited to study Latin. She was drawn to the culture and mythology associated with the ancient world. But what she grew to love about the CHP is that the curriculum does not stay rooted in the past. In Greek II with Dr. David Camden, the SPS Alexander Smith Cochran Chair in Greek Language and Literature, Yang and her classmates were brought into the present by looking at the civil war in Syria and the destruction of key historical sites in places like Palmyra, an ancient city that is recognized as a UNESCO World Heritage Site.
"I remember Dr. Camden giving a presentation about how ISIS had destroyed [a Roman] amphitheater and ransacked museums and other monuments," Yang says. "It was very emotional for all of us, to hear how these places had been lost. It got me thinking about how I wanted to do something about it."
Near the end of Yang's Fifth Form year, she began research around the repatriation of ancient artifacts to their native homelands. In particular, she focused her analysis on sculptures held at The British Museum in London, eventually producing a 23-page paper that deftly waded into the complicated waters of cultural ownership, asking questions that included, Can we own the property of civilizations that no longer exist? And what is the role of museums in safeguarding these artifacts?
The work was recently selected for publication by the International Social Science Conference of Youth's research competition. Yang credits the CHP for pushing her to not just think more deeply about these issues but also helping her find her own voice so that she can more thoughtfully engage in the debates around those issues.
"In my essay I talked about how behind the story of these objects is the history of colonialism," she says. Yang also recently co-launched Impartialhistory.com, which offers a growing database of primary sources and translated documents on different historical subjects. "I'm always asked, why do you want to study two dead languages? But this program is much more than just about those languages. We are studying all these other things, and as a minority I found my voice for talking about and advocating for the issues I'm passionate about."
McDonald's experience has been similar. As awareness for her work has grown, so have the opportunities to make an impact. In addition to working with company heads and museum directors, she's connected with a group of feminist classics professors at different universities and been afforded the chance to weigh in on different manuscripts and lectures. The Medusa Project is now included in Vassar College's classics curriculum. In September she received a personal thank you note from Hillary Clinton, who praised her for what The Medusa Project represented.
McDonald plans to continue to study classics and feminism in college, and says she will draw on the early inspiration she found through the CHP. "All this work I'm engaged with now is not anything I'd done before," she says. "But it all came out of this love for the classics and the belief the CHP instilled in me that I could pursue any interest and engage in this high-level work as a high school student. It's been an amazing education and it's really reshaped my perspective about what it means to learn and what it means to lead."