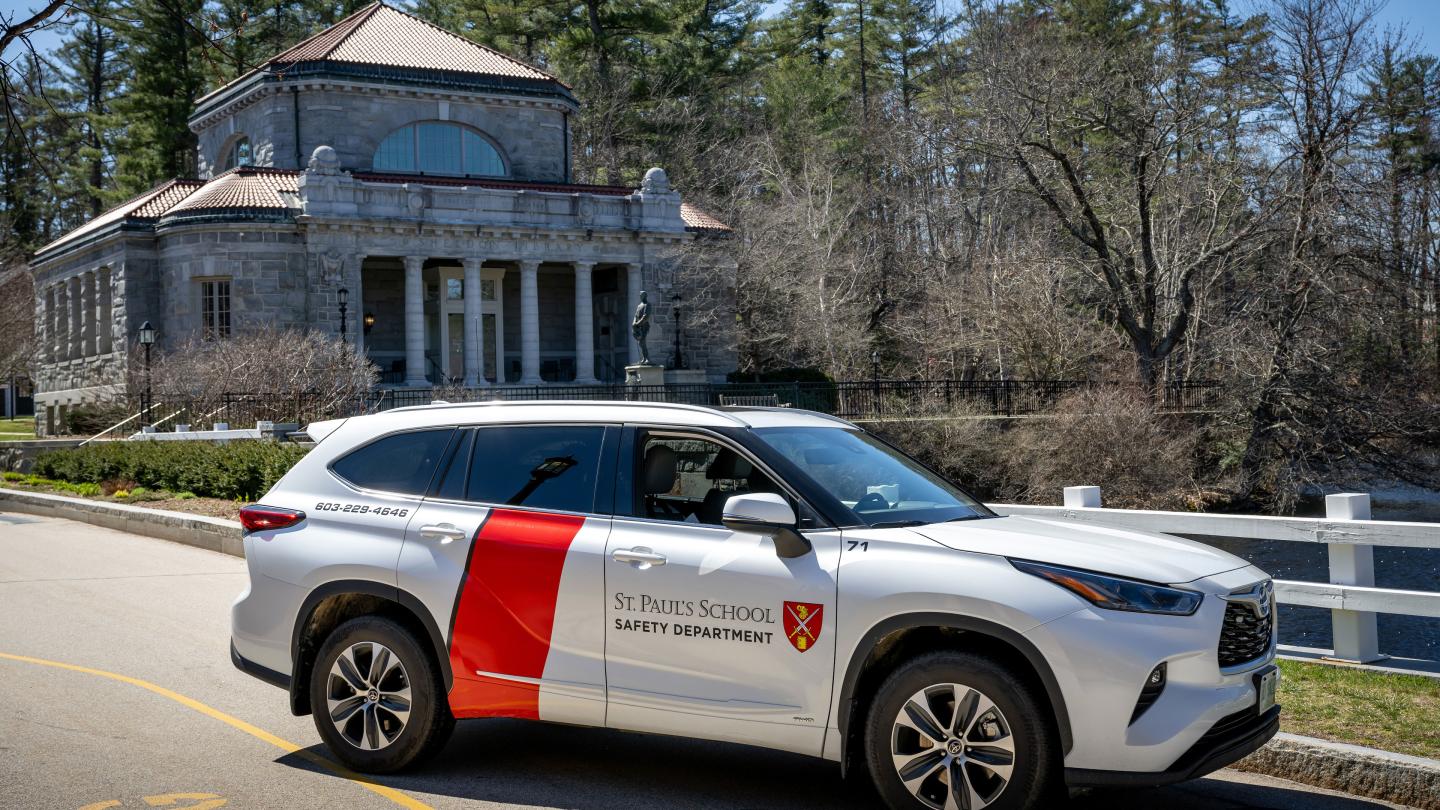 Our safety officers serve every member of the St. Paul's community, providing efficient and reliable 24-hour coverage, 365 days per year, and can always be reached at 603-229-4646.
St. Paul's School has a zero-tolerance policy for conduct that is at odds with our commitment to providing a safe and welcoming environment for everyone in our community to live, learn, and work. Our safety officers and vehicles are radio-equipped, and officers work closely with the Concord, N.H. first responders (fire, police, and ambulance) to ensure a timely and efficient reponse. The department is a member of the New Hampshire Association of Campus Law Enforcement Administrators (NHACLEA), which meets frequently to discuss safety and security issues affecting college and school communities.
In Case of Emergency
Police/Fire/Serious Medical Emergency: 911
Safety Department: 603-229-4646
Dean on Duty: 603-848-0630
Clark House Health Center: 603-229-4850
Safety Resources
Students
Resources are available on the grounds through Clark House, the Dean of Students Office, the Chaplaincy, any faculty member, advisers, the Community Conduct Board (CCB), or through Lighthouse Services.*
Faculty and Staff
Staff members are encouraged to contact the Director of Human Resources and/or the Human Resources Office. They can also seek assistance from the Employee Assistance Program (1-800-327-0464, ext. 312) or through Lighthouse Services.*
Alumni
St. Paul's School offers a number of resources to alumni who experienced sexual abuse by faculty or staff while students at the School. More information »
*Lighthouse Services is an anonymous hotline for all members of the current SPS community for reporting possible ethics violations.
Reporting Misconduct
If you need to make a report about an incident of sexual misconduct, harassment, hazing, bullying, retaliation, discrimination or microaggresions, click on the link below.