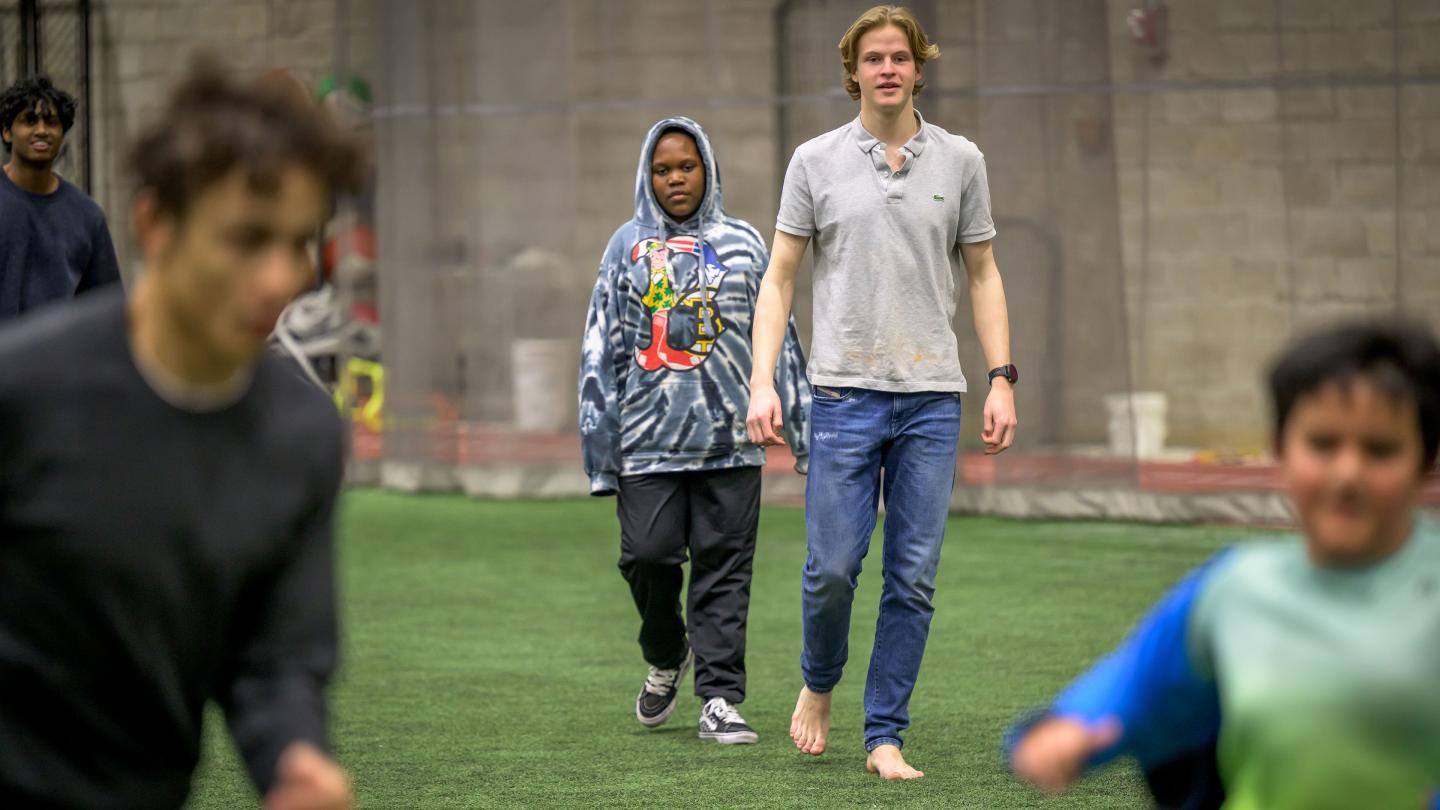 February 23, 2023
In the Friends Youth Mentoring Program, SPS students give back, and get something in return. 
BY JACQUELINE PRIMO LEMMON
On Monday evenings at 5:30, Jonathan Dase '24 can be found at the Hockey Center with 10-year-old Jose, a local public school student and Dase's mentee in the Friends Youth Mentoring Program. For 15 minutes or so, Dase and Jose — along with other St. Paul's student mentors and the elementary schoolers they have been matched with — spend time chatting before going on to dinner at Coit Dining Hall. And while Dase wants to make sure his mentee enjoys their mentorship sessions, his priority is trying to support Jose's intrinsic appreciation for knowledge, curiosity and kindness.
"One thing I'll sometimes do is, he's a little interested in math, so I'll give him math problems. Some people think I'm goofy for it, but I want him to be as smart as possible," Dase says. Often, he and Jose will stay to watch the SPS hockey teams practice before they head to dinner. If there's a long line in the dining hall, they'll keep the conversation going. "We'll walk around and we'll just continue to talk about life and everything that's going on and anything he's struggling with," Dase continues.
Dase and Jose are just one pair in the Friends Program, which matches local elementary school kids who could use some extra support, academically or otherwise, with SPS Fifth and Sixth Formers. Mentees come to the grounds once a week, and mentors have the opportunity to travel to their schools for additional weekly mentoring.
In their last session, Dase says the conversation drifted to the topic of planets, and Jose impressed him with how much he knew. After dinner, the pair will sometimes head to Mathes Cage to play wall ball while other duos work on basic athletic skills to boost the younger kids' self-confidence, so the mentees feel more comfortable engaging in recess and physical education with their peers.
Elizabeth Esteves '23 has been involved with the Friends Program since fall 2021, when she became the Fifth Form peer leader for the program. Due to COVID-19 precautions, the program was fully remote at the time, which meant weekly Zoom meetings with mentees. Returning to in-person mentoring this year is a welcome change.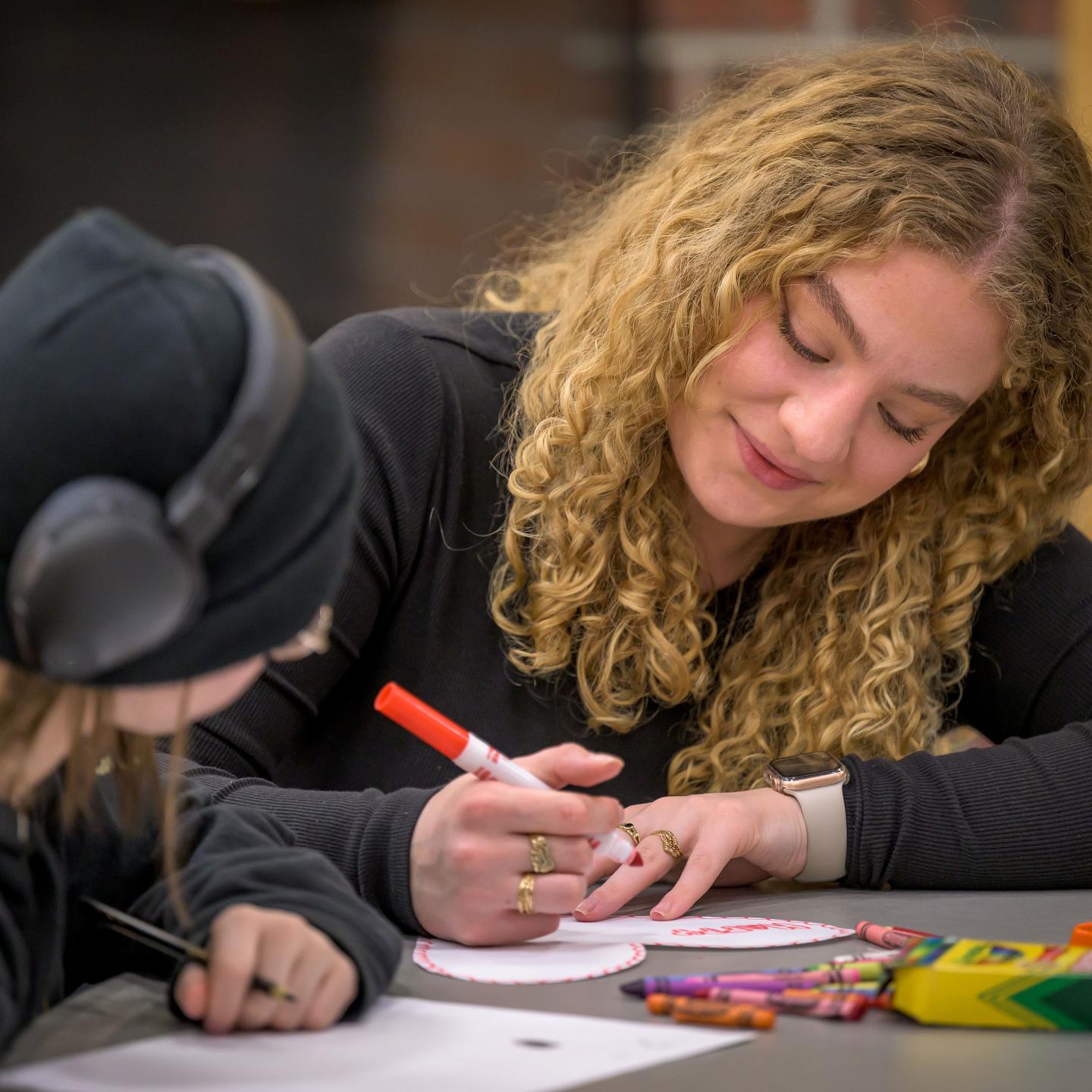 Not only does meeting in person make for more meaningful connections with our mentees, but we are also given access to more activities and engagement opportunities."
Elizabeth Esteves '23
For Esteves, highlights of this year's in-person sessions have included decorating Christmas cookies, playing UNO and playing drawing games. Says Esteves, a statement surely echoed by most of the SPS community in late winter: "I'm excited for the warmer weather ahead so we can do more activities outside!"
When it comes to mentors of his own, Dase points to his teachers in the Classical Honors Program: Elizabeth Englehardt, Ryan Samuels and Dr. David Camden. "I had Mrs. Engelhardt for Greek and Latin last year, and she would stress the importance of kindness and how giving back is the most rewarding thing you can do. And I really feel that." He describes the trio as "brilliant teachers" who "know everything" and can make connections between current events and ancient civilizations. "You don't just learn about classical language and how to translate," he says. "You learn how to think."
It's no wonder why getting Jose to think more deeply about things, even as a fifth grader, is something the pair are always working on. And while the Youth Friends Program mentees certainly benefit from the bonds created through the program, Dase says the mentors get a lot out of it, too: "It's very healthy for the mentors to get a break from all the social pressures they feel here and just help another kid."
Asked how he himself has changed since fifth grade, Dase thinks before saying: "I'm a little wiser and I talk a little slower; in fifth grade I was filled with energy."