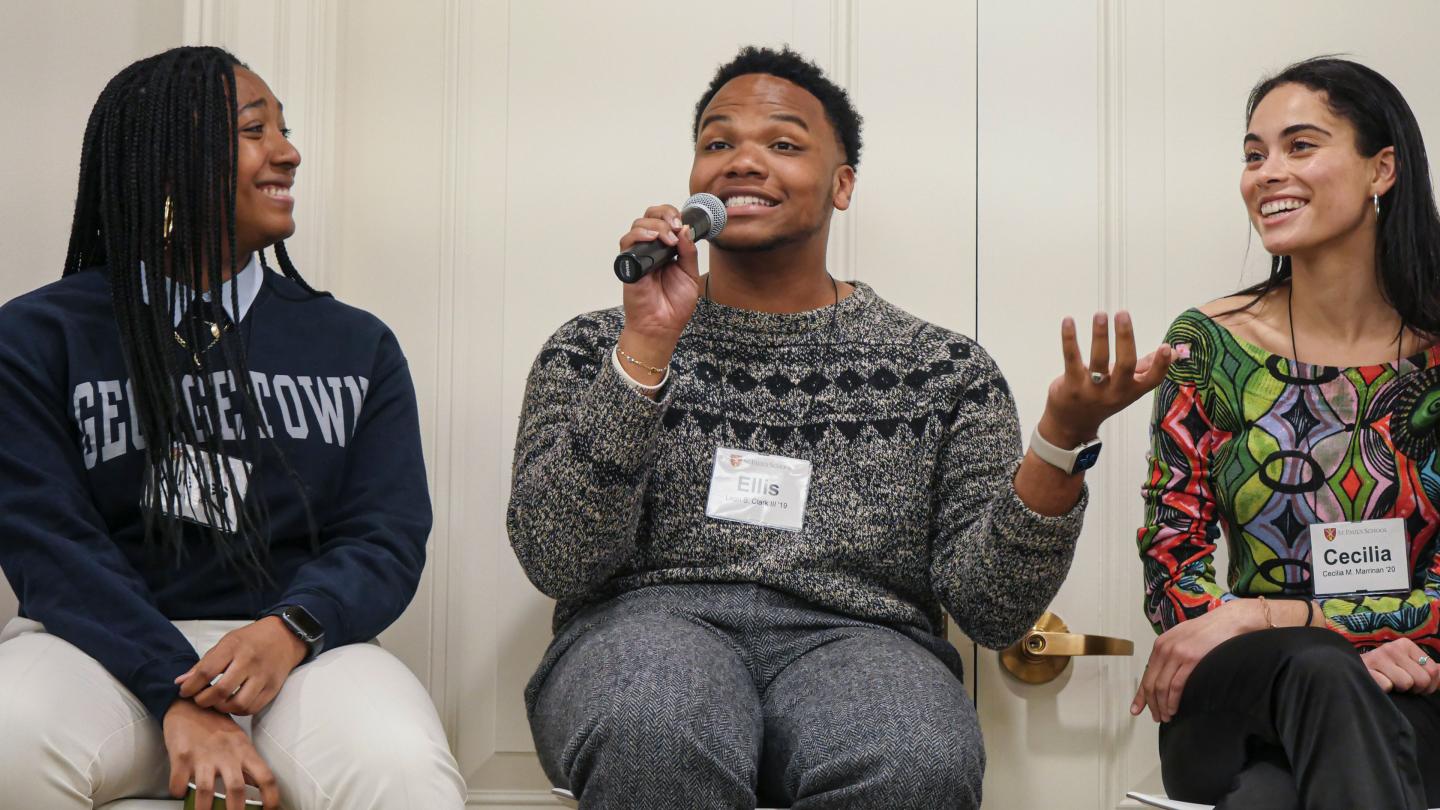 March 14, 2023
Students and visitors showcase Black excellence in education and the arts.
BY JACQUELINE PRIMO LEMMON
A late winter series of snowstorms coated the St. Paul's School grounds at the end of February, punctuating not only the close of Winter Term but also the School's formal Black History Month programming. Visual artist glyneisha johnson and Sierra Leonean-American ballet dancer Michaela DePrince were among the visiting artists; Onyx's Third Annual Black History Celebration and the inaugural SPS Black Success and Leadership Panel were two of the month's special events, all focused on Black excellence in education and the arts.
"As an Onyx head, being open about everything and proud of my race and ethnicity, I still find that sometimes I have preconceptions I can't get rid of," says Hudson Stovall '24, one of the student leaders for the SPS affinity group for students who identify as Black, African American or of African heritage. Alongside Rector Kathy Giles, Stovall co-hosted the Black Success and Leadership Panel, which welcomed six Black alumni back to campus for a conversation highlighting their experiences and accomplishments in college and careers.
Stovall says the idea for the panel came to him when he was taking economics last year and his dad pointed out that the author of his "Basic Economics" textbook, Thomas Sowell, is Black — which came as a surprise to him. "That's where the entire concept [of focusing on Black success] came from," says Stovall. While Sowell is not an SPS graduate, Stovall was inspired to learn about what some Black SPS alumni are accomplishing in their education and careers. "I really wanted students to see there are Black alums doing things you think you can't do," he says.
More than 60 students, faculty and SPS community members attended the panel event, held in the Sheldon Interfaith DEIJ Space on Sunday, Feb. 26. Panelists included Stacy China '89, senior staff editor with The New York Times; Allin Bond Jr. '03, senior account executive at Quickbase; David Glanton '04, senior associate at Davis Wright Tremaine; Ellis Clark '19, student at Brown University; Alexes Merritt '19, student at Georgetown University; and Cecilia Marrinan '20, student at Brown University.
"To see the students and panelists engage in robust, informal conversations following the formal panel remarks was particularly gratifying," says Director of Alumni Relations Steve Donovan. "We were also fortunate to see some former faculty and staff return to the grounds in support of panelists who had been students of theirs."
Director of Diversity, Equity and Inclusion Initiatives Bethany Dickerson Wynder says cross-departmental support of Stovall's vision helped to make the event so successful, and diversity in the audience did not go unnoticed. "It was really heartwarming to see Black and brown students and white and Asian allies come to support their peers, and to recognize the fact that we can all learn from our alums regardless of their race or ethnicity," says Dickerson Wynder. "It was a special way to bookend the month."
In addition to uplifting and celebrating these alumni and their accomplishments, Dickerson Wynder says that "part of our work with our Black alums is about reconciliation," and that acknowledging challenging experiences that some Black alumni had as students was a factor in inviting them back to campus.
On the heels of the well-attended and impactful event, Stovall, a Fifth Former, says he hopes to host the panel again next year. "What I hope people took away from the panel," he says, "was that there's a vast variety of different experiences within Black history and Black culture."
In the dance studio during Black History Month, the SPS Ballet Company (SPSBC) was treated to a visit from world-renowned ballerina Michaela DePrince, a soloist with the Boston Ballet. In addition to working with members of the SPSBC, DePrince gave an inspiring Chapel talk on Feb. 21 in Memorial Hall that included a Q&A with SPSBC dancers Lauren Edouard '25 and Alana-Kaye Morgan '25. "We use the arts to get over trauma," DePrince said in her Chapel talk. "I would not be the person I am today if I didn't have the opportunity to have the arts in my life."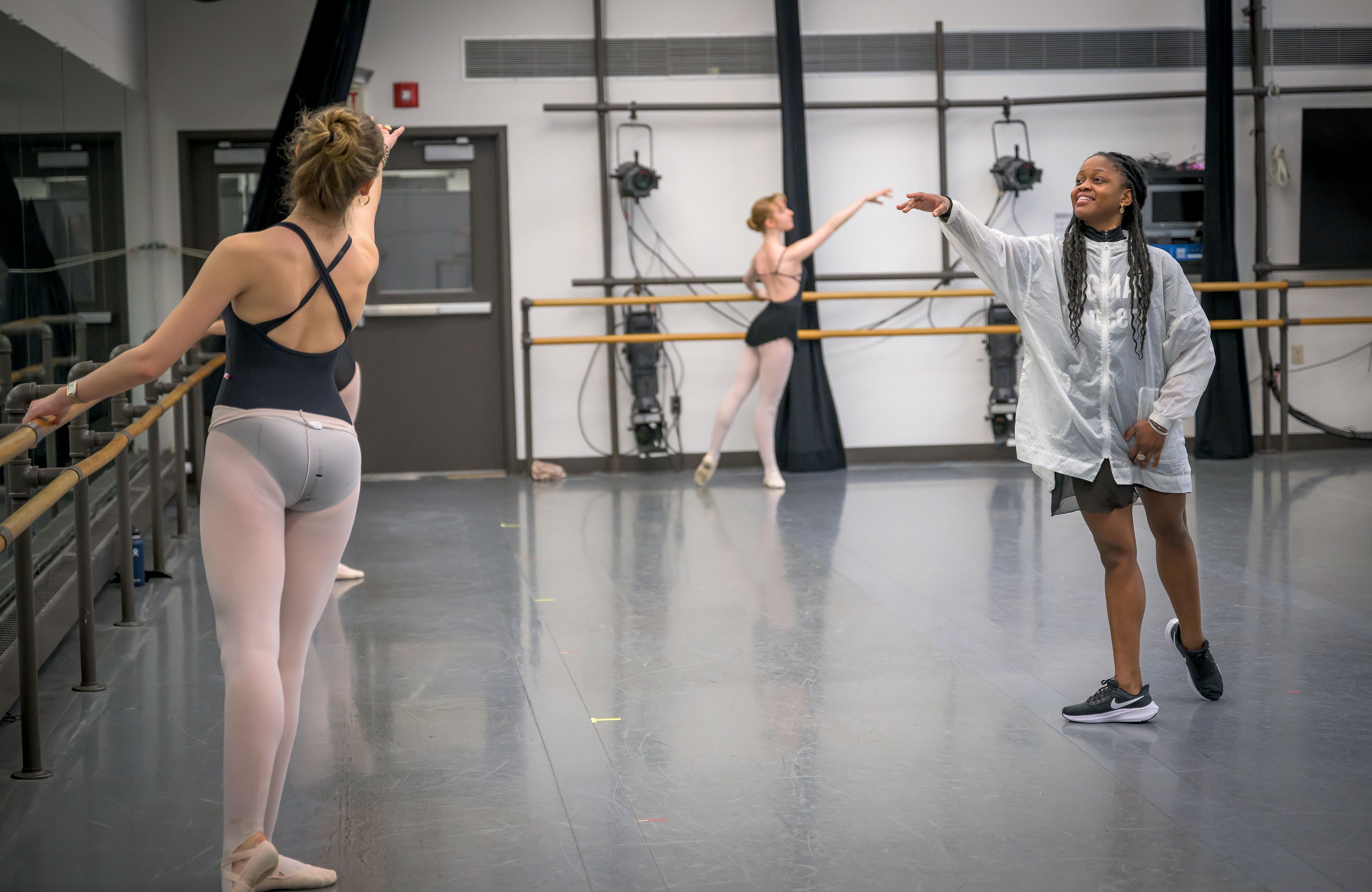 Originally from war-torn Sierra Leone, DePrince spent much of her early childhood in an orphanage; it was there that she saw a magazine photo of a ballerina that changed the course of her life. Adopted by a family in the U.S. who supported her ambitions, DePrince would go on to become one of the world's most famous Black ballerinas. In the Q&A, Edouard and Morgan told DePrince that at SPS, dancers have the option to wear tights that match their skin tone — a deviation from the classic pink tights. DePrince noted that she had been an advocate for this change in ballet culture because when she was wearing pink tights, she felt she wasn't being accepted for the color of her skin, and like she was "two different halves on stage."
"While in the studio and during the interview, she reminded me that nothing is impossible and to never give up on my dreams," says Edouard of DePrince's visit. "It was powerful to hear about her journey not only as a classically trained ballerina, but also her journey to the U.S. Her story is extraordinary and a testament to the strength of the human spirit."
Presented by LinC Teacher Litzrudy Justinvil, Jorane Manuel-Justinvil and members of Onyx, the Third Annual Black History Celebration on Feb. 12 invited all members of the SPS community — including students, faculty and staff and their children — to remember the past, acknowledge the present and look to the future.
To kick off the celebration, attendees were treated to brunch and a West African drumming performance by Theo Marty from the Akwaaba Ensemble. Onyx learning stations included an African Diaspora book display in Ohrstrom Library and a Jean-Michel Basquiat art station, where children were invited to create their own works of art. Two additional learning stations educated attendees on the G.I. Bill, Greenwood/Black Wall Street, the Summer of 1919, and the Zamani Project, the goal of which is to collect and analyze heritage data and communicate the importance of heritage.
In Memorial Hall, a show entitled "The Story that Forms Us" began with a warm welcome by Rector Kathy Giles; a language and speaking exercise in Creole, French and Tigrinya; and guest speaker Monique Schlichtman '92, who, during her time as a student at SPS, spoke on issues dealing with race and challenged her peers to better understand the plight of Black students on campus and beyond. The event was packed with guest speakers, student performances, readings and interactive lessons, ending with a glow-in-the-dark finale.
"The artists we had, and the Black History Month events we had, helped to animate the imagination of students, faculty and the community," says Rev. Charles Wynder, SPS dean of Chapel and spiritual life. "Our February programming opens the path for us to continue to remind ourselves of the importance of the pursuit of truth and staying in the light."
Watch the Feb. 26 Black Success and Leadership Panel discussion below for the full conversation.