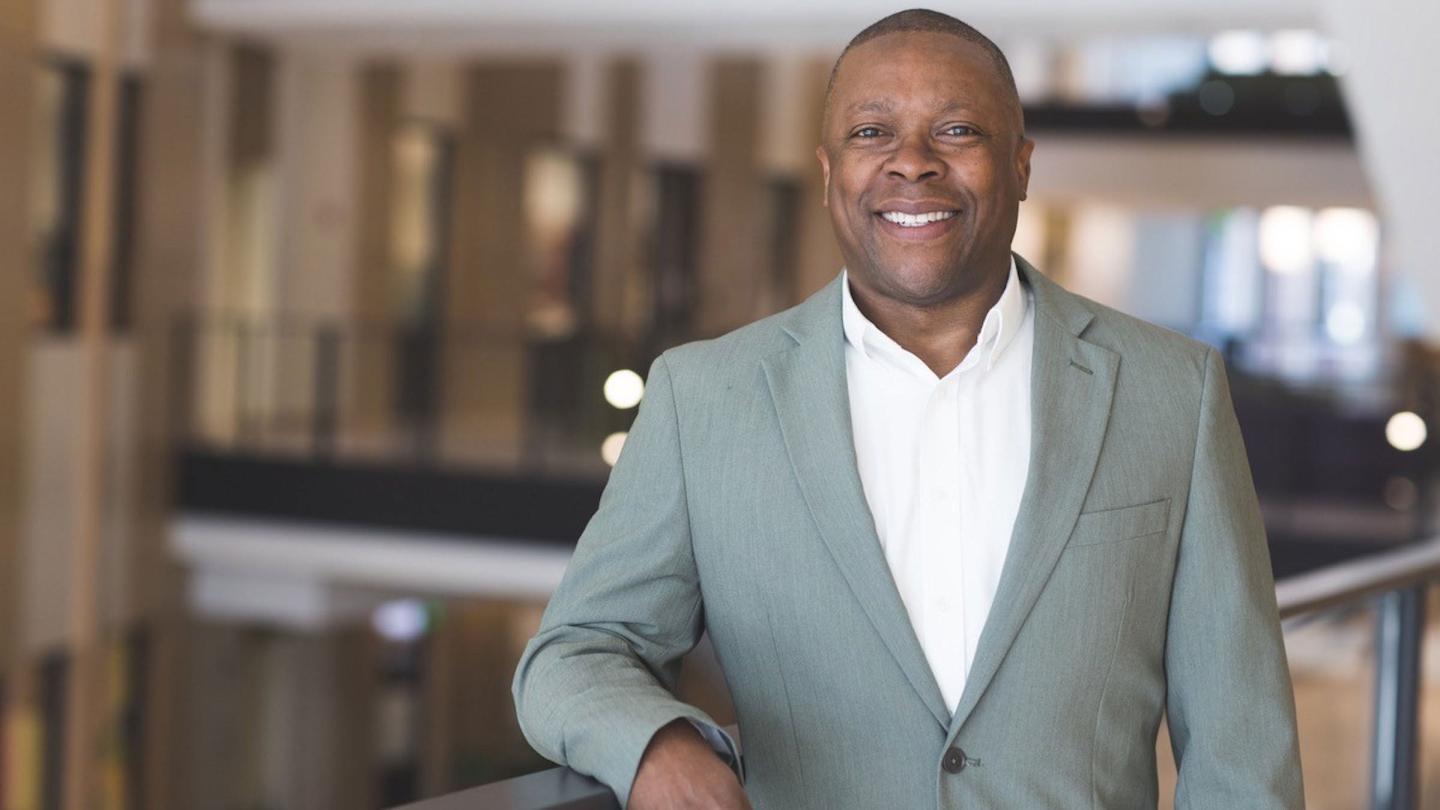 June 19, 2023
LaMar Bunts '87 tapped as Dartmouth's chief transformation officer
BY IAN ALDRICH
In the fall of 1983, LaMar Bunts '87 arrived on the St. Paul's School grounds, unsure of what the immediate future held for him. A little more than a year earlier, the 13-year-old Oakland, California, resident had been identified by the education nonprofit organization A Better Chance as someone who could thrive in an environment like St. Paul's. But it meant leaving his family, moving thousands of miles away from home, and making a new life for himself at a place he'd only seen in photos.
"I got there after this long flight all by myself, lugging these big suitcases, and I encountered some people along the way that made me think that maybe I'd made a huge mistake," Bunts recalls. He laughs. "But pretty quickly I was taken in by some senior students. They got me situated and just made me feel welcome."
Which in turn put Bunts on a four-year journey, the reverberations of which he still feels today. Bunts threw every part of himself into his SPS education. A strong math student, he excelled in the classroom while simultaneously pursuing an ambitious extracurricular schedule. He played squash and was a standout football player and wrestler. He joined the orchestra as a clarinetist, sang in a few ensembles, and was actively involved in multiple academic and social clubs.
"It was a real inflection point in my life because all the things I had dreamed of doing I felt were suddenly possible," says Bunts, a first-generation college student who went on to major in economics at Harvard and earn an MBA from Stanford. "In Oakland there was always this wall. I worked hard, was smart, but you never felt like you had the visibility. Then I did."
n the decades since, Bunts has worked hard to bring that same kind of visibility to other students and communities. His senior thesis at Harvard was on Black entrepreneurship, and his resume reflects both his business acumen and a moral compass that's oriented toward broadening education and entrepreneurship opportunities. In addition to holding senior roles in finance and business operations in the technology and education sectors, Bunts is the co-founder and former CEO of the Beanstalk Initiative, a social venture seed-capital firm that connects young entrepreneurs with experienced counterparts. He's also served on a variety of nonprofit boards.
But his most impactful work may come out of the position he recently started. In January, Dartmouth College named Bunts its chief transformation officer, a heady new position that places him at the forefront of helping one of the nation's most prestigious educational institutions expand its reach and impact while also diversifying its revenue streams. Higher education is undergoing significant change, says Bunts, as students reconsider what a college degree even means, or what the route to a college degree can look like. As they do, colleges and universities are having to look at going beyond the traditional revenues they've long depended on.
"Higher education in general is facing some nasty headwinds that are changing how it's going to serve people," says the 54-year-old Bunts, who's father to a 14-year-old daughter and splits his time between Texas and New Hampshire.
"What does it mean to be a learner? What does it mean to get an education in ways that are outside of the traditional track we've had for so long? These are the kinds of things we need to think about."
Bunts sees his new position as not just a way to help steer Dartmouth deep into the 21st century but also to help establish a model for other higher education institutions as they navigate their own uncertain times. While it's still too early in his tenure to outline specific goals, he says the work will take many forms, from forging new partnerships with other organizations to recalibrating Dartmouth's international and online presences. Bunts, in a sense, is building bridges; connecting Dartmouth to a future that can better leverage its institutional impact by making it possible to welcome more of the world through its doors.
"When you help one kid, you can end up helping many others," Bunts says. "There's this great multiplier effect. But to do that you sometimes have to look at things differently. I feel like because of my lived experience it's a lot more natural for me to see these things and understand what the obstacles are to making real impact with all different kinds of students."