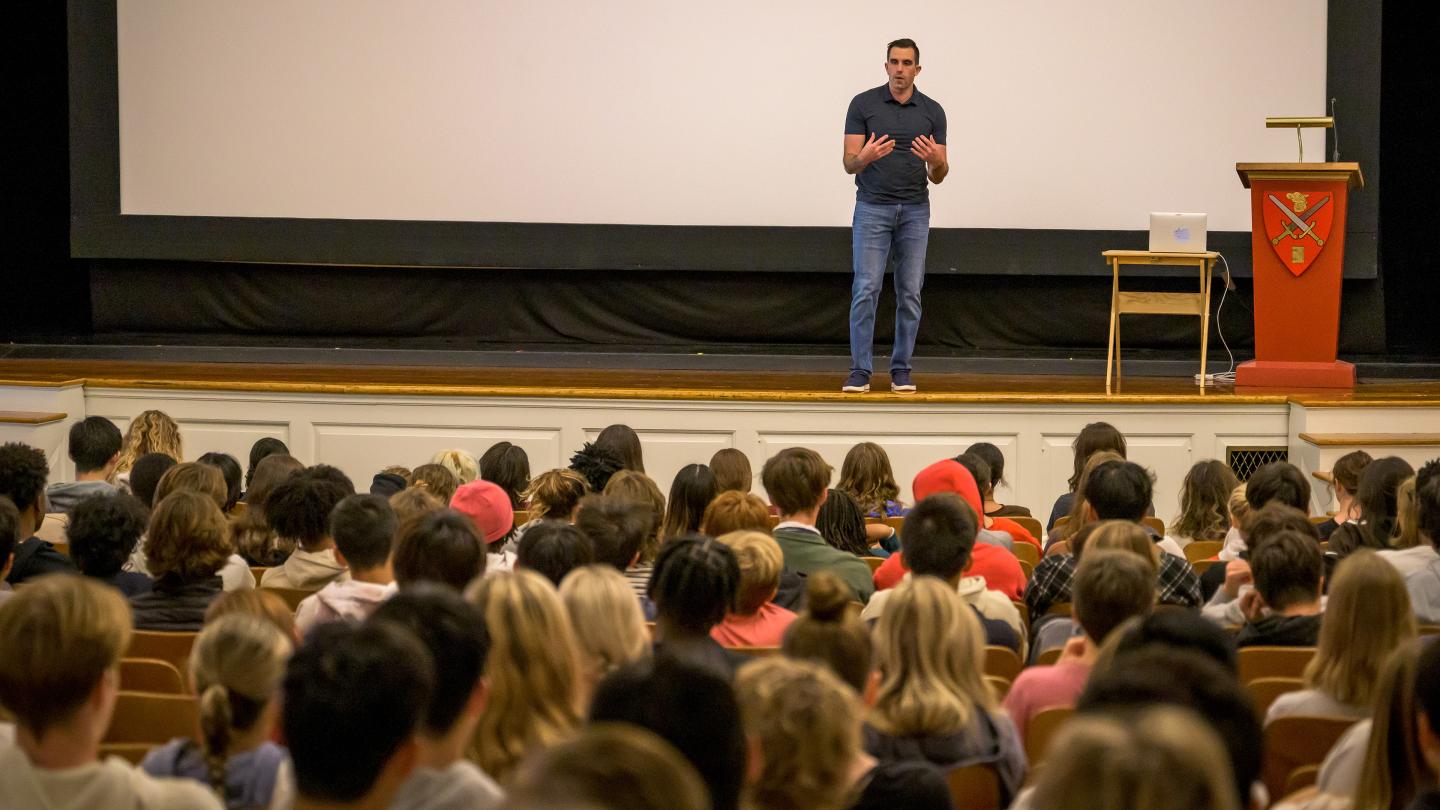 November 4, 2022
Student LinC leaders invite tough conversations around substance use and abuse during Fall Term LinC Day
BY KRISTIN DUISBERG
With his tousled brown hair, bright eyes and wide smile, the boy in the school photo projected on the screen behind guest speaker Eric Daddario didn't look like a drug addict — and that was exactly Daddario's point. On Wednesday, Nov. 2, Daddario spent the day on the St. Paul's School grounds as part of the Fall Term LinC Day, the subject of which was substance use, abuse and addiction. During his keynote address, delivered to a rapt audience of students and faculty at Memorial Hall, Daddario shared the story of his younger brother, Brendan, who began experimenting with substance use in high school and died of a heroin overdose in March 2016 after a decade of struggling with his addiction — and two years of sobriety.
"My brother was your age when he started using," Daddario said, speaking directly to the students. "He told himself, 'I'll never be that kid — the one who can't stop using.' I'm here to tell you now that the choices you are making today, and especially that 'not-me' attitude, can be dangerous. If you are making these choices, you can go down that road."
In sharing his brother's story, Daddario also spoke about the cultural influences that glamorize substance use and — a boarding school graduate himself — underscored the role members of the School community can play in supporting one another. "You need to think about the decisions you are going to make — about using, about confiding to an adult if you're worried about a friend or teammate or family member who's using. Your teachers here are much more than just teachers. They do this work because they care about the person you are and the person you're going to become."
Following Daddario's keynote, the student body gathered by form for workshop sessions. Each form was presented with a series of scenarios, acted out by student LinC leaders, around substance use, and then smaller groups met with faculty facilitators to discuss each scenario and consider ways they might respond in a real event. Given the sensitive nature of the topic, space was provided for those who did not wish to engage in the program, both during Daddario's presentation and for the group work that followed.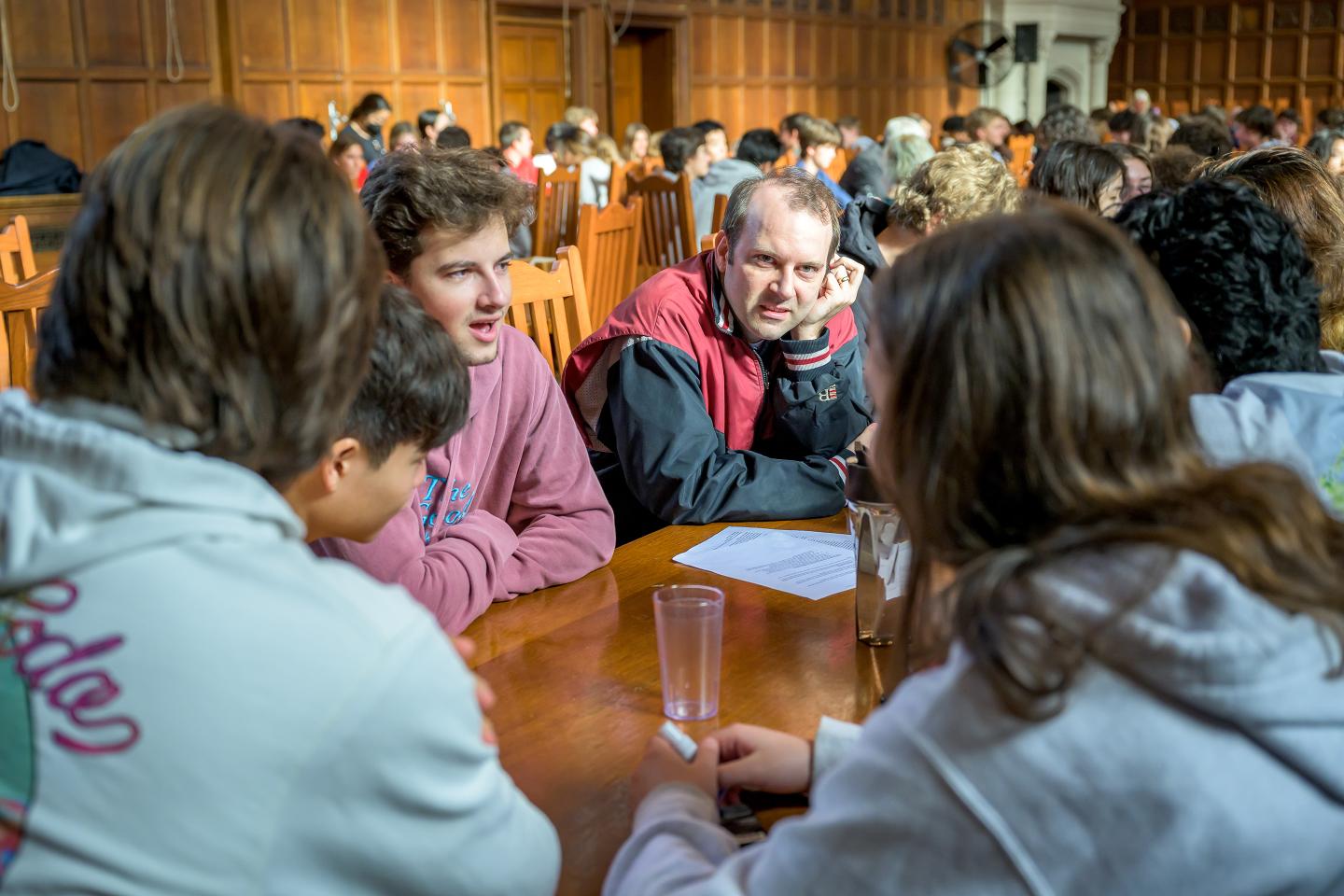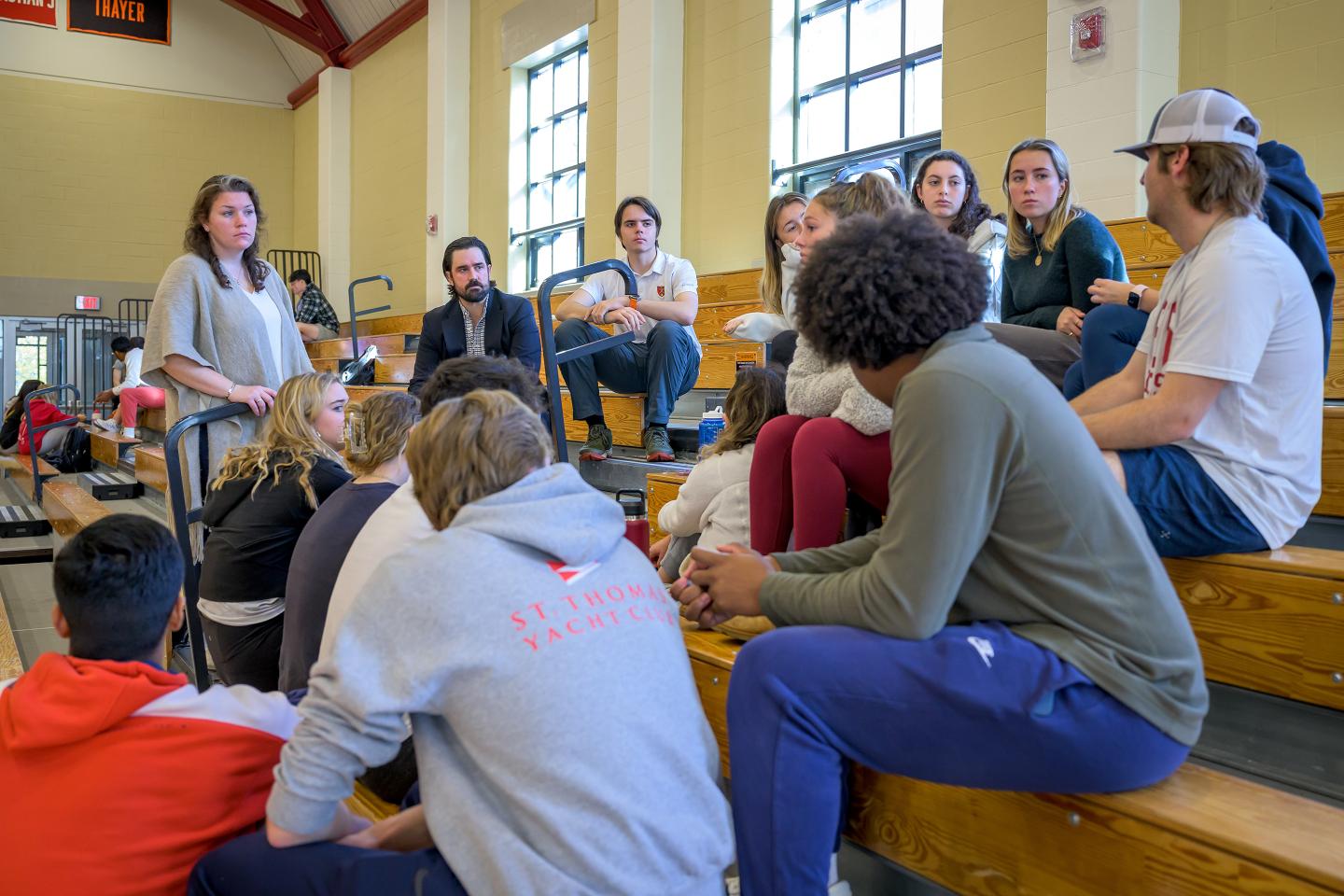 "The goal of LinC Day is always to spark productive conversations, and I think that is exactly what we accomplished," says LinC Leader and Student Council President Natalie Thayer '23. Thayer thought the talk by Daddario was incredibly impactful and impressed upon the entire community the dangers of substances, as well as the importance of speaking up. "I also loved the use of scenarios as a starting point for discussion," she says. "Not only were they engaging, but they also presented situations in which the right course of action wasn't always clear or easy."
One of the hallmarks of St. Paul's, the residential life LinC curriculum — LinC stands for "living in community" — is designed to help every student become a knowledgeable, responsible, caring and contributing member of society. During Third and Fourth Form years, students take required LinC classes that delve into topics including cultural competency, diversity and inclusivity, personal identity, sexuality and gender, drugs and alcohol and wellness; Fifth and Sixth Formers participate in a three-times-per-term seminar that builds on the knowledge base developed in those LINC classes. Student-initiated, student-led LinC Days are held once every term and offer a close examination of a topic chosen by the Sixth Form LinC leaders.
Associate Dean of Students Robb Arndt, who oversees the LinC program, has nothing but praise for the LinC leaders who put Wednesday's program together. "This group of LinC leaders has brought a focus and organization that has been unique in my years at SPS," he says. "They dove in, immediately, to the work of the fall LinC Day and relished the challenges that this work brought to them and the opportunities it brought to the community."
The day ended with debrief conversations and, for the LinC leaders and other interested students, lunch in the Upper with Daddario. And while the topic was a weighty one, it prompted conversations that didn't end when the formal program did. Well into the afternoon, students across the grounds could be found continuing to discuss the scenarios as well as Daddario's keynote.