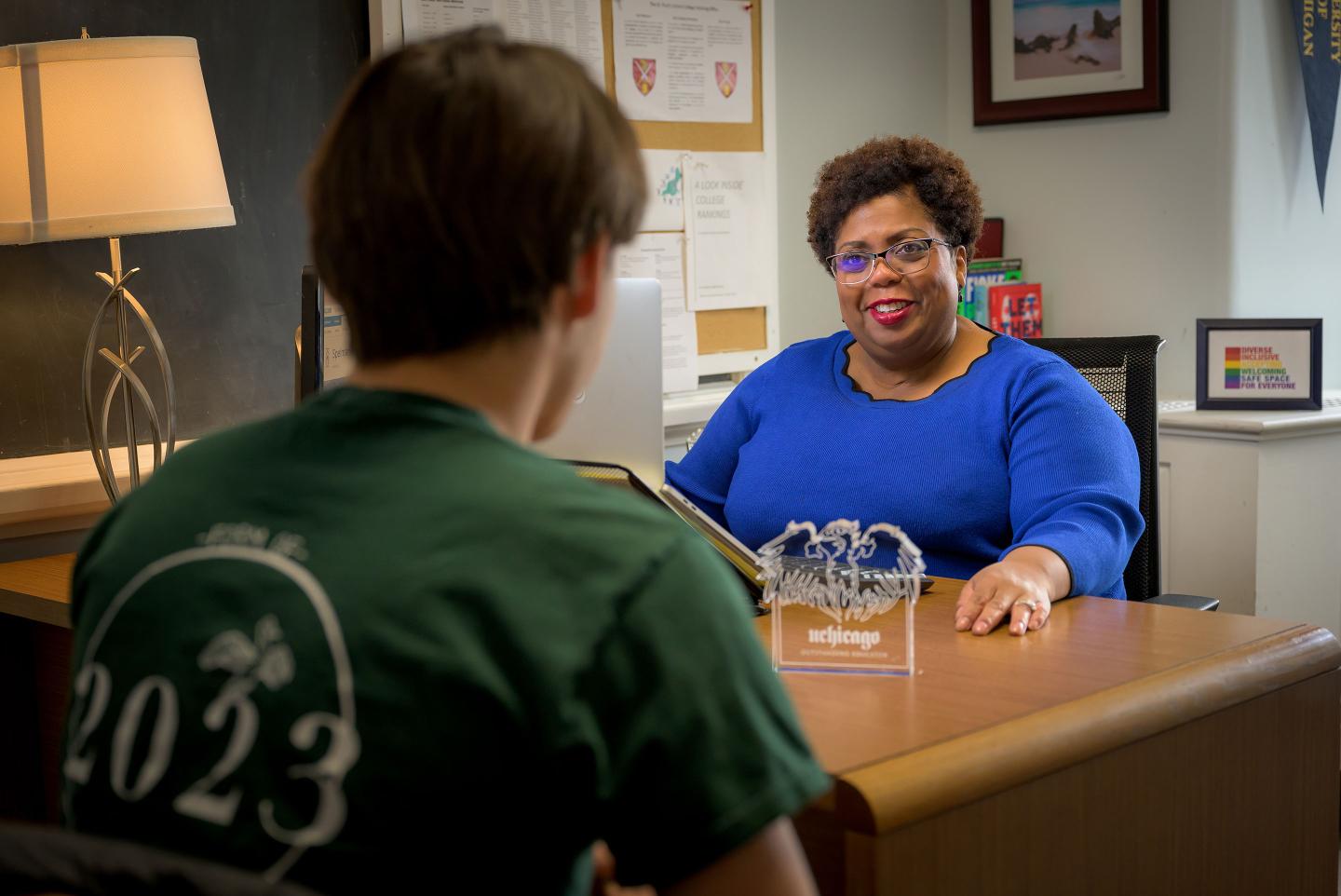 December 1, 2022
Associate Director of College Advising Myra Singletary recognized with University of Chicago Outstanding Educator Award
BY JODY RECORD
One of the things Myra Singletary likes best about working at St. Paul's School is the opportunity she has to connect with students not just as a college adviser but in everyday settings. On the paths to their dorms or in the dining hall. Outside the basketball courts. Anywhere. That mindset may be part of the reason Singletary recently received an Outstanding Educator Award from the University of Chicago. Outstanding educators, the university says, care about their students inside and out of the classroom.
"I want to give that word of encouragement and support whenever and to whomever I can," Singletary says. "Being at a boarding school gives you the opportunity to do that in many ways. One of the results of living here is that you get to be part of students' lives and they get to be part of yours."
Singletary was nominated for the award by two current UChicago students: Rishi Basu of the Form of 2021, who got to know her during the three years they both lived in Coit North, and Form of 2022 graduate Omotola "Tola" Olorode. Olorode spoke about the encouragement he received from Singletary in applying for, and receiving, a prestigious Bill and Melinda Gates Foundation Scholarship, which covers his full cost of college attendance, during his Sixth Form year at SPS. 
"Whether I had a question about college applications, the Gates Scholarship, the interview process … she was always there to answer my questions and be a positive influence," he said.
Singletary also prepared Olorode to "be ready to pivot" if he didn't get the scholarship — an approach she utilizes with all of her advisees in the competitive and often unpredictable college admission process.
"Just because they know that a school might be a reach for them — they know that some schools are a reach for every student — it doesn't mean their hearts aren't disappointed when they don't get in. If I prepared them, encouraged them, and they've chosen a balanced list of colleges that include options across the range of selectivity and are affordable, that's when I know I've done my job," she says, noting that "doing her job" in college advising also includes educating students and families about the financial aid process and searching for scholarships.
Dean of College Advising Tim Pratt notes that the UChicago award is evidence of the profound impact Singletary has had on her students and the culture of St. Paul's School. "Myra is incredibly committed to providing the very best individualized college counseling to every student and family with whom she works," he says."She cares deeply about them, and her passion and compassion are palpable. She is also a wonderful colleague who has helped advance several of our office initiatives. Most notably, her vision and hard work have been the driving forces behind our commitment to help defray the costs associated with campus visits and other college-related expenses for our highest-need students. Myra is a tremendous champion for our students and the School, and this recognition from the University of Chicago is a fitting testimony to the impact she has had on so many."
Singletary came to St. Paul's after attending a Diversity, Equity, Inclusion and Belonging hiring conference for secondary school educators. There, she met the Rev. Michael Spencer, SPS vice rector for faculty, who told her about the School and encouraged her to apply. She had spent the previous 28 years in higher education working as an admissions officer, a job she describes as "more transactional" than the work she does with students now.
"I wanted to have an impact on students' lives," she says. "To have closer relationships, more meaningful relationships, with them. To talk about different colleges, and career paths and goals. To be a resource for them."
The conference where Singletary met Spencer led to an on-campus visit, during which Singletary met with a group of students of color who said there wasn't the same level of diversity in the faculty as there was in the student body. And that they wanted to see that change.
"That was one of the deciding factors of coming here — I wanted to be part of the diversity of the school," Singletary says. "Because representation matters. Representation in the faculty can serve as an opportunity for underrepresented students to connect with faculty with similar shared life experiences, find community support and validation."  She joined the faculty in 2018 as an associate director of college advising. This year she added a second title: director of multicultural student support.
Singletary grew up in the church. She sang in the choir. It's where her love of gospel music comes from. She listens to it all the time. And she still goes to church. But she's not alone.
"My husband and I have a group of students that go with us. They get in the back seat and we take them to church every Sunday — or sometimes we take two cars. It's a very diverse group and I love it," Singletary says.
And she loves working with students.
"Really getting to know students, laugh with them, cry with them, encourage them and challenge them to be their best is why my time at St. Paul's is so rewarding and why my new role, working more intentionally with multicultural students, is so important to me," Singletary says. "The best part of my job is when I feel as though I have really supported the student. When they feel like they have been seen and heard, that's the best of it."