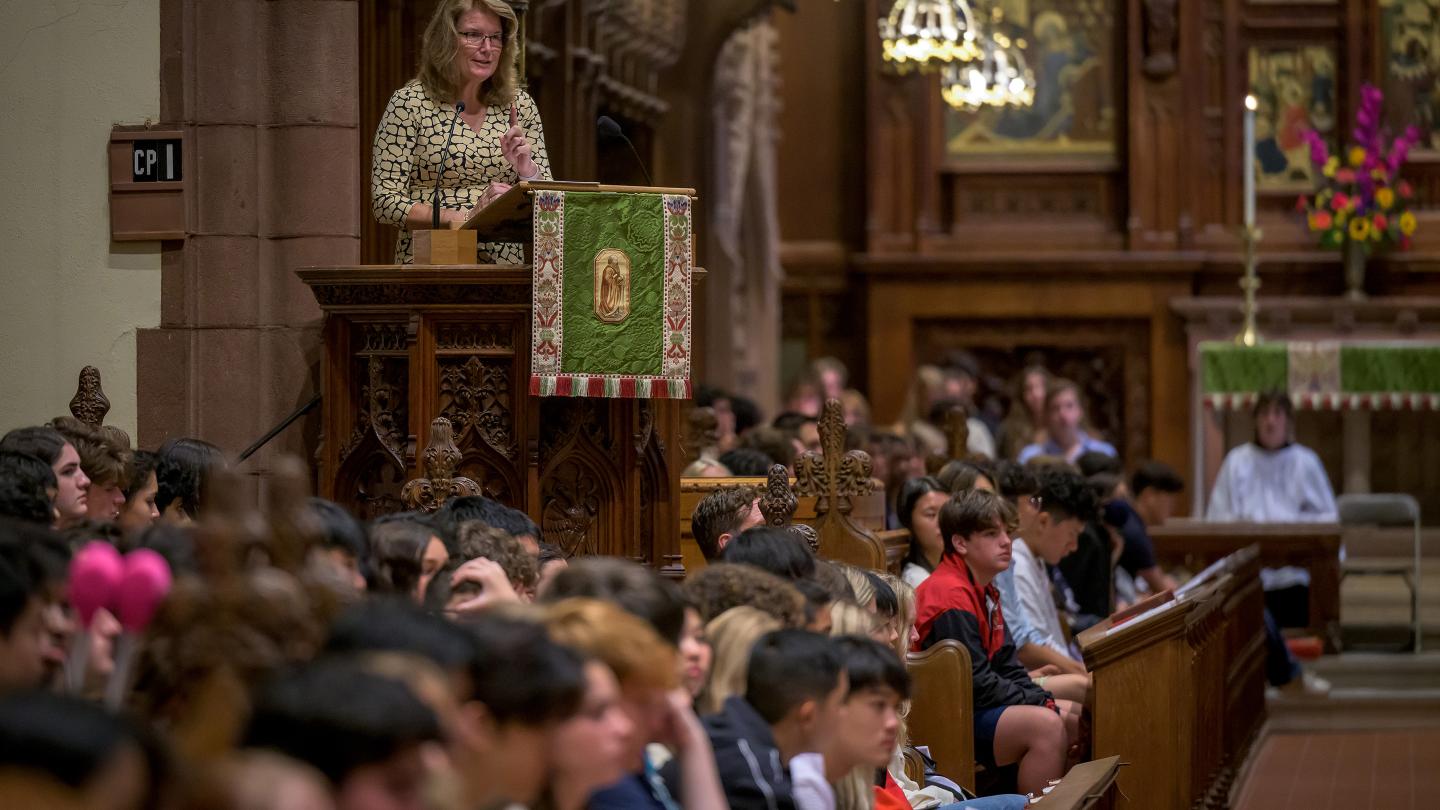 September 8, 2022
Rector Kathy Giles opens the 167th academic year with messages of belonging and gratitude
I'd like to begin with a prayer in the words of the Reverend Dr. Martin Luther King, Jr. that welcomes us all to this new year.
O God, we thank you for the fact that you have inspired people in all nations and in all cultures. We call you different names: some call you Allah; some call you Elohim; some call you Jehovah; some call you Brahma; some call you the Unmoved Mover. But we know that these are all names for one and the same God. Grant that we will follow you and become so committed to your way and your kingdom that we will be able to establish in our lives and in this world a just community, that we will be able to establish here a kingdom of understanding, where we will live together as equals and respect the dignity and worth of every human being. Amen.
I love this prayer because it makes clear that in this house, in the God-of-All-Name's house, all are welcome here, believers and non-believers alike, in the presence of the Love Divine. While our iconography and litany are rooted in our Episcopal traditions, we each bring our own spirits to our time together in this chapel and to our lives in this community. You will notice that the bronze plaque beside our Chapel door reads, "All are welcome here" — ironically hidden behind the door, when it is open. This year, it is a priority that we add to that idea not just welcome, but invited in and embraced. As we come together at the start of this new year, let's stop for a moment and realize, again, that we are each in a seat that is assigned only to us. We BELONG to St. Paul's School. We are where we are supposed to be, in a place that was built for us to be doing the work of our school — built with the continual optimism and hopes of decades of students, teachers, staff members, alumni and families who believe that we come together here, in this place that was built for us to do this work, to educate ourselves to build purposeful lives in service to the greater good. This morning, as we undertake that work in this school's 167th session, let us affirm that WE BELONG, each and every one of us — equal partners in the Love Divine, equal citizens in this community, each of us with our own specially-reserved seat, our own place at the table, our own bed under the School's roof.
Thanks can consume this entire service. This morning, when we give thanks, we give thanks for the enormous amount of work that has gone into preparing for this year — the work that never stops, in Facilities, in our administrative offices, in the Health Center, everywhere the lights (and air conditioning) have been on since we graduated the Form of 2022 last June. Please take a moment to think, right now, about the people to whom you owe gratitude — the family that stands behind you; the family now sitting around you; the people who have turned the campus inside out, getting it ready for the living and working together that we will do this year. Thanks for those new common rooms. Thanks for the huge amount of care that goes into the very hard work of housing assignments and academic schedules. Thanks to the people who chased down forms, created directories, answered questions and published lists and newsletters and prepared for weeks for this day and beyond. Thanks to everyone who keeps us up and running, lights on to lights out.
There's a lot we can talk about, in terms of invitations and opportunities, and it's a good thing we'll be spending a lot of time together in the coming weeks and months to do so. For me this morning, there are two ideas I want to offer for your consideration.
The first is an idea I came across years ago, one of those ideas that sticks with you and over time changes the way you think. This particular idea comes from an early twentieth-century Chicago newspaper man, Sydney J. Harris, who stated that "the whole purpose of education is to turn mirrors into windows." Mr. Harris finished high school in 1934 and went straight into the business, becoming a reporter at age 17 as he entered the University of Chicago to study philosophy. During his life, his writings as a reporter, essayist, and theater critic were carried across many newspapers, in large cities and small towns, and he became known as a champion of civil rights in the United States. The syndication of his writings — their being carried across many newspapers and his being known across the country because of these writings — was how his ideas as what we would now call "an influencer" spread. He wrote these lines — "the whole purpose of education is to turn mirrors into windows" — to describe how education – both what we learn and the ways we build our knowledge and skills — enables and indeed requires us to see the reality beyond ourselves, the bigger world beyond our own small reflection. Mr. Harris wrote that idea in the age of print journalism, telegraphs, and World Wars. I've been thinking about what it means for us now, in this age of the internet and algorithms and artificial intelligence, when on-line we get served up more and more of what someone else or something else thinks that we want to read and see, what we want to believe, until we are so manipulated that we are looking at not just one mirror but at perpetual mirrors, in which all we see is ourselves looking at ourselves, looking at ourselves — the selfie in the mirror, so to speak. In fact, this effect feels so intense that instead of experiencing a mirror, one experiences a house of mirrors, that carnival/amusement park attraction that leaves you dazed, confused, and staggering on the way out. If we let our education be only about looking in the mirror – if the algorithms take over our choices for us, if they feed our intellectual and emotional lives without our choosing what to consume, if education then becomes about considering ideas that we like, of which we approve, that make sense to us on first impression, the mirrors just get multiplied until they becoming disorienting, confusing, and distorting. We see it happening all around us, and we see the effects of echo chambers and houses of mirrors everywhere in our society right now. But let's agree, right now, that we want more from our education here, and that your education in this age of algorithms is more important to democracy and justice than ever, given that it is happening in a historical context that has already assimilated things like the World Wars. Every one of us needs to push past those mirrors and force them open into windows. We have spent thousands of hours and miles and millions of dollars pulling together this diverse, fascinating school community, and we have done all of it for the purpose of producing the best possible education that a school can create for the benefit of you, our students, and the lives you will build and the good you will do. To get that education, you need to engage this community. What is your perspective? What can you learn when you collaborate, when you can see reality from multiple perspectives? When your education functions as a window, framed by respect and our community's values, you can put what you learn into its context, and you can begin to UNDERSTAND and that is the whole point. A house of mirrors is not about understanding – it is closed entertainment system, designed for distortion, into which the light of day intentionally gets boxed out. Let's declare some independence from algorithms this year, and whenever we can, however we can, let's choose windows over mirrors for the ways we want the process and substance of education to work for each of us in our community.
The second point is, perhaps, a little counterintuitive on this day of new beginnings. I'd like everyone to take a minute and find the little red prayer book among the different books in front of us. The most recent version has a pelican on the cover. This little book is called "Chapel Services and Prayers" and over the decades of our school it has provided generations of us with some important common prayers – such as the prayer for friends, the prayer for the studies, the prayer for holidays, including the Cricket Holiday — WHICH IS NOT TODAY! — and many others. I'd like to draw your attention to the Services and in particular, on page 10, to the Last Night Service. Before each major vacation, at the end of every school year, and the night before graduation, we perform this service and we read these prayers — and perhaps, just perhaps, our minds are a bit elsewhere? After all, when we are perched on the edge of a break, or on the eve of graduation, it is hard not to be thinking about what's next, whether that is a favorite home-cooked meal or the embrace of family or a big celebration. Every time we get to that Last Night Service, and I read through it, it strikes me that there is a very important line that deserves a lot more attention than it gets — third paragraph, just about done, the sentence, "Kindle in our hearts the honest purpose to do right." Read it again — "Kindle in our hearts the honest purpose to do right." There is a list of important asks of the Love Divine in this paragraph, as we are heading out the door — keep us safe from harm, keep us safe from the profane, help us love the truth, help us to love and respect each other – so many important requests, pleas for help in well-being and well-doing, and then this sentence: Kindle in our hearts the honest purpose to do right. That's about as important a starting place as one might find on New Year's Day, and today I want to bring it forward for your consideration.
The humanities teacher in me can't resist offering a little critical analysis. When you "kindle" something, you light a fire, you set a spark, you inspire, you arouse — something engages and connects, something becomes active. I guess a lightning bolt can certainly kindle a fire, but that's not the meaning of the verb "to kindle" — it's something much more subtle, a small charge rather than an flashy explosion. Kindle in our hearts gives the phrase more context — not just in our heads or in our minds, but in our hearts, the seat of our beliefs and principles and emotions, the place where we know truth when we feel it. Kindle in our hearts the honest purpose – not just because we know we have to follow rules or meet expectations, but the heart-felt, earnest, principled intention "to do right" — not what we want, not what get us the win or gets us the most or makes us the best, but right — the right thing, the right ethical thing, the just thing that when we do it, even if it might not feel great, we just know, in our hearts, that it was the choice that makes us at peace with truth and justice and love. The "honest purpose to do right" has nothing to do with likes or followers, and it has everything to do with our growth as people, connecting within this community to draw forth what is best in each other and in ourselves. Kindle in our hearts the honest purpose to do right this year — right by each other, right by the Love Divine, right by ourselves as citizens, as humans, as spiritual beings. This line also presupposes that once that honest purpose is kindled, we will try to "do right" – we will do it, act on it, doing right by people, doing the right thing. Once the fire starts, it needs to burn. Once that honest purpose is engendered, it drives us and guides us. I hope you will carry this sentence with you throughout this year — kindle in our hearts the honest purpose to do right — and use it when you need it, or maybe hear it from your inner voice when you need it, when the many, many ways that it can seem easier to do otherwise than right appear in your path — the temptation to use someone else's work as your own, to misrepresent on a sign-out or a check-in, to act in ways that demean or disrespect others, the list goes on. It might be said that this sentence is actually among the most important aspects of your St. Paul's experience and education. This is what people mean when they talk about the foundations you can build upon the traditions of St. Paul's School. "Kindle in our hearts the honest purpose to do right." We'll revisit it at the Last Night Service before Thanksgiving break, in just a few short weeks.
This year will be full of invitations and opportunities. May we greet them humbly, seeking grace and strength; may we greet them with courage and good spirit, and energy and optimism; may we find fun and joy in friendship and in good times together in this beautiful place; and may we grow in hope, in wisdom, and in the Love Divine that lights our paths forward and ahead.