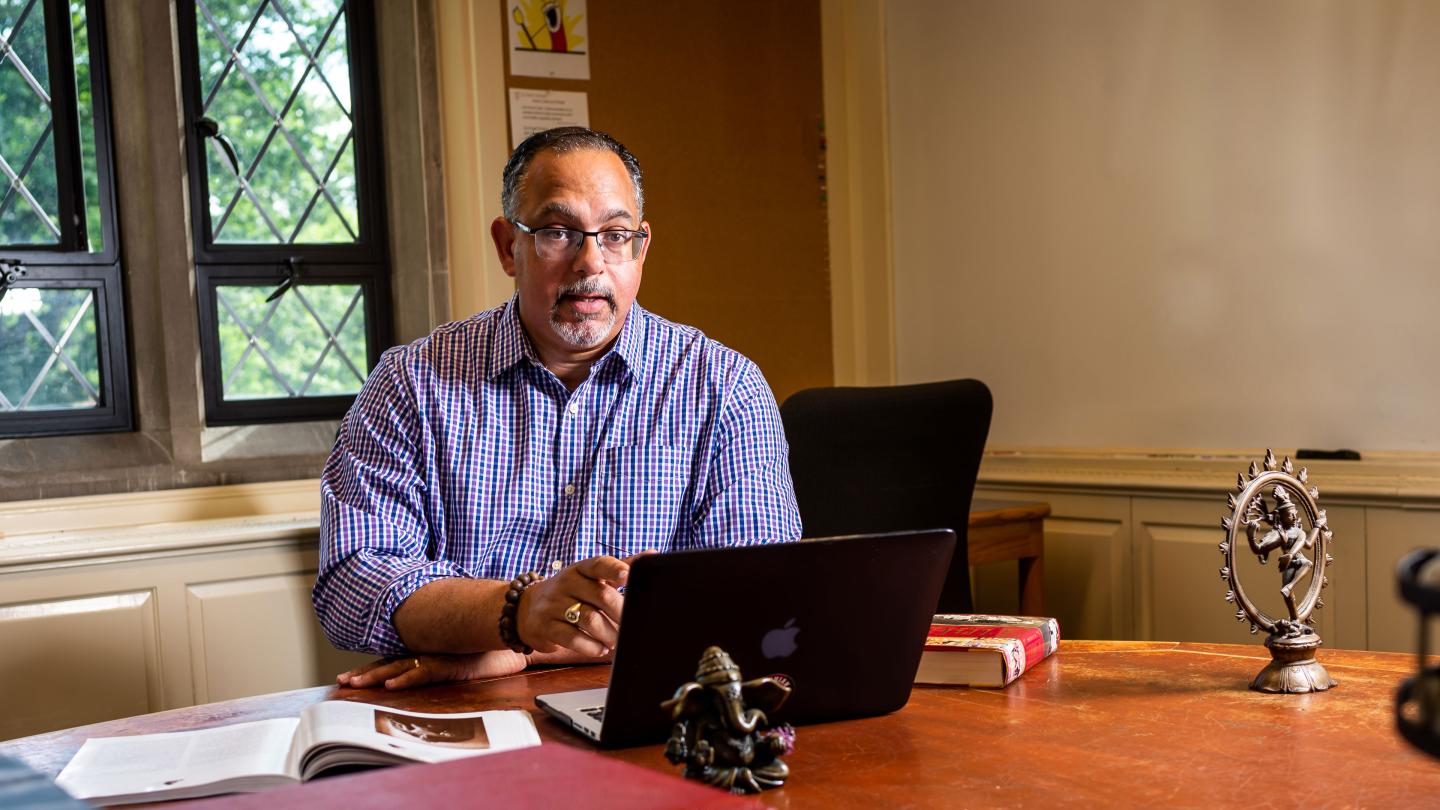 June 16, 2023
After 16 years, Rev. Michael Spencer moves on from SPS.
BY JANA F. BROWN
When the Rev. Michael Spencer interviewed for his first teaching job at Tabor Academy three decades ago, the headmaster shared a theory with him about boarding school education.
"He said the most important subject a boarding school student will study," Spencer recalls, "is the faculty."
Since joining the faculty of St. Paul's School in 2007, Spencer has been integral to a cohort of devoted educators. As he prepares to depart SPS to become head of Oregon Episcopal School, which serves Pre-K–12 students in Portland, he is reflecting on what he has contributed, what he has learned and what he will take with him on the next leg of his professional journey.
Initially hired as a Humanities teacher and dean of chapel, Spencer has taught multiple subjects, from Humanities V to Islamic Literature. In his ministry work, he has emphasized integrating interfaith and Episcopal programs by making deeper connections with social justice, diversity, environmental stewardship and the arts.
"It's about making sure the Chapel is an open, affirming and inclusive space," Spencer explains.
Since 2015, he has served as vice rector for faculty. In that capacity he has played a central role in the diversification of the faculty. During Spencer's tenure, faculty of color have increased by 57%.
In addition to his other contributions, Spencer is proud of the legacy he helped build as varsity head coach of the girls crew program. Since 2011, he has helped lead SPS crews to 19 NEIRA medals that include four first boat gold medals and four team trophies, as well as victories at the National Scholastic Rowing Association Regatta (2014) and the Henley Women's Regatta (2019), among many other achievements. He also established a strong collaborative coaching model with wonderful co-coaches over the past decade.
Though he has worn many hats, Spencer sees a continuity between his various posts, and draws a direct line between his wide-ranging SPS experience and his next chapter as head of school.
"I often talk about how, while I started as a Humanities teacher and dean of chapel," he says, "the work of ministry and education continues." Ministry, he observes, is in the word administration.
In 1993, Spencer was introduced to St. Paul's as an intern at the Advanced Studies Program. Prior to that, he knew very little about independent schools and planned to become a lawyer. But, he says, "St. Paul's was instrumental in the beginning of my vocation as an educator and as an Episcopal priest." Spencer now leaves the School with a heart full of gratitude. It is where he and his wife, Amy, raised their children, Aidan '18 and Katherine '23. It is a community the family has come to call home, and one whose lessons will endure.
"That emphasis on how we intentionally build community at St. Paul's is something I'm absolutely going to bring with me," he says. "And I hope I've done what I said I wanted to do in terms of creating the best subject for the students to study. I hope my own example of service to the School has honored this place I love."