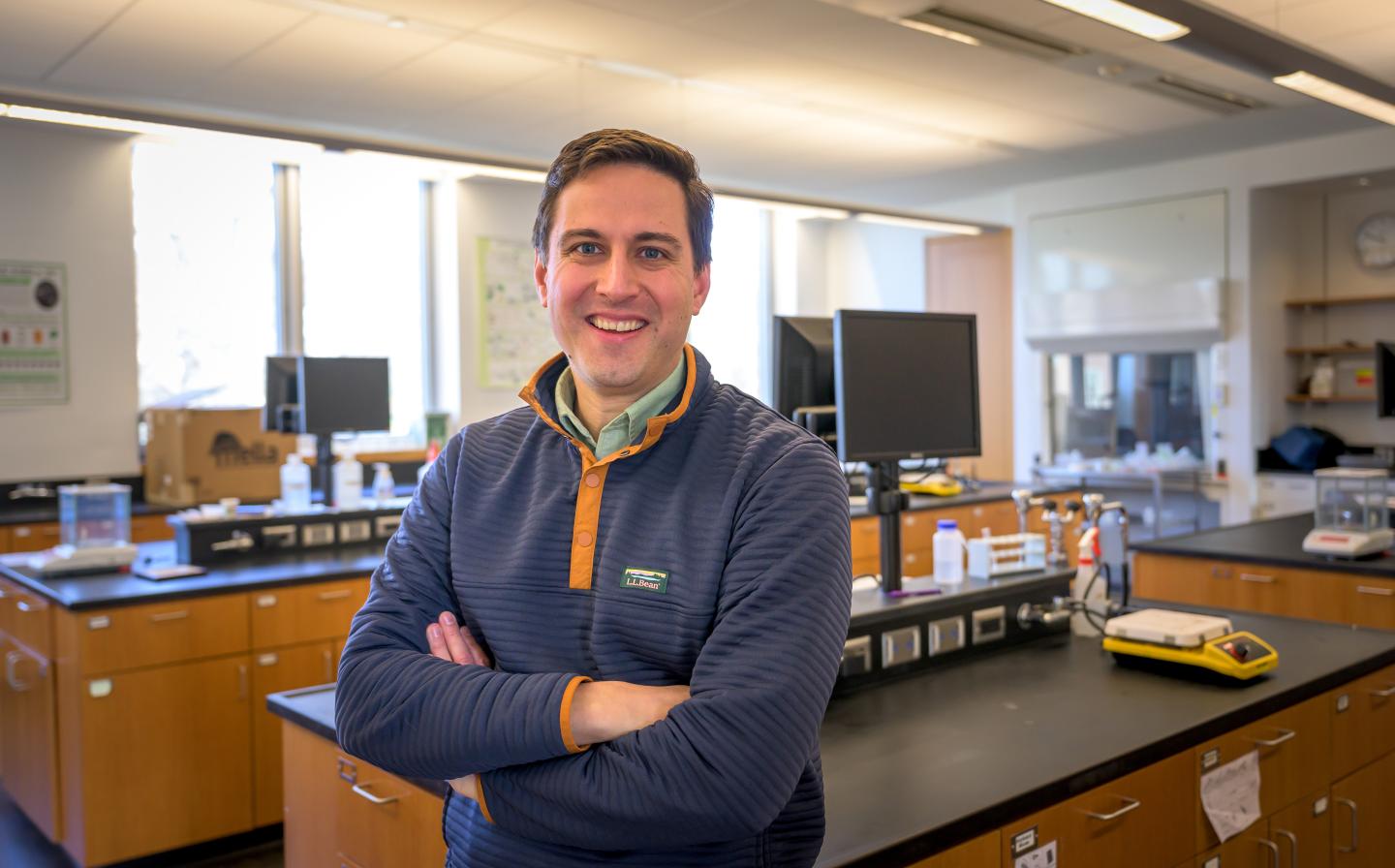 April 19, 2023
Five questions with SPS Science Teacher and Environmental Steward Nick Babladelis.
BY JACQUELINE PRIMO LEMMON
As he walks in the courtyard of the Lindsay Center for Mathematics and Science, St. Paul's Science Teacher Nick Babladelis looks with concern at the low garden bed where tidy lines of pea shoots curl beneath a row cover, a thin barrier between the fragile greenery and the 40-degree April wind cutting across the grounds. "I've been keeping an eye on the temperature lows the past few days, hoping our peas are okay," he says. Babladelis himself is in his element outside; he looks relaxed — and not cold — as he watches students outside the Schoolhouse pass donuts through the window to their friends inside. "Ah, spring has arrived," he jokes.
Babladelis, who serves as the Schools' environmental steward and holds the Albert P. Neilson '48 Chair in Environmental Stewardship and Education at SPS, says that when he read the description for his job eight years ago, he couldn't believe how well the responsibilities lined up with his interests in religion, science and environmentalism. It was such a unique combination of passions that he didn't dream of finding it all in one place; this felt kismet. Today, in addition to teaching both Chemistry and Food, Environment and Society, Babladelis serves as faculty adviser for the Farm Team and Eco-Action student groups — and educates students about environmental practices every chance he gets.
What drew you to environmentalism and sustainability?
I was not the most environmentally conscious kid. I only recycled because adults told me to — and don't get me started on turning out lights — so educating kids on recycling or turning off room lights at SPS is probably karmic revenge. My interest grew when I started to get outside more and enjoy nature, as cheesy as that sounds, and I saw how the different choices we make really do impact things, whether you're recycling or replacing an old vehicle with an electric car. Even if you're reducing the Earth's carbon by a few grams, that's not nothing. You're making an impact.
What does it mean to be SPS's environmental steward?
I support our incredible staff across operations to help consider how to be more sustainable and lower the School's carbon footprint, and then I help my faculty colleagues translate this into effective educational programming. Both of these steps help foster a more sustainable community that can better educate, care for and empower our students. I'll pose questions like, "How can we make this event more environmentally friendly and educate students on the reasons behind it at the same time?" Next week I'm bringing my class to the Upper so they can go behind the scenes of how SPS diverts food waste from the landfill. We also switched to single-stream recycling on the grounds because it is a system people are more likely to get behind.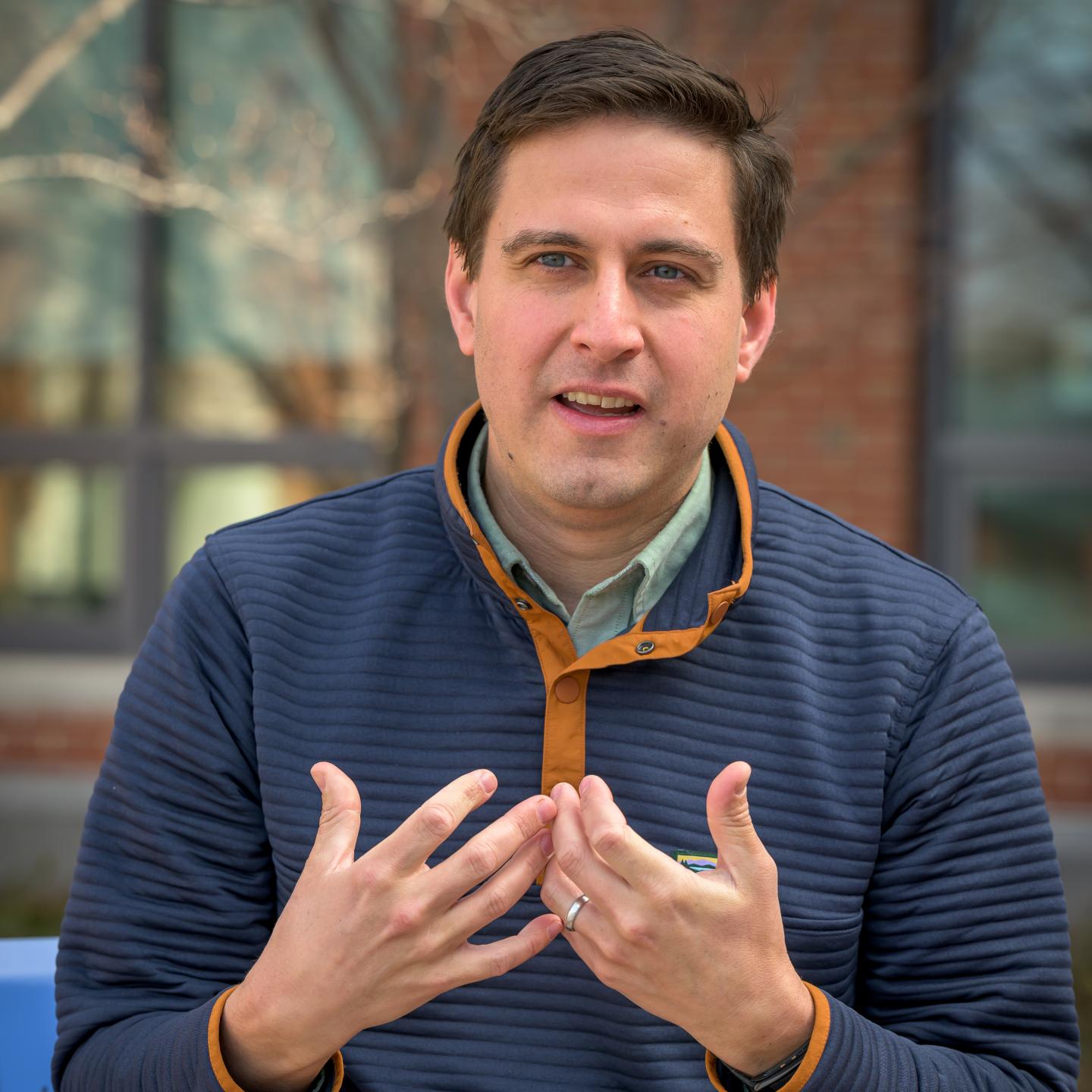 I saw how the different choices we make really do impact things, whether you're recycling or replacing an old vehicle with an electric car. Even if you're reducing the Earth's carbon by a few grams, that's not nothing. You're making an impact.
Nick Babladelis, Teacher of Science
You earned a bachelors in biochemistry before pursuing your Master of Divinity degree, with a focus on faith, science and ecology. What connections have you made between the sciences and spirituality?
Don't both theologians and scientists — and most people, in fact — feel a sense of awe when they're out in nature, whether on a hike or looking at the ocean? Both theologians and scientists marvel at the intricacies of life, down to the function of the parts of a single cell in keeping an organism alive. Science and religion are both seeking after understanding, and they offer two important ways of knowing and understanding ourselves and our world. Mary Oliver's poem, "The Summer Day," resonates with me on this topic. It begins, "Who made the world? Who made the swan, and the black bear?" and closes out with the line, "Tell me, what is it you plan to do with your one wild and precious life?"
What is something all members of the St. Paul's community can do to improve the School's environmental impact and sustainability efforts?
There's not any one thing a person can do to solve environmental problems on a large scale; we all have to make small —and sometimes big — sustainable changes to contribute to these efforts. The biggest thing we can do is talk to each other about climate change and what we are doing or hope to do, which can drive change in ourselves and others. A lot of the ways we can make a difference have to do with our food choices, so education about where our food comes from is something we can do that can reach a lot of people.
What's the most rewarding experience you've had while teaching here at SPS?
Any time kids get their hands in the dirt is rewarding to me, whether they're in the garden as part of Farm Team or with the class. Next week I'm taking students on a walk over to the campus community gardens so they can see where we're going to be planting this year. Soon we'll walk out a little farther on campus to see how real farmers do it as we work on SPS land managed by immigrant and refugee farmers who are part of the local Fresh Start Farms cooperative. That's a program with incredible impact.
Getting Started on Sustainability
Want to start living more sustainably but not sure where to start? Check out these recommendations from Babladelis: