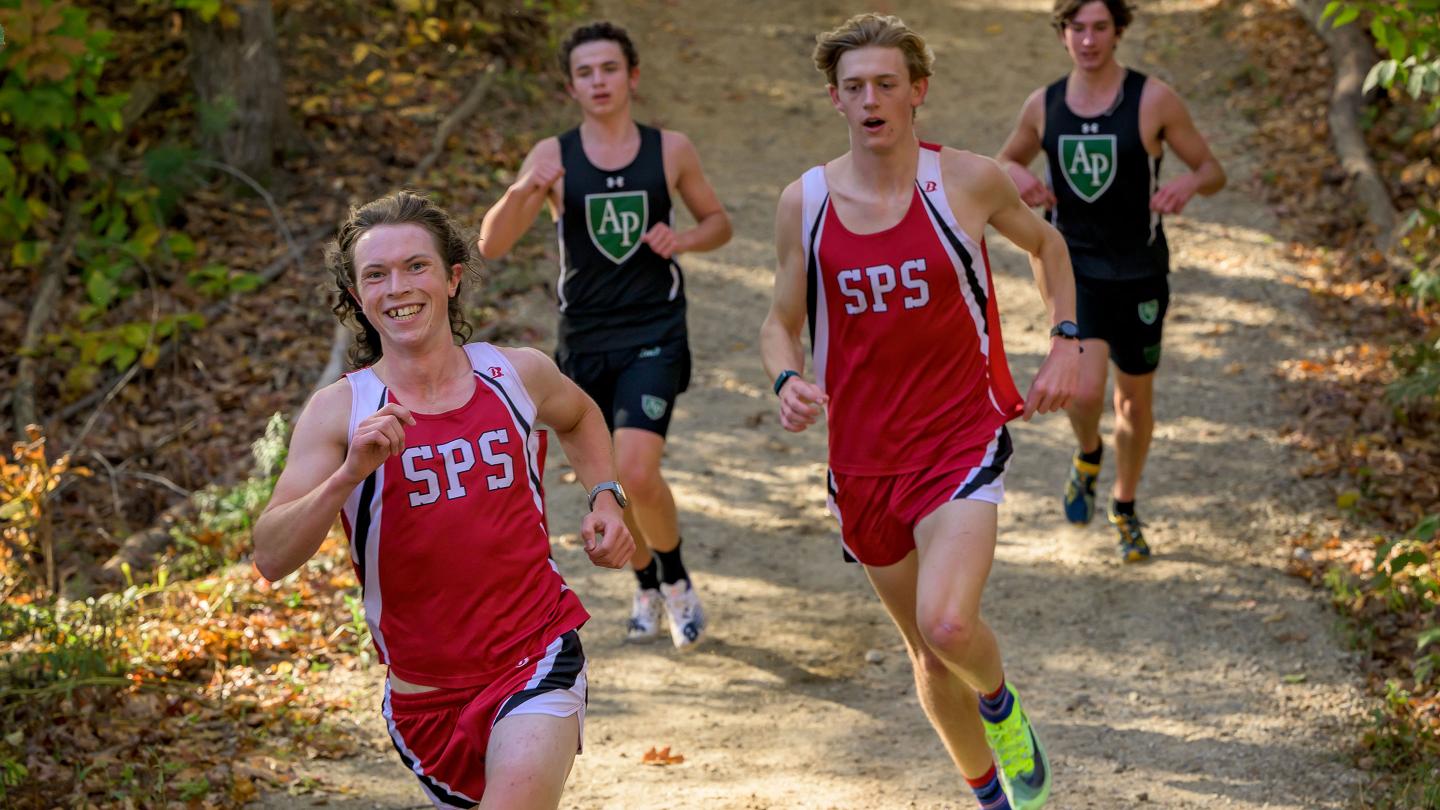 March 6, 2023
On the Trail and in the Bell Tower, Jamie Campbell '23 Keeps Tempo
BY JACQUELINE PRIMO LEMMON
Kentucky native Jamie Campbell '23 embodies a level of composure beyond his years, and a quiet, straightforward self-confidence that lacks bravado. He is careful with his words and comfortable in silence — a discipline crafted by solo hours spent running long distances, studying sheet music for a range of instruments and playing the pipe organ in the Chapel during his free E blocks. Campbell also competes in Nordic skiing, is the coxswain for the boys crew team first boat, sings in the choir and is one of only two current students who play the carillon, the 23-bell instrument in the Chapel's Gothic tower.
As a Sixth Former, he has already closed out his last cross country season at St. Paul's, for which he received the Varsity Coaches Award and was a Lakes Region All Star and NEPSAC Honorable Mention. But running is a sport he plans to carry with him beyond high school. "I've always preferred longer distances," says Campbell, who aspires to be a lifelong long-distance runner and hopes to still be running marathons in 50 years. "Now that I'm no longer racing for the School, I've switched to marathon training. After high school, I'll probably switch to ultra-marathon training when I have the time."
Campbell runs around 50 miles a week, with Nordic skiing replacing some of these miles during the current Winter Term. And while both St. Paul's School and his participation in crew were paths introduced to him by his brother Aidan '20, Campbell has made both experiences his own. Aidan was a rower, while Jamie says he was drawn to coxswaining from the start. "The most important thing is steering," he says of the role. "But it's also knowing what to focus on to make the boat go faster at any given moment; finding the one issue that can be addressed and deciding how to fix it."
In addition to his athletic endeavors, Campbell is a chemistry student and skilled musician with a burgeoning repertoire of instruments he has learned to play — most of them self-taught, and some introduced to him at SPS. So far, the list includes guitar, mandolin, dulcimer, banjo, pipe organ and carillon; he admits that he generally likes less-common instruments.
"It's a little funny because my introduction to keyboards was the carillon," says Campbell, who was part of a small group of students who had the opportunity to go up into the bell tower and learn how to play as a Fourth Former. It was through the bells that he was introduced to the antiphonal organ on the Chapel's chancel floor.
Campbell says the Chapel of St. Peter and St. Paul is his favorite building on campus. "That space is, I very strongly argue, the nicest and most important space that the School has," he says. "Being able to use that space in a way it was built for — music — is really amazing, and the acoustics of that building are astounding."
The magic of playing a grand instrument like the organ in a space designed to amplify its sound is never lost on him. "With the organ, there's no way you can really sustain a note once you stop playing it; the moment you lift your finger the note stops, because it's a wind instrument. But when you have that big space, even when the pipe stops playing the sound continues through the space. It's the same with singing, and it's an amazing thing to experience."
Campbell has an affinity for folk music and ethnomusicology, which is the cultural study of music. One of his hobbies is learning and recording centuries-old Appalachian folk songs and educating himself about the cultural context of the pieces as he learns them. During finals week this fall, he recorded an EP of original music that he titled HANK — a nod to the nickname given by the campus community to the great blue herons often seen fishing in campus ponds.
"Now I'm trying to record a different album based entirely on folk songs around the idea of escapism, largely around the Great Depression, but it's also a pretty common theme in a lot of Appalachian music," Campbell says. "And balancing it all with classes."
Campbell will continue to play the organ at Brown, where he is headed in the fall. But while he's still at SPS, he's working on learning one of his favorite pieces of music, Bach's "Gigue" Fugue G Major BWV 577, on the organ. "With this one particularly, the [organ] pedal jumps around a bit and in some parts, the spaces between the pedals are far apart." And with unmistakable but unintentional parallels to long-distance running, Campbell says, "Right now I'm just trying to make my way through and hope that my feet make the right distance."