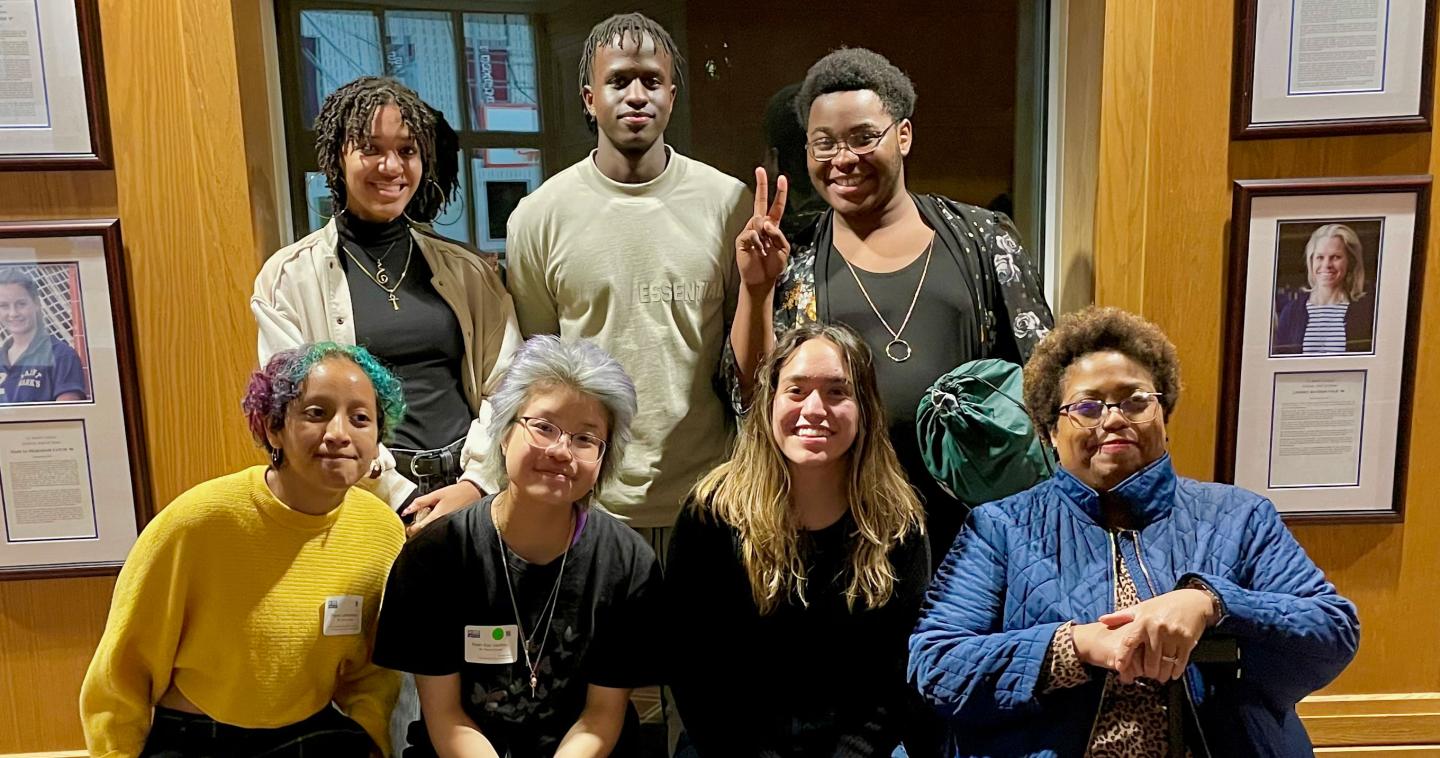 June 16, 2023
SPS students find opportunities for leadership and self-reflection at the 2023 High School Students of Color Conference.
In April, St. Paul's School sent six students to the 2023 High School Students of Color conference, which was hosted by the Association of Independent Schools in New England at St. Mark's School in Southborough, Massachusetts. Accompanied by Myra Singletary, director of multicultural student support and associate director of college advising, the students who participated included Raen Kao '24, Ishan Gichoi '23, Amala Jenkins-Culver '23, Sofia Pace '24, Maya Lokhandwala '25 and J. Baffour '24. The day included keynote addresses and a wide range of student-led seminars, with programs addressing leadership development, health and wellbeing, the LGBTQIA+ community's interests and issues and more. Kao hosted a discussion on the topic of "Second Generation Queerness," an exploration of what it means to be a queer immigrant child.
Developed to increase self-awareness, community, support and leadership among students of color and their allies in independent schools, the conference has been held for more than 20 years. "I absolutely loved the conference," says Lokhandwala. "Every student I met was upbeat and eager to participate. I met a lot of people and made connections that I would not have made otherwise."
"The experience was not only enriching but also incredibly enjoyable," adds Pace. "Connecting with kids of all nationalities and discussing our transition to boarding or independent day school experiences allowed us to reflect on how we sometimes alter our identities to fit in. It did, however, remind us of the necessity of accepting our real selves and celebrating our uniqueness. The conference provided a secure and welcoming environment for us to explore our individual paths and build a strong sense of belonging."
Kao's discussion was a highlight for the SPS attendees, who also engaged in multiple seminars, and moderated and attended affinity group meetings throughout the day. In the standing-room-only session, students examined the question of how learning about love and identity in a different language and culture can affect the generational bond and discussed the portrayal of queer immigrant identity in movies and literature. Kao also co-facilitated the conference's Asian student affinity gathering with a teacher from Fontbonne Academy.
Singletary says that in bringing together high schoolers of color from across New England, the conference is an opportunity to provide a "majority experience" — something that's not common in many students' home schools. To that end, Jenkins-Culver says, "What made the AISNE conference so great was getting the opportunity to explore so many different topics with so many people of color — that's not something I usually got to do in boarding school." Adds Baffour, "I was able to connect with Black students from other schools, and it was fun getting to talk about our experiences and the similarities and differences. I was able to meet a [fellow] Chicagoan who was in one of my groups."
Gichohi described the experience as valuable and transformative. "Gathering with students of color from different independent schools allowed me to formulate and build new relationships that extended past the conference," he says. "Being surrounded by so many students with shared experiences but diverse backgrounds and perspective enabled my social competence and awareness as I will carry it with me in my future educational and professional endeavors…. The conference as a whole was ultimately a very enriching experience that helped me foster new connections and engage in issues pertaining to diversity equity and inclusion."