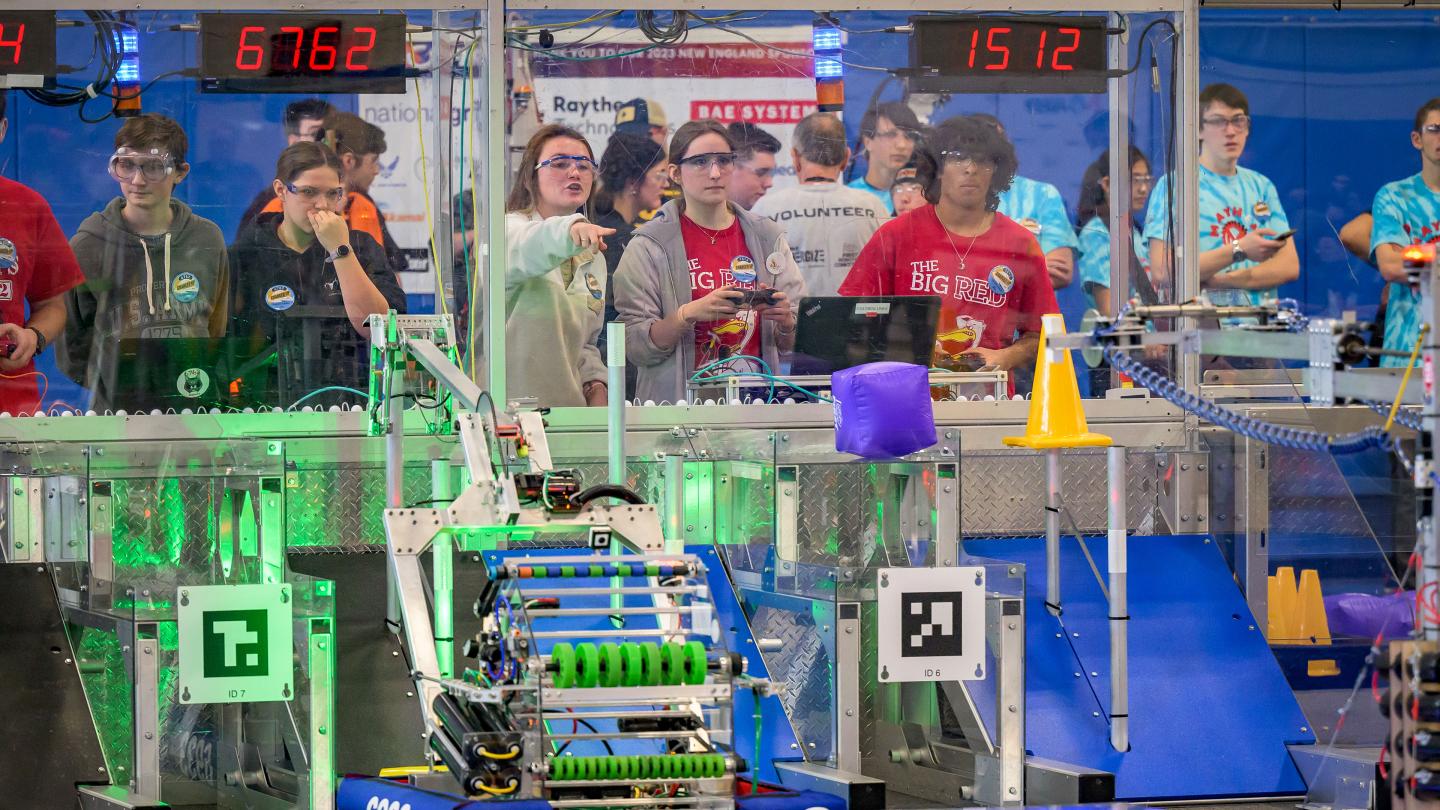 March 23, 2023
How the SPS Robotics Team builds a competition robot in six weeks
BY JACQUELINE PRIMO LEMMON
"Engineers are never done," says St. Paul's School Science Teacher Will Renauld. "They're trying to make it bigger, better, faster, smarter." As Renauld speaks, his hands — with the calluses of a mechanic and a frayed Band-Aid wrapped around his left thumb — work to adjust a pneumatic gripper laid out on the table. An open toolbox sits off to the side, pliers and safety glasses within reach; behind him, dissected computer and electrical parts are stored in various containers along the wall.
Renauld is in the Kwok Engineering Center, the robotics/engineering lab in the Lindsay Center for Mathematics and Science, where to an untrained eye, the wires and gears and loud exhales of air-pressured machines create a sense of chaos. But to Renauld and the student Robotics Team he is shepherding to competition, among these seemingly disparate parts are vital components of the robot they are building, one that can both function autonomously and be driven to perform specific tasks. Some parts of the robot are borrowed from last year's build, but most are new and designed for this year's FIRST Robotics challenge — an annual competition in which high school teams build robots following strict parameters and then compete for points in a complex game.
Prep Work
It's the end of January, and for the four weeks since this year's challenge was announced, the SPS Robotics Team has been hypothesizing, building, rebuilding, strategizing, programming and testing in the process of building a robot that will compete in district qualifying events on March 3 and March 24-25. Before the official competitions, the team is preparing for a Feb. 18 Week Zero pre-event in Nashua, New Hampshire — their first opportunity to test the robot against other teams.
For this year's challenge, each team's robot has to travel around an arena, picking up inflatable cubes and small cones and delivering them to certain points, operating autonomously during its first 15 seconds on the competition field. After the robot successfully delivers its cargo, its next task is to drive up onto and balance on a platform alongside robots from two other teams with which it has been paired in an alliance — and before a competing alliance of three teams completes the same task. Each competition includes a total of 30-50 teams, with six teams on the field during each round of an eight to 12 round game.
"We do our big testing at the first event," says Science Teacher Chris Odom, who has been teaching robotics for more than 20 years, helps to coach the Robotics Team and is on hand in the lab during the build. While St. Paul's has competed in FIRST Robotics district competitions in past years, this will be the first year the School has had a robot ready in time for the Week Zero pre-event, which is comparable to an athletic scrimmage. "This is a big deal for us," Odom says.
On gameday and at the pre-event, four members of the SPS Robotics Team will be actively engaged in the competition: one driving the robot via remote control, one operating a pneumatic arm that picks up and deposits the objects, one serving as a driving coach and another feeding the game pieces onto the playing field.
"Our programming specialists have done a great job creating a code that does a good amount of work in the first 15 seconds," says Kevin Wu '25. "We know exactly what the robot is going to do and we are 100% certain the robot will accomplish our task. For the next 135 seconds, it will be up to the drivers."
Wu says the biggest challenge for the team this year has been finding the right design for the robot's arm, with a gripper that's both strong and precise. After brainstorming, trying some ideas out and brainstorming again, the team ultimately returned to an idea they had early in the process. "Our original idea was using two pneumatic pistons to close the hand. A lot of us were more familiar with using pneumatics, so we [returned] to that idea and it turned out to work pretty well," Wu says.
Our programming specialists have done a great job creating a code that does a good amount of work in the first 15 seconds. We know exactly what the robot is going to do and we are 100% certain the robot will accomplish our task. For the next 135 seconds, it will be up to the drivers."
Kevin Wu '25
Competition Day
During the first district event on March 3, an impending blizzard forces organizers to compress the two-day competition at Salem High School into a single day. And as true engineers, the St. Paul's team likewise has to adapt, with on-the-fly adjustments that include repairing a bumper that falls off in the first round.
Driving the robot is Ryan Bollimpalli '23, with Georgia Alessio '23 operating the arm, team captain Kate Taylor '23 serving as driving coach and co-captain Eden Cahill '23 dropping the game pieces onto the playing field. Cahill says she never thought she'd get into robotics or programming until finding the team and appreciates that members are willing to jump in and help with whatever needs to be done — even if they've never done it before. Alessio was in robotics last year at SPS; Bollimpalli is a Sixth Former who's new to robotics and wanted to try something different from wrestling. "It's really finicky," he says of driving the robot during the competition. "You have to be really precise."
Also on hand throughout the build process and at competition is LinC Teacher Litzrudy Justinvil, who has been involved in SPS Robotics for the past three years. Justinvil says that after the challenge was announced in January and the brainstorming began, so did a lot of trial and error. "There's no such thing as, 'I don't know if I'm good at it,'" he says of the sciences, including robotics. "Until you sit down and try it and actually experience failures and success, it's hard to build confidence." The team's primary coders typically have years of experience, he says, but for the rest of the team members, it's often their first time working in robotics.
While the students take charge in every aspect of building the robot, it is not without the assistance and support of SPS faculty and staff: "Mr. Renauld is extremely patient with us and gives us space to add our own creativity," Wu says, also noting the guidance and support the team receives from both Odom and SPS engineering lab technician Steve Lalancette. "During competition, Dr. Justinvil knows exactly what we're doing, what our situation is and directs us in the right direction."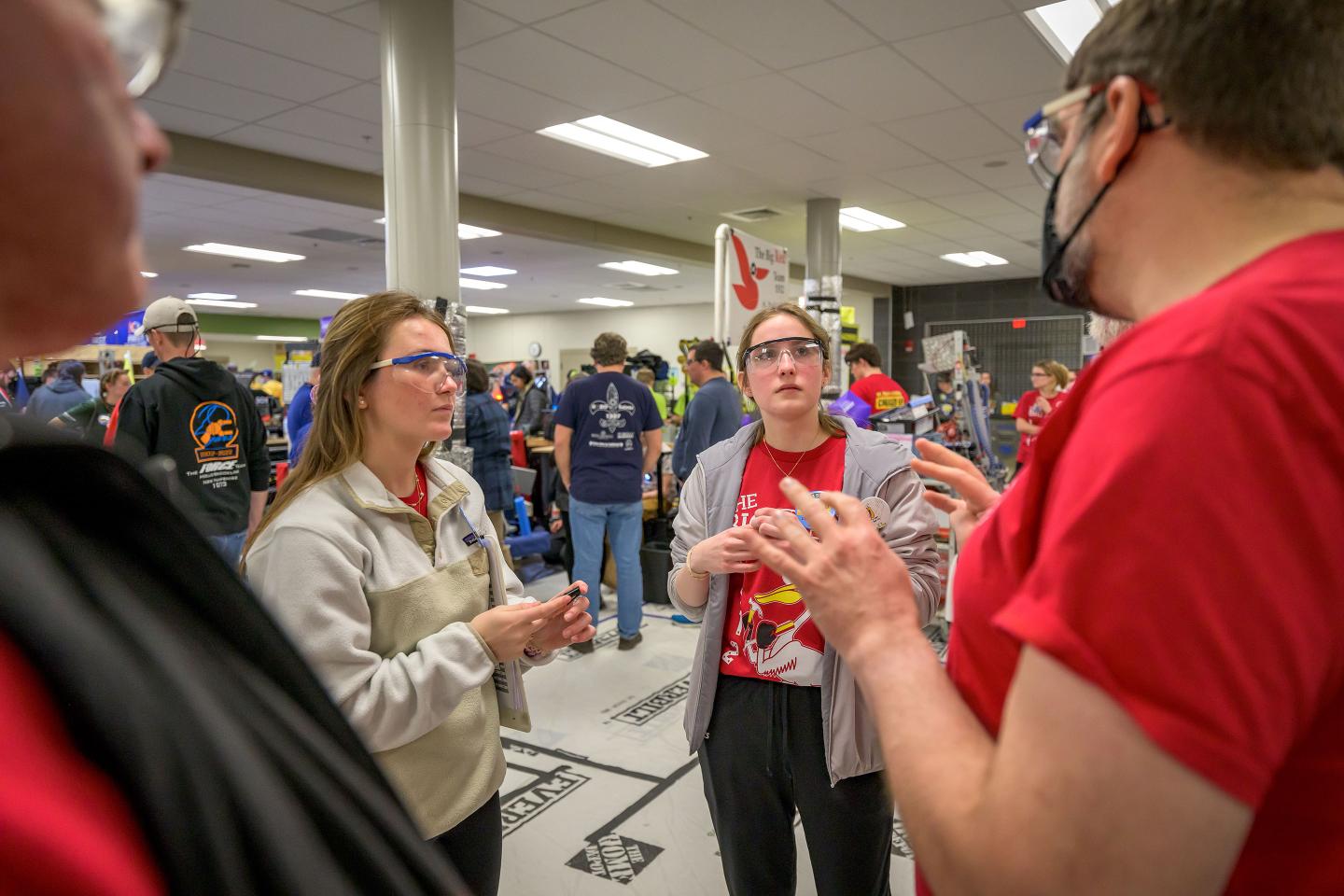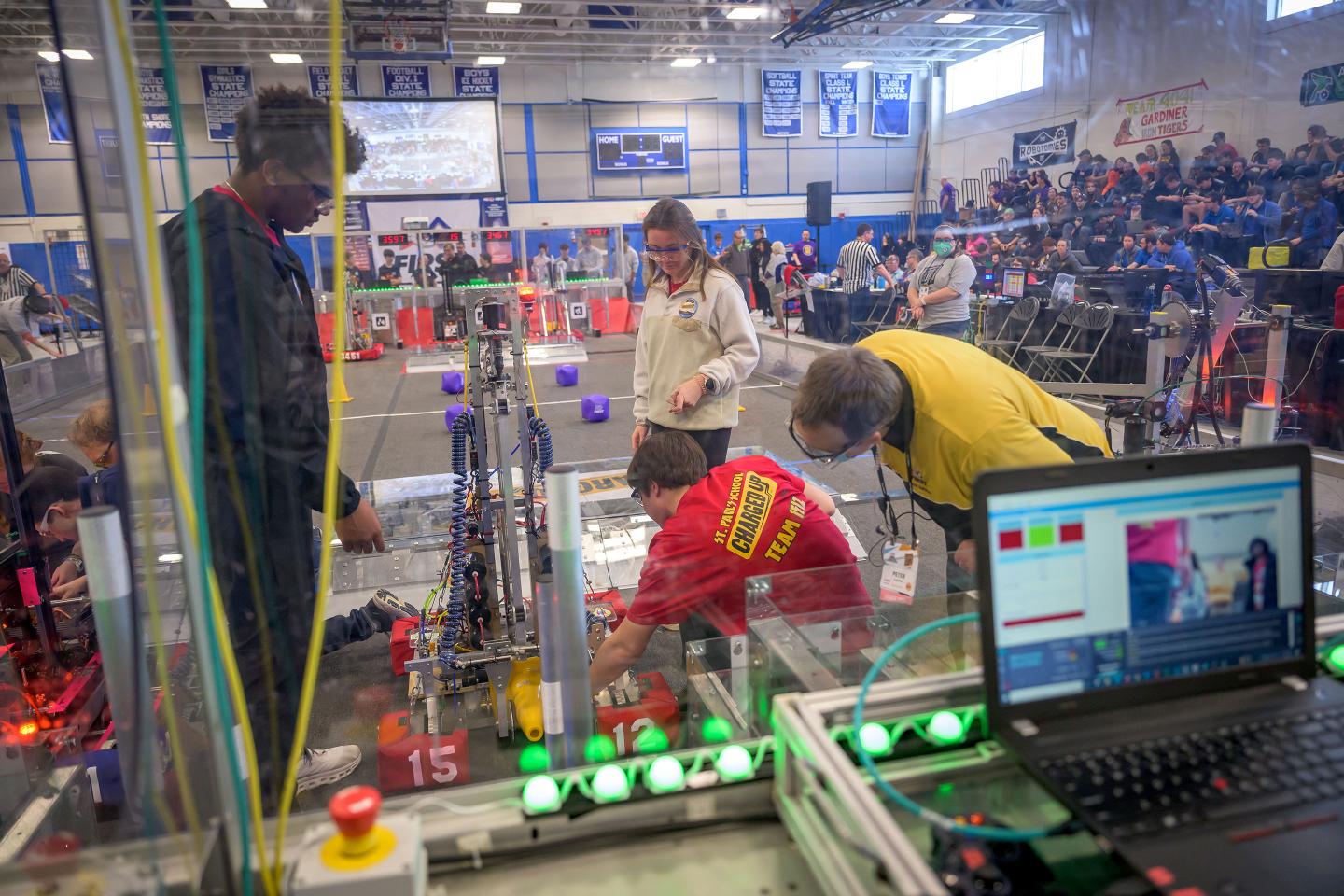 By the end of the long competition day on March 3, the sky over Salem High School was flurrying in advance of the big storm. SPS finished fifth in the qualifying rounds of the event and won two of their matches in the finals. They now have their sights set on the final qualifying district competition, which will be held at the University of New Hampshire, and possibly moving on to regionals and even worlds.
"The most important skill is simply being mentally present," Wu says when asked what quality makes a good robotics engineer — a trait required to keep a cool head while robots are on the playing field. "During the competition, this skill is more prevalent since we are pushed into times where we must think fast."
"They did great," says Odom of the team following the March 3 competition. "Definitely one of the best teams there by the end!"
Odom and Renauld both say that having good team dynamics and staying positive can make the difference. And to that end, says Cahill, "We just worked really well together as a team."
The March 24-25 competition will be broadcast online here. Go Big Red!