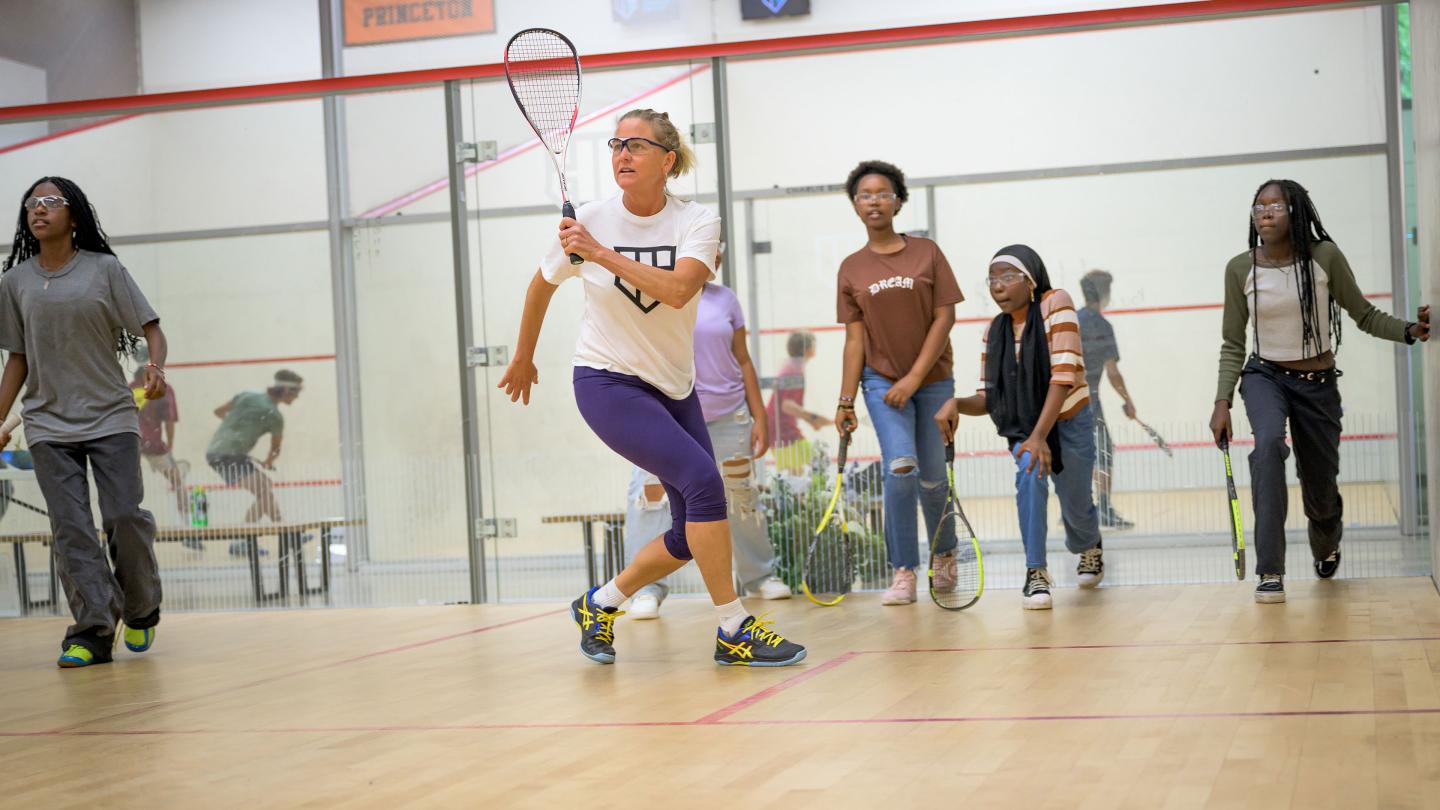 November 4, 2022
With help from St. Paul's alumni, Portland Community Squash has become a model for integrating the game of squash into the fabric of community.
BY MATT DE LA PEÑA '04
A typical week for Alexandra Maurer '84 is likely to include a serve and volley. Maurer, a notable conceptual artist, acupuncturist, and fourth-generation resident of Maine, is one of many people with ties to St. Paul's School (graduate or otherwise) counted among the members of Portland Community Squash, a local community center and squash facility nestled in the Oakdale neighborhood of Portland, Maine.
With its high, ornate ceilings and windows, one could just as easily imagine the building's denizens kneeling in prayer as standing in the service box, ready to put a small rubber ball into play.
To be sure, PCS (as it's colloquially known) looks, at first glance, much more like its former incarnation as a converted synagogue than a community center. And in some respects, Maurer says, it still conveys an ethereal mystique, albeit with a welcoming mantra that for 10 years has challenged conventional notions of the game of squash and introduced new players of all backgrounds to the sport.
"When I learned to play squash, it was private colleges, private clubs, university clubs," says Maurer, who notes that the PCS model is rapidly being recognized as one of the premier standards for community development in the United States, with at least 12 non-affiliated community squash centers establishing roots in cities like San Diego, Atlanta, and Houston.
For its part, PCS currently serves 200 students, ranging from third to 12th grade, and more than 200 adult members. Within PCS's robust student population, 67% are students of color and 63% are identified as low income; more than 60% are setting out to be among the first in their families to go to college. With membership offered on a sliding scale, from free to full pay, the program is operated by 140 volunteers and 12 full-time staff members. At any given practice, two full-time coaches are present to run drills, aided by adult and student volunteers. Young players travel to monthly tournaments around New England, many outfitted with sneakers, racquets, eyewear, and balls that are made available at no cost.
"At PCS, we have meals, potlucks, barbecues," Maurer continues. "We have a real multicultural, multigenerational facility. The pivotal backbone is that it's about access, equity, and integration."
That "pivotal backbone" is particularly relevant for SPS graduates. The sport first came to life in the United Kingdom as a pastime for prison inmates who one day decided to fashion old rubber balls into whack-able ovals, pinging one after the next against the skyward stone walls. The game eventually made its way mainstream and inspired a group of intrepid students at the Harrow School, a British all-male boarding academy founded in 1572, to tweak the rules and refine it in their image.
In 1882, less than 30 years after the establishment of St. Paul's School, squash arrived on the campus of Millville thanks to Jay Conover, a known Paulie and sports enthusiast who attended Columbia University with Hyde Clark, an avid squash player and graduate of Harrow. Conover eventually lobbied St. Paul's to build two outdoor squash courts that would serve as the foundation of the School's long association with the game and, through the years, encourage students like Maurer to take up their racquets and carry on the SPS legacy.
That legacy eventually made its way to Portland, thanks in part to the SPS graduates who have found a home in Maine and, more precisely, at Portland Community Squash. In addition to Maurer, the PCS members with SPS ties include George Cooley '14, who serves as a volunteer, and Nathan Rosenzweig '24, who coaches in the summer. Henry Parkhurst '16 and Whit Ford '75 are also PCS members, and there is a scholarship named in honor of current SPS squash coach Chris Smith.
A competitive squash player, Rosenzweig was ranked No. 1 at every junior level in Hong Kong before moving to Maryland a year ago. He ended last season ranked fifth in the U-17 division in the U.S. Rosenzweig discovered PCS on visits to Brunswick, Maine, to see his grandmother. At first, he was just looking for a place to practice his own game, but soon became involved in teaching squash to others whenever he had a chance. Last summer, the SPS Fifth Former coached players ages 12 and under during a two-week camp at PCS. It was then that he discovered the joy in sharing the game and getting to know more of his fellow squash lovers.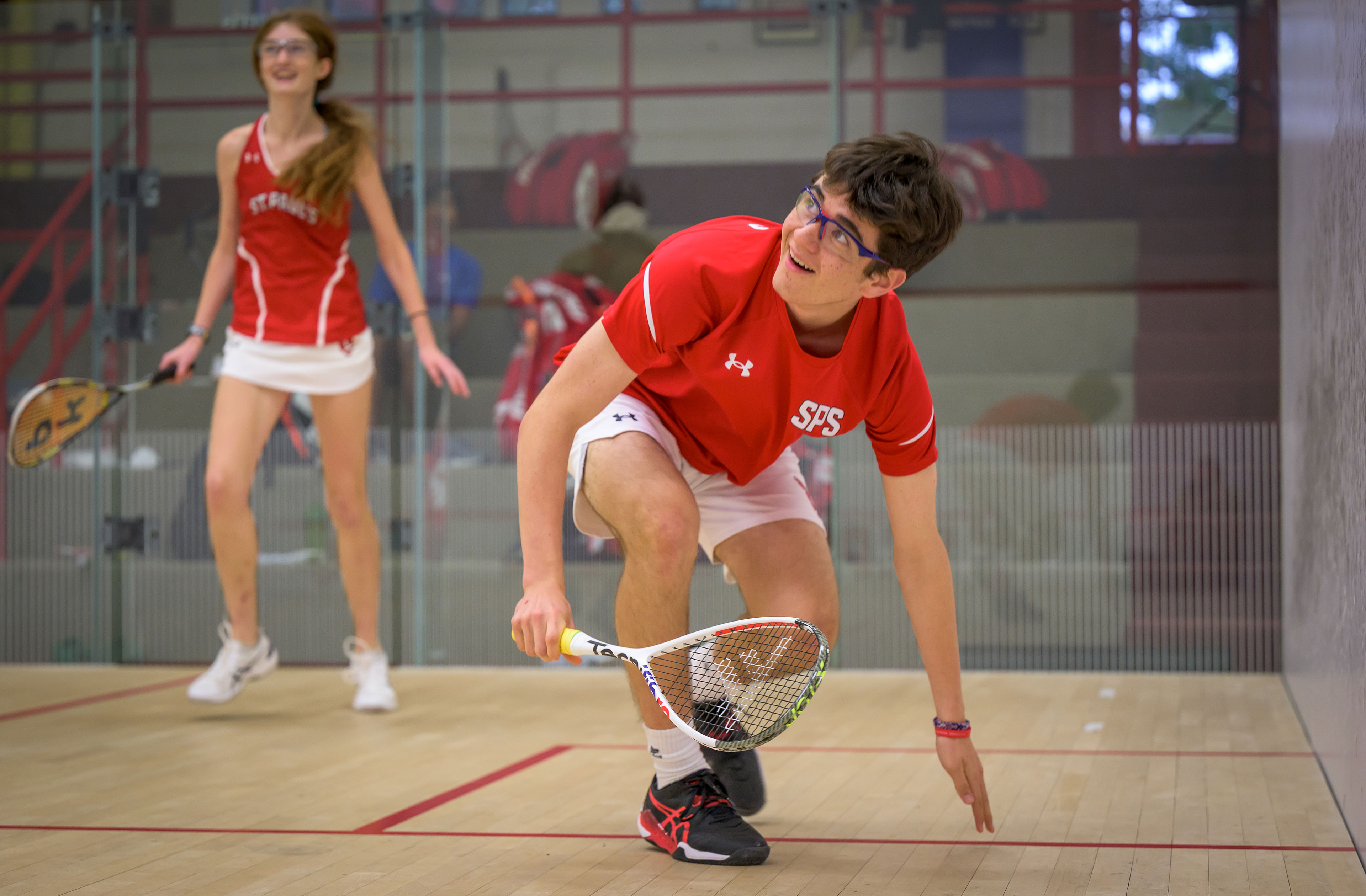 "It's right there in the name," Rosenzweig says. "The sense of community at PCS is becoming a very important part of these kids' lives. Having this place where they're treated like family is pretty special — and expanding the game so that it's much more accessible is nothing but good."
Jimmy Evarts '70 met Barrett Takesian, executive director of PCS, through a mutual friend at a time when the idea for Portland Squash was just taking shape. Evarts supported the PCS vision through a generous gift that helped get the program off the ground, and he has continued to give, including to a scholarship fund that covers the travel and equipment expenses for about 300 young PCS players. Evarts also serves as an advocate for the program and a consultant to Takesian, a 2012 Bowdoin graduate and former college squash player who incorporated Portland Community Squash in 2013.
Tapping into his connections and the networks of Evarts, Maurer, and other members of the Portland community, Takesian rallied support for what would eventually become a refuge for hundreds of students and families across Portland and inspire a high-priority strategic initiative for U.S. Squash, a more than century-old nonprofit headquartered in New York City that serves as the national governing body and membership organization for the sport in the United States.
Takesian's plan began with a capital campaign that topped $1.5 million and became the basis for a renovation project that converted Portland's former Shaarey Tphiloh Synagogue into PCS headquarters. The facility now includes four courts and also features everything from events and lectures to tutoring to a wellness center for exercise, plus classrooms for socializing and community gatherings. PCS is billed as "an accessible community center that holistically supports and unites its members."
"It turns out that squash makes for great community centers," Takesian says. "We have had a lot to prove to overcome the idea that squash is elitist. If squash is going to grow, it needs to be reinvented."
For Evarts, who played squash at St. Paul's and has remained a squash player for life, his backing of the program is not as much about the desire to see others enjoy the game he loves, but to see young people thriving within a community that embraces them both on the court and in their academic pursuits.
"There are programs that are really designed to produce good students and good squash players, and if a great squash player emerges, well, so much the better," Evarts says. "[

PCS

] is really going beyond that by building community, too. If you go there, spend less time looking at the squash court and more time looking at the quiet area, where the kids study and prepare for their classes the next day."
Charlotte Daum '25 was just a toddler when her family first introduced her to squash. Back then, the only public squash courts in Portland were still at the local YMCA. She loved the tiny doors that led into each court — a perfect fit for her two-year-old frame. That was all the incentive she needed to keep up the squash tradition of her family.
Fast-forward several years to when Daum and her parents learned of the ambitious plans drawn up by Takesian, a welcome development for the family and those in the Portland community who were anxious to square up more frequently against friendly opponents. But as time went on, the PCS model quickly showed its full effect, says Mimi Munson '92, Daum's mother and a former member of the SPS squash team. Squash became more the exception than the rule, with the community events drawing more interest with regularity. When people showed up, they were just as likely to attend a lecture or hang out within the friendly confines of its communal spaces as they were to schedule a match.
And then came COVID-19. As for many, the pandemic drastically put things into perspective for Daum's family and became the catalyst for a permanent move to Maine (the family had been dividing its time between New England and the West Coast).
"The support, warmth, and constant fun we both found at PCS during those COVID months were vital as we adjusted to all the changes in our lives," Munson says. "For my daughter … PCS was like a family, a port in the storm."
As the storm receded, Daum found herself applying to boarding schools and eventually landed at St. Paul's School. Now a Fourth Former, she is a proud member of the SPS squash team. Munson notes that the PCS model is what set the foundation for Charlotte to achieve her goals beyond the game, and she remains connected to the organization, despite the distance from Concord.
In some ways, squash is secondary to what PCS wants to achieve: helping young people and families of all ethnicities and backgrounds engage more meaningfully on a human level. What distinguishes PCS, and what others are trying to emulate, is the idea of "coming for the sport, staying for the relationships."
"Throughout the whole program, you hear these kids and the adults repeating 'respect, effort, and positivity,'" says Maurer, who counts among the SPS grads who played a role in bringing the PCS mission to life. "It's not just coaching squash, it's raising kids to be good human beings. It's not being out for yourself. It's a community effort."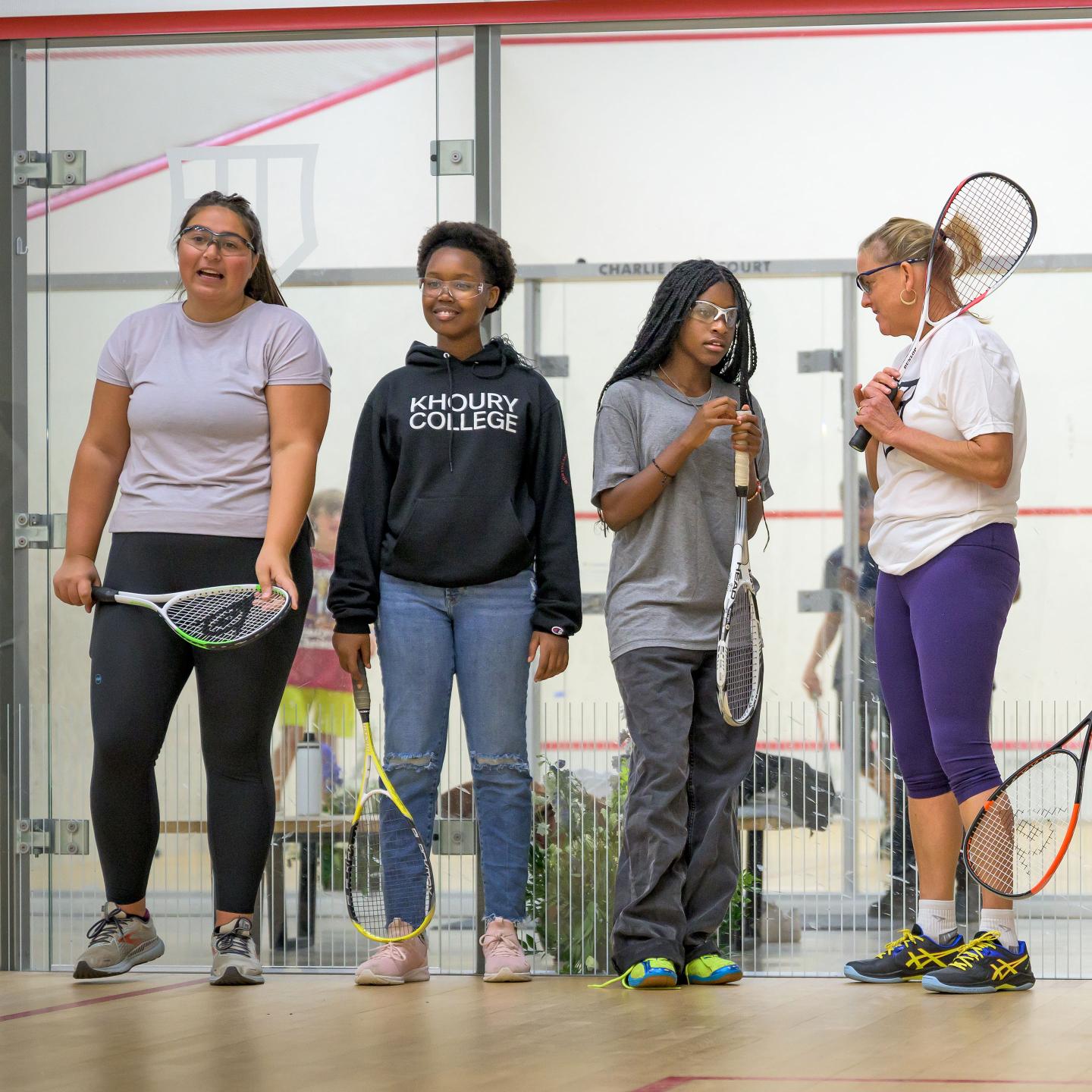 "It's not just coaching squash, it's raising kids to be good human beings. It's not being out for yourself. It's a community effort."
— Alexandra Maurer '84