August 7, 2023
For Hudson Stovall '24, SPS is a place to do what he loves — and a chance to do it all.
BY JACQUELINE PRIMO LEMMON
"Music doesn't have to be some really composed piece of art; music is, you know, the crickets chirping at night, the birds chirping in the morning — music is nature," says Hudson Stovall '24. He says this matter-of-factly, like unfurling a backdrop to tell the rest of his story in front of. "Music elicits emotion, right? We listen to music when we're sad, when we're happy, when we're indifferent. Particularly with jazz, I was able to really discover how to express myself through music."
Stovall is disciplined, driven, and — in his own words — also stubborn: a combination that makes it possible for him to keep multiple plates spinning at St. Paul's School. As a rising Sixth Former, he plays tenor saxophone in the jazz band and SPS Orchestra; is the student head of Onyx, the affinity group for students who identify as Black, African American or of African heritage; is head of the Chinese Society; plays JV lacrosse; and is what he calls a "midnight poet" who likes to write during his free time — most of which, as the name suggests, is late at night. He's also an entrepreneur, the founder of Different as One, a clothing company that pairs messages of diversity and inclusion with the traditional branding of St. Paul's and several other boarding schools.
Stovall may pursue a wide variety of interests at SPS, but it was the music program that brought him here. "What really put St. Paul's School over some of the other schools I was considering was the individualized experience," he says. Speaking with Director of Music Orlando Pandolfi P'19 opened his eyes to what an education at SPS could look like for him. "Mr. Pandolfi told me that at SPS, I would have your basic musicianship courses, but my SPS learning experience would be individualized to me. … I knew I was going to get an in-depth and personalized education in music theory, so that was really appealing to me."
Stovall plays first chair in the jazz band and first chair in the SPS Orchestra when the composition requires a tenor sax. He also plays the alto saxophone and is learning to play the piano.
Watch Hudson perform at the 2022 SPS Festival of Lights:
Outside the walls of the Music Building, Stovall has been student head of Onyx since his Third Form year. As Onyx head, he wants to ensure that Black students at SPS have a strong peer community and support network on the grounds. "Onyx is really a place where we can talk about anything, including race, and really rejoice in each other and in our community and affinity space," he says. "My job is to facilitate these discussions and to facilitate a safe space for kids to really be able to open up. It's nice to have people who share the same experience and are willing to talk to you about it."
Stovall is particularly interested in showing his fellow students what real-life Black success can look like after high school. In March 2023, he co-hosted a first-of-its-kind Black Success and Leadership Panel alongside Rector Kathy Giles, which featured six Black alumni who returned to the grounds for a conversation highlighting their experiences and accomplishments in college and careers. "I wanted people to see examples of Black figures who went to SPS and are now in highly successful positions of leadership," Stovall says. He plans to hold the event in the 2023-24 academic year as well.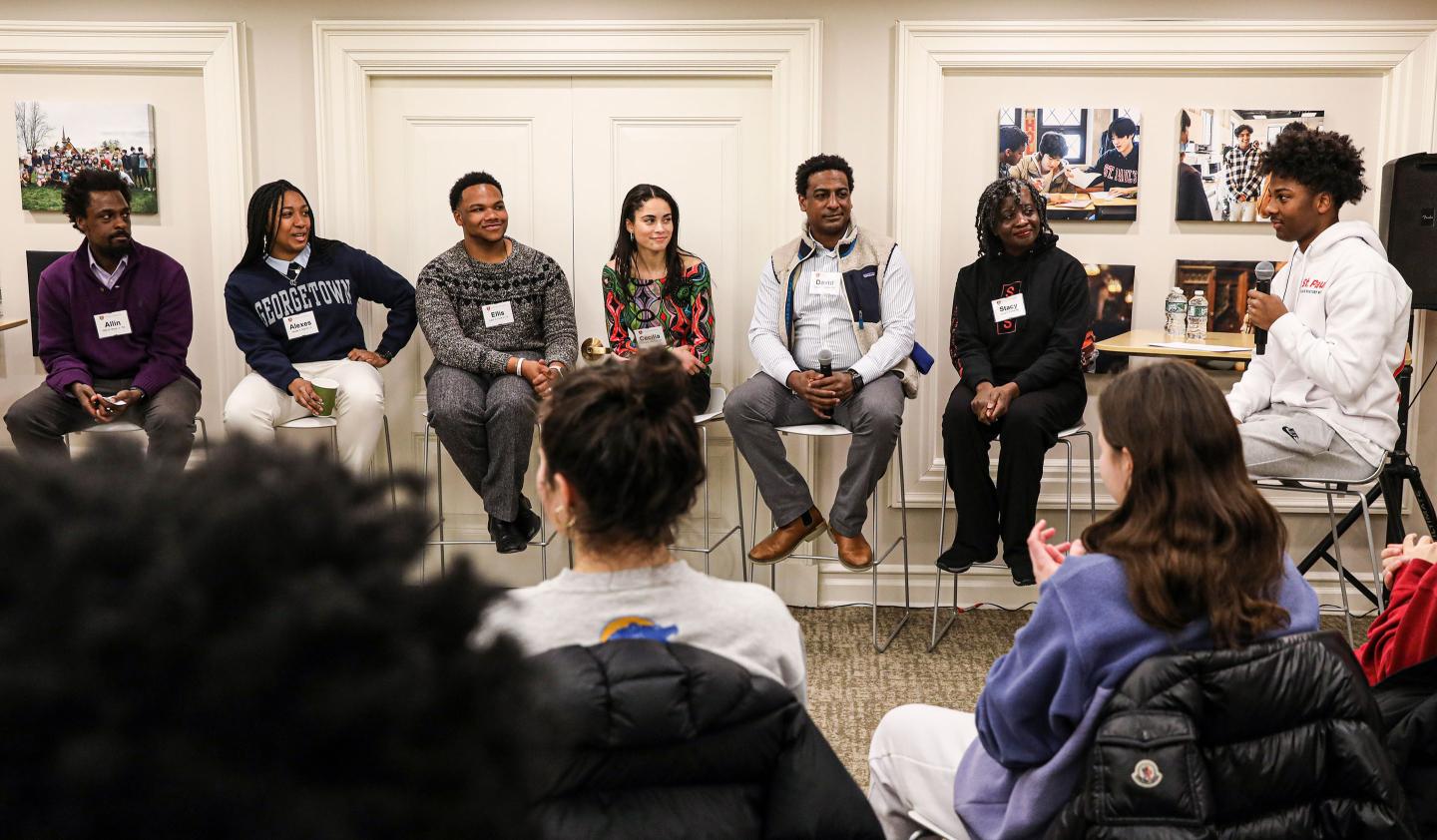 Additionally, Stovall is one of six service- and social justice-minded students who were selected as the inaugural group of Omar Brown fellows, a program founded to honor the memory and work of late Humanities Teacher Omar Brown. In the 2023-24 school year, Stovall and his co-fellows will design Sixth Form projects around an aspect of School life that was important to Brown: community engagement, mental health and wellness, spiritual development, or diversity and inclusion. This spring, Stovall received the Form of 1971 Visionary Award, which honors a Fifth Former who has demonstrated exceptional originality, creativity, capacity for self-direction and other immeasurable, often unheralded, qualities that have been a source of inspiration for fellow students and other members of the St. Paul's School community. In music, he also was one of two Dickey Prize recipients, an award given to outstanding Third through Fifth Formers in a variety of academic areas.
Stovall's persistence — his self-ascribed stubbornness — allows him to navigate a schedule full of classes, athletics and other commitments by staying focused on what's right in front of him on any given day, and on what he wants to achieve down the road. His advice? "Put the time in even when you don't want to. Put in the work, because at the end, it really does pay off," he says.