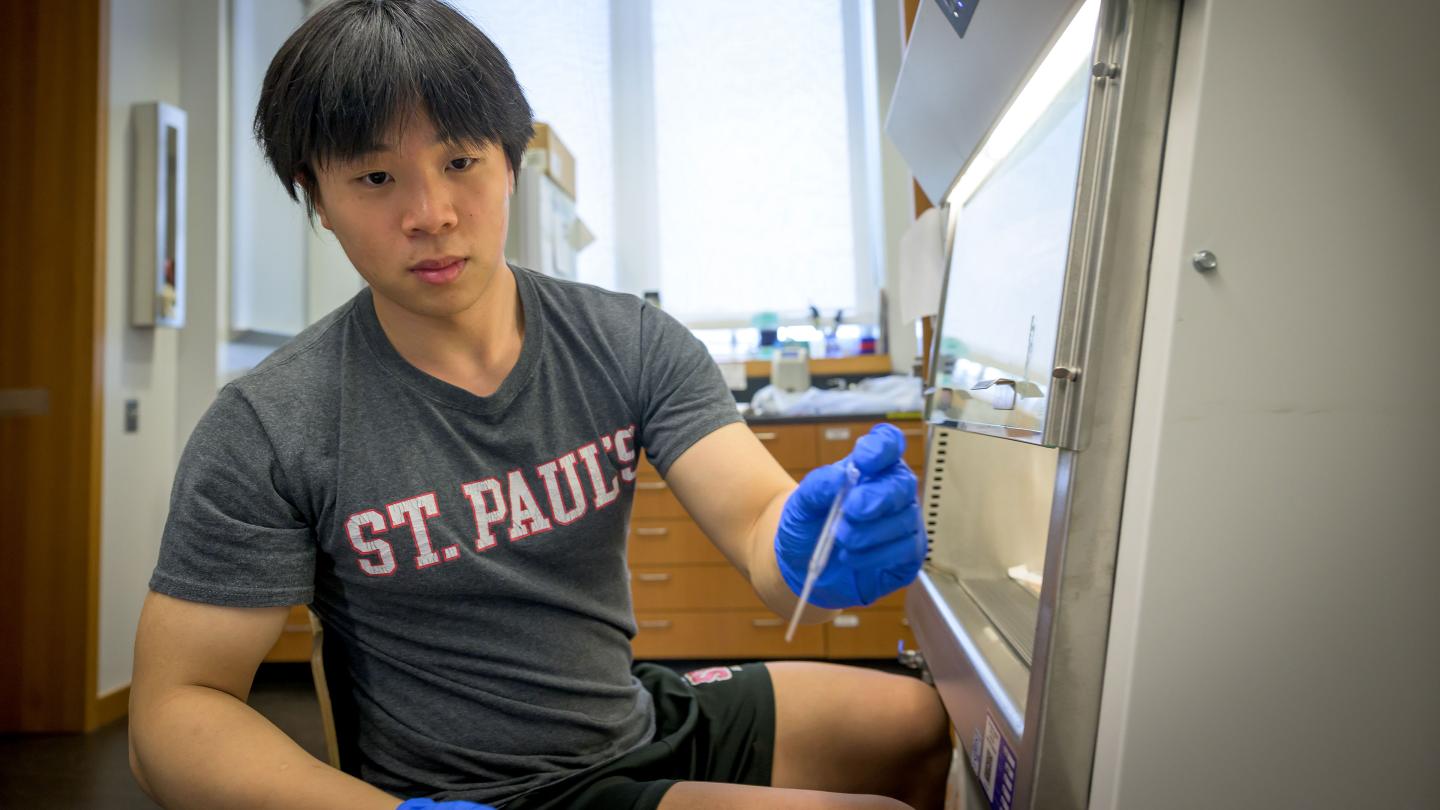 August 24, 2023
A summer internship is just one of the many science opportunities Lucas Ding '24 has taken advantage of at St. Paul's School.
BY KRISTIN DUISBERG
When his younger sister, back home in China, was diagnosed with a rare blood disorder several years ago, research opportunities were the last thing that Chenqi "Lucas" Ding '24 had on his mind. This summer, however, Ding is doing an Applied Science and Engineering Program (ASEP) internship at the same hospital in Beijing where Chenhang, now 12, was successfully treated, working with the same doctor who oversaw her care.
"It's one of the reasons I was interested in doing ASEP, and this project in particular," Ding says. "There's just a sheer sense of comfort that you get from making things that save lives."
Ding's project entails looking at ways of using PCR testing, recently integral to the detection of the COVID-19 virus, to quickly analyze the success of cancer immunotherapy treatments in a clinical setting. That might seem like ambitious work for a high school student to take on, but Ding went in well prepared, thanks to the state-of-the-art equipment available in the Lindsay Center for Mathematics and Science — including one of the only qPCR machines in a U.S. high school.
"As I was learning about what I was going to be doing, I saw that they used this type of PCR machine called quantitative PCR, or qPCR, and I thought 'oh, I don't know what that is.' And then Ms. Boylan told me we actually had one in our lab and I was able to work with it all spring."
Ding's ASEP experience is just the most recent in a list of science opportunities he's pursued at St. Paul's School. A Beijing native, he came to the United States before sixth grade to attend a summer program at Cardigan Mountain School in Caanan, New Hampshire — and stayed. He graduated from Cardigan, which goes through ninth grade, and then applied to SPS, inspired by a Cardigan student dorm-leader who had done the same. At SPS, he quickly immersed himself in science offerings that included Honors Chemistry, Molecular Biology and Advanced Environmental Science. "I've always liked STEM, but my interest really took off at St. Paul's, seeing [other students'] ASEP presentations and taking classes in the Lindsay Center. It's just incredible," Ding says.
Along with the School's running trails, he says Lindsay is one of the places he feels most at home at SPS — an important consideration when his family is on the other side of the world. "A lot of times, that's the best part of my day — seeing my sister and my little brother on the phone when I talk to my family."
Ding says his family is proud of him, and grateful for the opportunities that SPS has made possible, which include competing on the School's coed varsity wrestling team and playing piano for fun. That, and bringing full circle the experience of his sister Chenhang's earlier illness, working in Beijing on a project he will share with the SPS community.