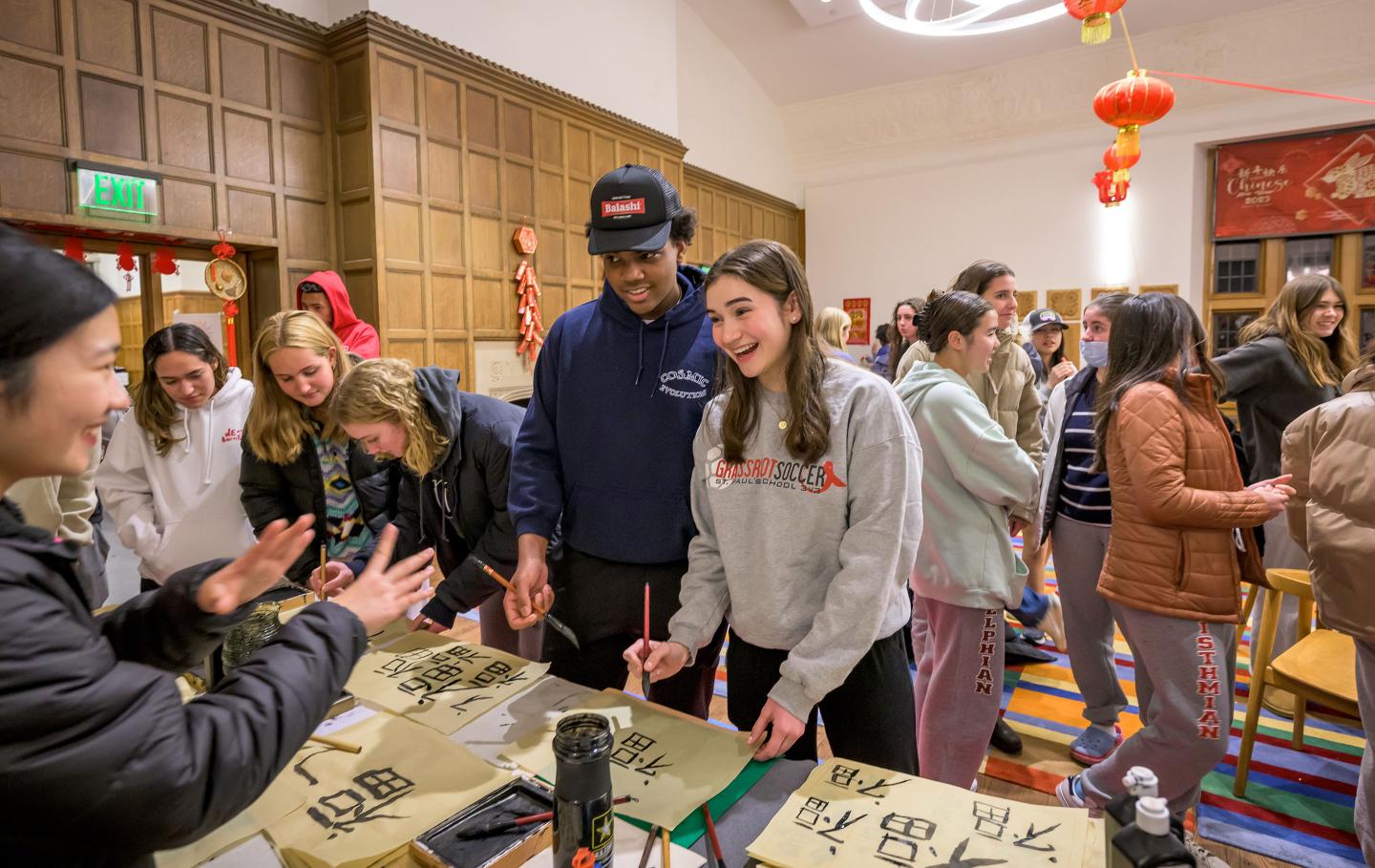 January 26, 2023
Festivities to usher in the Year of the Rabbit offer community and belonging.
BY JACQUELINE PRIMO LEMMON
St. Paul's School rang in the Year of the Rabbit and closed out the Year of the Tiger with a weekend of festivities that culminated in a special Lunar New Year Chapel on Monday, Jan. 23. The celebration began with a Chinese-themed dinner in the Upper on Friday, Jan. 20. On Saturday, students participated in themed activities in Raffini Commons, including Chinese games, karaoke and calligraphy; in Sheldon, students made dumplings.
Teacher of Mandarin Paul Murray says the Lunar New Year Chapel lineup of skits, dances and songs, as well as a traditional dragon dance and Chinese kung fu, was the result of hard work and dedication by students in the Chinese Society and Chinese program. "The skit in Chinese, with subtitles, was a great way for the audience to fully understand and appreciate the performance," Murray says. "And the martial arts act was truly impressive, showcasing the discipline of our students."
The Lunar New Year holds special significance for those SPS students whose families celebrate, including international students carrying on holiday traditions while far away from their families. "My grandma and I, thousands of miles apart at opposite ends of the Pacific Ocean, have eaten the same dumplings, made the same red couplets and looked upon the same Lunar moon during these festive times," says Anqi Hu '24, who is co-head of the Chinese Society. She says that Lunar New Year is something celebrants look forward to all year, all over the globe.
This is a sentiment echoed by Xuanzhi (Jerry) Fu '24: "I grew up in Beijing, so 春节, or the Lunar New Year, has been a memorable time each year dedicated to family reunion, traveling and feasts," says Fu. "Celebrating here at SPS, both as an international student and one of the Chinese Society heads, I am glad that we are able to pull together all sorts of events and activities that give us a sense of belonging in our home away from home."
Noting the scope of festivities that saw students make some 1,000 dumplings, 10 gallons of bubble tea and 50-plus Lunar New Year couplets to hang on classroom and faculty house doors, Teacher of Mandarin Jenny Li says this year's celebration was the most joyful yet, engaging international students, Chinese learners and the SPS community as a whole. Adds Hudson Stovall '24, a student in Murray's Chinese 3 Honors class, "[The celebrations] bring not only native Chinese students a piece of home but also allow other non-native Chinese students to immerse themselves in a rich culture."
Chinese 5 Honors student JJ Detweiler '23 says celebrating Lunar New Year at SPS provided him with the opportunity to learn more about Chinese culture while having fun in a familiar way. "I play a lot of chess, so I found learning to play xiangqi [Chinese chess] to be an interesting contrast to the chess I'm used to playing," says Detweiler of one of the weekend's activities.
Hu says she is grateful for the opportunity to bring a piece of her culture to her home away from home: SPS. "When we sang the last song in Chapel on Monday, 'Gongxi Gongxi,' it really felt as if we are one big family," says Hu, "…because only families would do this so enthusiastically and with so much love."