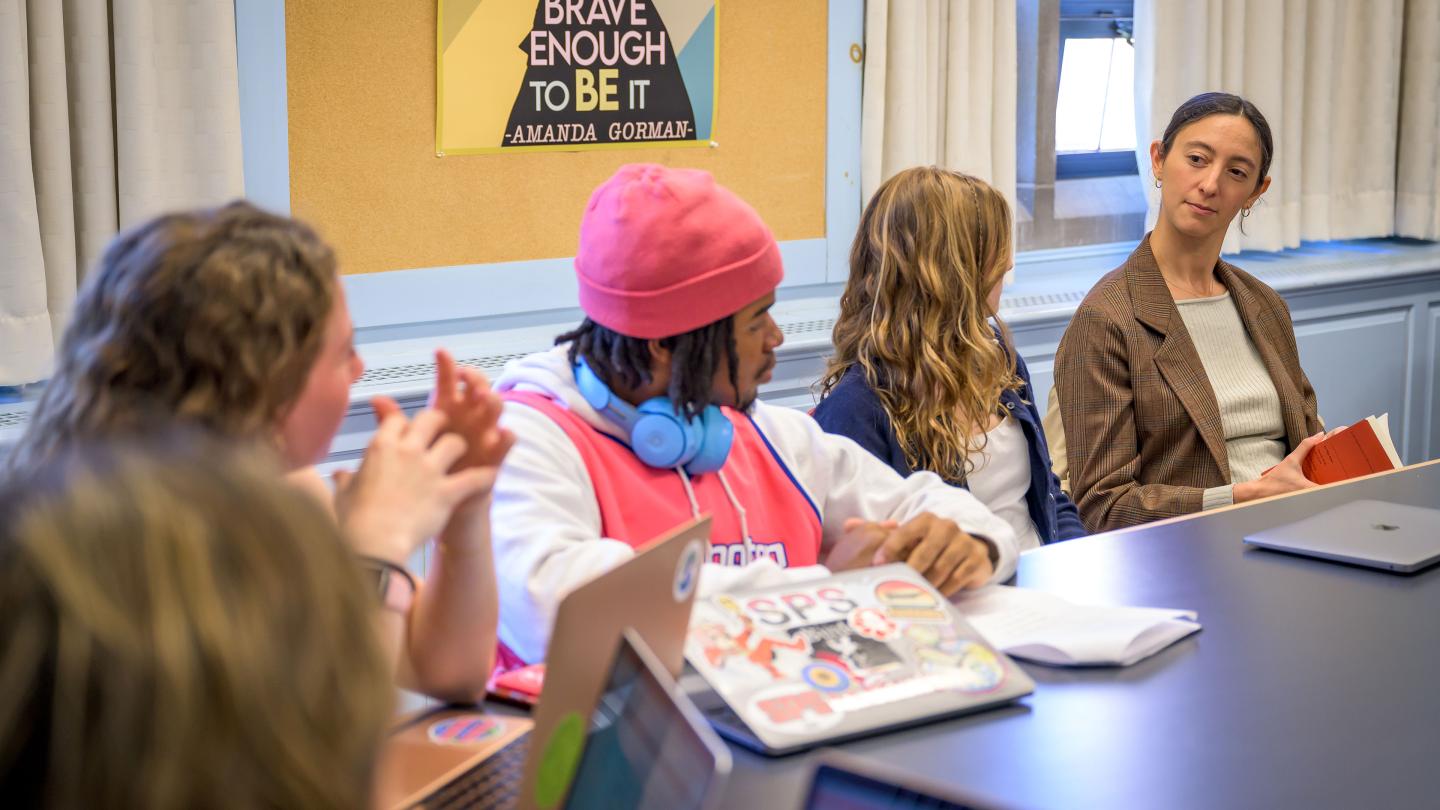 April 19, 2023
Students take advice and inspiration from writer, translator and literary critic Lily Meyer.
BY KRISTIN DUISBERG
"If you want to do creative writing, choose a different humanities discipline in college. You need to know about the world to be able to write about it."
That was among the pieces of advice that visiting writer Lily Meyer shared with students in Humanities Teacher Beth Little's Creative Writing class. A fiction writer who received her Ph.D. in creative writing from the University of Cincinnati this spring and whose first novel, "Short War," will be published in 2024, Meyer also is a literary critic and a Spanish-English translator. The 2023 St. Paul's School John-Christophe Schlesinger Writer-in-Residence, Meyer spent two days in early April on the St. Paul's School grounds, reading from her work, participating in classes and visiting with students over lunch.
In Sarah Ludwig's Feminist Literature and Media class, Meyer listened in as students discussed common themes in several stories they had recently read — Charlotte Perkins Gilman's "The Yellow Wallpaper," "Sweat," by Zora Neale Hurston, and "The Story of an Hour" by Kate Chopin — and then joined in on the conversation as as smaller group tackled the question of whether true agency in a marriage was possible for women. "Does imagined or internal agency count?" she asked them. "As a fiction writer, I'd like to think so."
In Little's class, Tina Yang '23 asked Meyer about her perspective on the "why?" of storytelling, a question the visitor answered with refreshing candor. "I usually have no idea why I'm writing what I'm writing, or I have an idea that's totally wrong," Meyer said. "I'm sure you've all spent time in this class and elsewhere talking about the importance of revision. For me, I can usually write a pretty nice sentence right out of the gate. It takes a lot longer for me, writing and rewriting, to get to the 'so what' of it."
Yang says she found the visitor's answer encouraging. ""It was actually reassuring for me to hear that even seasoned writers like Lily Meyer struggle with the 'so what' question," she says. "Hearing her process encouraged me to just keep writing! I often get caught up in trying to figure out the 'so what' that I end up not writing anything down. But creative writing is just a word after a word, and Lily has given me the confidence to believe that in the end, it will all come together; as the author, our writing inevitably reflects our thought processes, struggles and beliefs."
That's exactly the sort of reaction Ludwig says she was hoping students would have to Meyer's visit. "We have so many students who want to be writers — who are writers," Ludwig explains. "For that reason, we were very focused on bringing in a fiction writer for this year's Schlesinger residency. We wanted to engage the students with someone who writes as a vocation and to help them see a path that their own work might take."
Ludwig was pleased by the students' engagement with Meyer — and Meyer was equally so.
"It was a real pleasure to meet both St. Paul's writers and some of its many excited and engaged readers," Meyer says. "I was asked more thoughtful questions about my work than I have in a long time, and I enjoyed every literature class I got to sit in on immensely."
The Schlesinger Writer-in-Residence Program
The Schlesinger Writer-in-Residence Program was established by Richard and Sheila Schlesinger in memory of their son, John-Christophe '92, who died at age 23 in an August 1997 car accident soon after earning his master's degree from Stanford. A passionate reader and writer, Schlesinger was looking forward to launching a career in journalism and was set to start work as a freelance newspaper writer.
The program invites professional writers in a variety of genres to visit the School and meet with classes, conduct writing workshops, offer public readings and lectures, and meet informally with students and faculty to generate and foster enthusiasm for creative writing.
Previous speakers include Pulitzer Prize-winning author Eliza Griswold '91, U.S. Poet Laureate Donald Hall, screenwriter Jamie Vanderbilt '94, and authors Lorene Cary '74 and Janice Lee '90. The 2022 Schlesinger Writer-in-Residence was Jonathan Brunstedt, an assistant professor at Texas A&M University and author of "The Soviet Myth of World War II: Patriotic Memory and the Russian Question in the USSR."