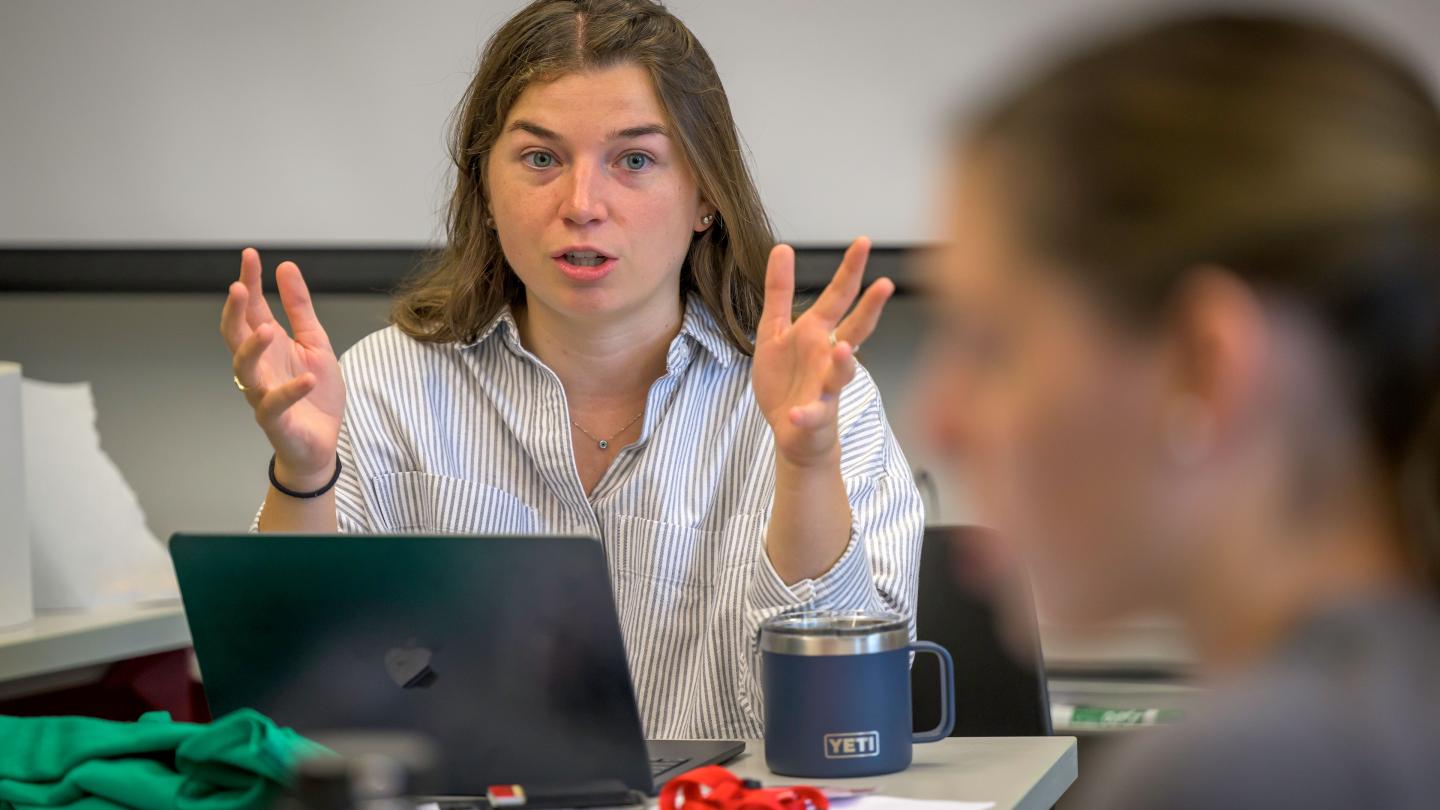 August 24, 2023
Summer session Entrepreneurship class learns principles of starting a company.
BY JANA F. BROWN
As a student at the St. Paul's School Advanced Studies Program (ASP) in 2014, Maddie Smith studied Sustenance and Sustainability — a class she returned to as a teaching intern in 2018. The subject matter sparked a curiosity not only about the food industry but also about consumption and corporate social responsibility.
"I've always been interested in how we can use businesses as a tool for positive social and environmental change," says Smith, who recently earned her master's in secondary social studies education from Boston University. "And that's very much the lens through which I teach my class." Smith's class is Entrepreneurship — a relatively new offering at the ASP for which she served as teaching intern in 2019, soon after graduating from Colgate University with a double major in economics and environmental studies. Having initially pursued a career in business, Smith quickly realized she preferred teaching the subject to others. She taught entrepreneurship and economics at the Frederick Gunn School in Washington, Connecticut, for two years and this fall will join the faculty at Littleton (Massachusetts) High School to teach economics and history.
Like other classes offered during the ASP, a summer program for New Hampshire public high school students that gives them a taste of life at SPS, the Entrepreneurship class is an opportunity to jump start — or further — students' interest in a burgeoning field. With nearly 400,000 undergraduates earning degrees annually, business has emerged in recent years as the most popular college major.
Though Smith says some ASP students arrive eager to get a head start on their own business ideas, a gander at the syllabus reveals a focus on principles first. For starters, Smith asks her charges to contemplate their own values and how they might translate to a personal brand. "We've had four different speakers over the course of the summer and they've all said something very similar," she says. "If you're starting a business that doesn't align with your values, it's probably not going anywhere."
The students have studied marketing, interviewed real-life entrepreneurs at the farmer's market in Concord, conducted market research in their area of interest, built profit and loss statements, discussed how to get investors, and designed their own logos. As a group, they studied The Works, a regional bagel and coffee chain with a shop in downtown Concord, to get a feel for the day-to-day operations of a successful business.
"It was really interesting to see how they came to different conclusions," Smith says, "but I think a lot of them had that connection moment, too, where they were like, 'Oh, it's actually really expensive to start a business.'"
Smith attributes the appeal of her class, and the interest in business more broadly, in part to the next generation's quest for financial security, but also to the motivation of young people wanting to work for themselves in an ever-evolving hybrid workforce. Class member Morgan Casey, who attends Bishop Brady High School in Concord, plans to study bioengineering in college and has aspirations of starting her own biotech company in the future.
"Entrepreneurship has provided me with a valuable understanding of business principles," Casey says, "which will enable me to make informed decisions related to finance, market analysis and team leadership. Understanding the mechanics of business is essential in every industry, and will give me a competitive advantage in the field of biotechnology."
Casey was particularly impressed by the guest speakers who visited the class, including Clarena McKinney of Clarena's Coffee, who emphasized the importance of exploring alternative approaches when an original business idea is no longer viable. Casey also appreciated the advice of Luca Paris, president and CEO of the Monadnock Chamber of Commerce, who advised creating a team environment to foster continuous learning and personal growth.
Manchester Central student Michael Blair has embraced the chance to learn what starting a business entails, from marketing to finances to branding — and beyond. Blair also has improved his public speaking skills through Entrepreneurship's emphasis on presentations. For their final project, the students formed four groups to collaborate on "Shark Tank-style" pitches, where they launched a business and presented it to a panel of ASP "sharks." The assignment is intended as a culmination of all the students have learned in their summer at ASP.
"And," Blair notes, "it will help us determine if it's a good idea to start the business in the first place."