Finding New Roles
For Yeneisy Morocho '25, St. Paul's School has been a chance to stretch herself and her interests. 
BY KRISTIN DUISBERG
Ask Yeneisy Morocho '25 to describe her role — her roles, actually — in the student-directed one-act play, "The Brothers Grimm Spectaculathon," and her face lights up with an enormous smile. "It's a comedy," she says. "Our director, Mason [Deas '24], calls it camp. It's very funny and lighthearted and dramatic and everyone plays multiple characters, and sometimes we play two different characters [who] are interacting with each other in a scene. It's fun but it's also incredibly challenging, and it's stretched me in ways I never expected."
Stretching herself in ways she never expected has been a hallmark of Morocho's first two years at St. Paul's School, beginning with her decision to sign up for a triple room for Third Form. Growing up with a much younger brother, she'd never shared a room, and decided if she was going to have a roommate at St. Paul's, she might as well have "a real roommate experience." When she arrived on School grounds in September 2021, it was the farthest she'd been away from her New Jersey home — and, because the COVID-19 pandemic prevented her visiting the School as an applicant, it was her first time seeing the campus in person.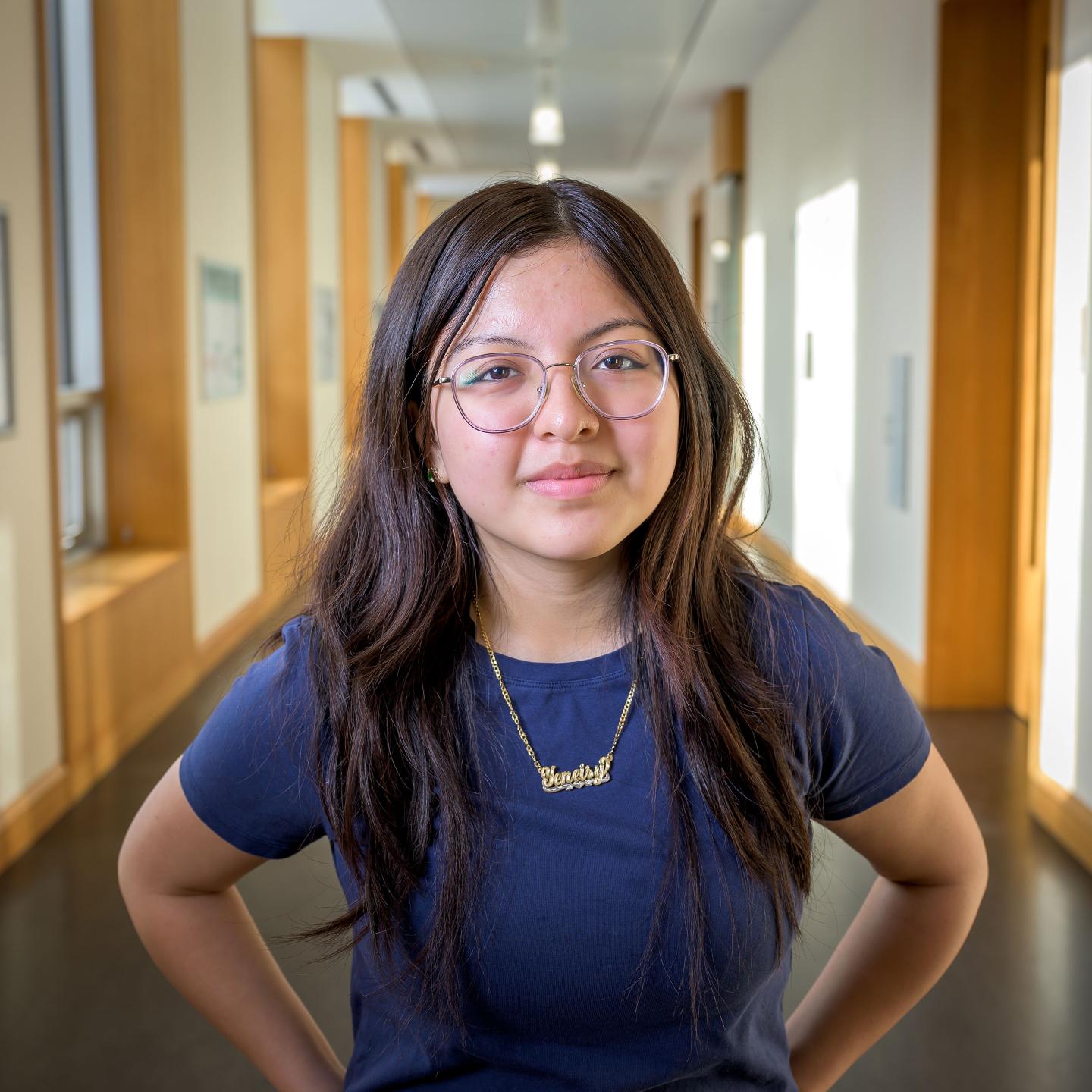 "I was really nervous, but I was also really excited. Going to boarding school was something I was adamant about wanting to do — a chance to explore and try new things and get to know more of my passions and interests."
— Yeneisy Morocho '25
Those opportunities included learning how to swim during Fall Term this year — and then joining SPS club swim in Winter Term. They also included discovering a deep interest in computer science that was sparked by an elective in the subject. Signing up for the Fall Term introductory Computer Programing Using Java was "a bit of a spontaneous decision," Morocho says, "but I loved it, especially what it taught me about time management and working with my peers." What Morocho also loves about computer science is that there often is no right solution or single way to approach a problem. "There's maybe faster solutions and slower solutions, but if your data is right, they all should work," she says.
Morocho sees herself continuing with computer science both at and beyond St. Paul's School. She also sees herself continuing with the creative arts. "I was very shy when I was younger, and the theater program at my middle school helped get me out of my shell," she explains. "It was just such a confidence builder, doing musical theater, taking on a role and being on a stage."
During this year's fall production, "These Shining Lives," Morocho was part of the backstage crew; her roles in the "The Brothers Grimm Spectaculathon," in which she plays an enchantress, a witch and Rapunzel, will be her first turn in the SPS spotlight. Not her last, however, if Morocho has anything to say about it. She's working on two songs for the SPS Musical Theater Cabaret in the spring — a solo from the musical "Carrie" and a duet from "Little Women" with Vicky Zhang '25— and plans to be involved in the spring production, which will be the School's first musical since 2015.
"I'm itching to do a musical again," she says. "I'm so happy that we're doing one."