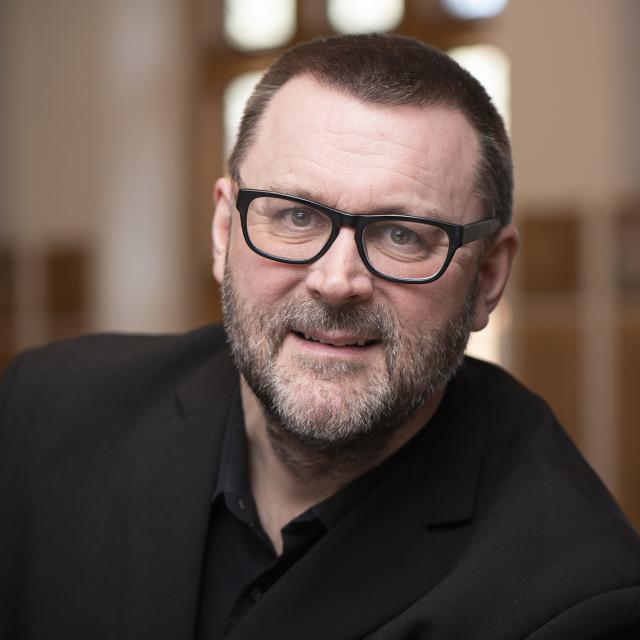 Hobbies/Interests
Cooking, dogs, and the beach
Nicholas White's musical career has evolved over three decades living and working in the United States. He is a Grammy-nominated composer and conductor, as well as a versatile organist, pianist, and singer with experience in many different styles of music. In 2011, Nicholas was appointed to the post of Director of Chapel Music & Organist at St. Paul's School, Concord, New Hampshire, where he lives and works all year round, focusing on his compositional work in the summer vacation time. Since 2013 Nicholas has held the Form of 1954 Henry Crocker Kittredge Chair in the Arts.

Nicholas has given many performances throughout the United States. Immediately prior to his appointment at St. Paul's School, he was Artistic Director of Joyful Noise (Chorus Angelicus & Gaudeamus), a choral organization based in Northwest Connecticut, and Organist & Choirmaster of St. John's Episcopal Church, Beverly Farms, Massachusetts. Nicholas was born in London, England, and received his early musical training as a treble chorister. He held his first organist and choirmaster position at the age of fifteen, going on to become Organ Scholar of Clare College, Cambridge, from 1986-1989. Since coming to the U.S. in 1989, Nicholas has held various positions in churches, colleges, and schools. These include Washington National Cathedral (Assistant Organist & Choirmaster),Cathedral Choral Society (Keyboard Artist) and Woodley Ensemble (Music Director) in Washington, DC; St. Michael's Church (Organist & Choirmaster), The Dalton School (Choir Director), Columbia University (Adjunct Organist) in New York City.

In 2003 Nicholas founded Tiffany Consort, an ensemble of eight accomplished singers. The group's first CD, O Magnum Mysterium, was nominated for a Grammy, and the second CD, In Sure and Certain Hope: Choral Music of Nicholas White, was released in December 2006. In 2013 Nicholas was appointed Music Director of The Boston Cecilia, one of America's oldest and finest performing arts organizations.  Four seasons with The Boston Cecilia included a critically acclaimed performance of J.S. Bach's Mass in B minor, G.F. Handel's Dixit Dominus, and W.A. Mozart's Davide Penitente at New England Conservatory's Jordan Hall; a "mesmerizing" performance of Maurice Durufle's Requiem; and the Boston premiere of White's own work for soprano, choir, strings and organ - From Earth To Heaven - which featured the Lydian String Quartet.

Nicholas is in high demand as a composer, receiving numerous commissions from choirs across the world. Most recently these have included The Hanson Institute for American Music (Eastman School of Music, Rochester, NY), Lyric Fest (Philadelphia, PA), Christchurch Cathedral (Cincinnati, OH), The Commonwealth Youth Choirs (Philadelphia, PA), The Chancel Choir (Lubbock, TX), The Association of Anglican Musicians (Hartford, CT), St. John's Cathedral (Albuquerque, NM), St. Mary's Episcopal Church (Newton, MA), Dumbarton Concerts (Washington, DC), Granite State Choral Society (Rochester, NH), Shadyside Presbyterian Church (Pittsburgh, PA), Christ Church (Andover, MA), St. John's Church (Beverly Farms, MA), Chorus Angelicus (Torrington CT), Chorus Abilene (Abilene, TX), Cathedra (Washington, DC), St. John Cantius Parish (Chicago, IL.), and The Concord Chorale (Concord, NH).