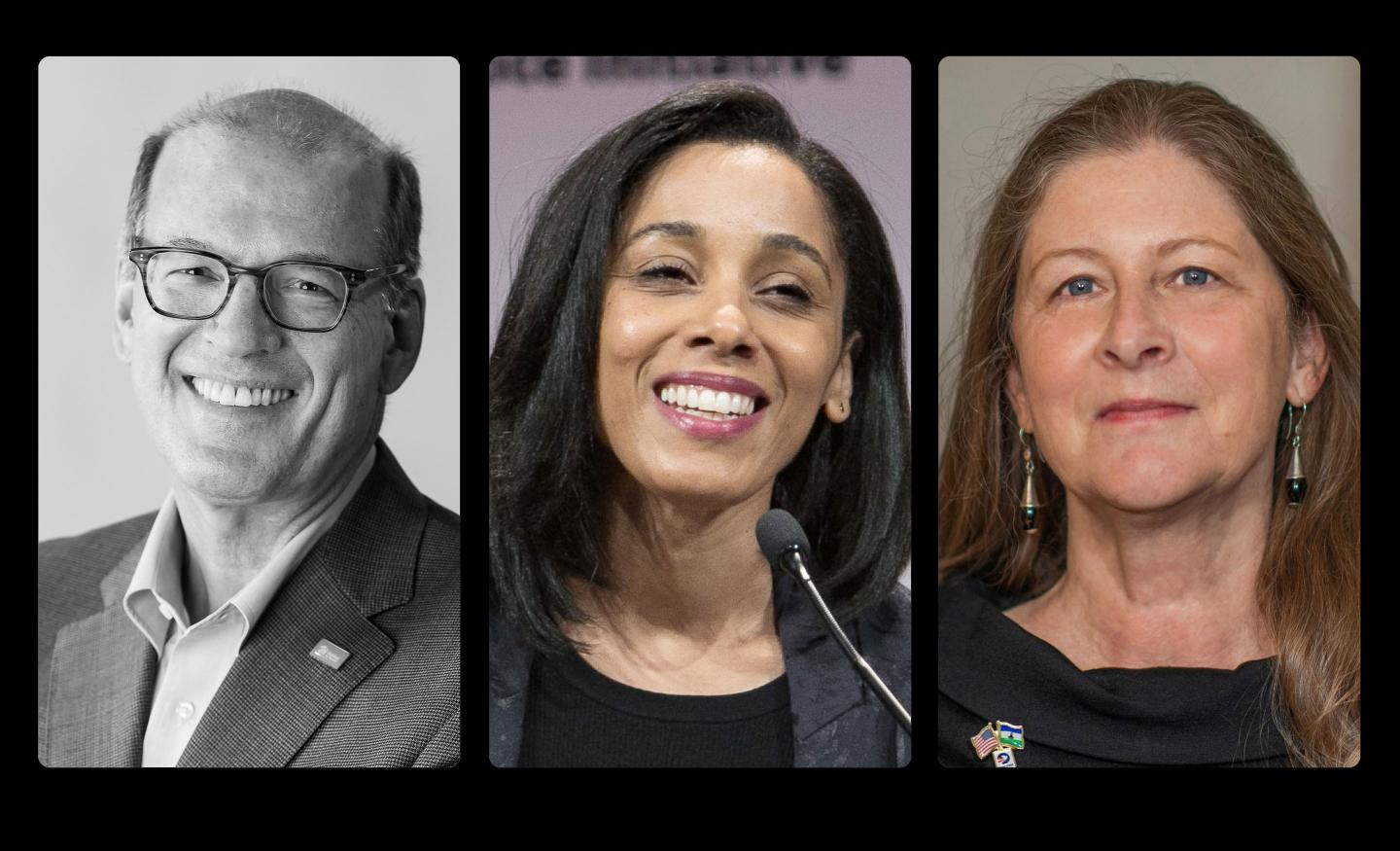 January 13, 2023
Jan. 10 virtual panel event focuses on nonprofit leadership
BY KRISTIN DUISBERG
The notion of service to others is woven into the very fabric of St. Paul's School, from a School Prayer that exhorts us to be "eager to bear the burden of others" to a student community engagement program that is integrated into the academic curriculum to a mission squarely focused on educating students to build purposeful lives in service to the greater good. But what does service to the greater good look like several decades or more after St. Paul's School? On Jan. 10, Randa Wilkinson '75, Jonathan Reckford '80 and Sia Sanneh '97 provided three different and equally compelling answers to that question in a virtual panel discussion with Rector Kathy Giles and student co-host Matthew Letourneau '23.
Giles introduced Wilkinson, Reckford and Sanneh as individuals who have engaged their lives in public service in ways that are "inspirational and amazing." Sanneh is a senior attorney for the nonprofit Equal Justice Initiative in Montgomery, Alabama, which provides legal representation to prisoners who may have been wrongly convicted of crimes, poor prisoners without effective representation and others who may have been denied a fair trial. Reckford serves as the chief executive officer for Habitat for Humanity International, an organization that has helped more than 46 million people construct, rehabilitate or preserve their homes. Wilkinson joined the conversation from the South African country of Lesotho, where she serves as Peace Corps country director.
The wide-ranging conversation opened with the three panelists — as well as Letourneau, the 2022 recipient of the School's Kiril Sokoloff '65 Prize — speaking about what set them on the path of the work they do today. In recounting her journey from St. Paul's to Carleton College to a 40-plus year career in the Peace Corps, Wilkinson referenced family friends who worked in Afghanistan in the early years of Peace Corps and sent back letters from Kabul.
"It opened my eyes," she said, "and sparked my curiosity and the realization that there are different ways of living and ways of doing things that are completely different from what I had grown up with." She also spoke to the powerful role that both empathy and connection play in her work, which requires her to be far from her family back in the United States. "There are moments in every day where my conviction taps me on the shoulder and says 'yes, you are where you should be, and you are working with people who are also doing good work.'"
In discussing what she most loves about her work, Sanneh described the process of righting injustice and providing a voice to clients who are wrongly convicted of a crime, focusing particularly on a client-turned-friend who spent 15 years incarcerated for two murders he didn't commit but today remains one of the most "positive, hilarious, humane and decent" individuals Sanneh knows. "For me, some of the most wonderful things are the really difficult things," she said. "Because they show you in this really deep and immediate way a resilience, a hopefulness that you just can't imagine people are capable of."
Rexford similarly shared a story about an acquaintance who was raised in poverty and instability whose life was turned around by opportunities that included a Habitat-built house. "There are plenty of tough things in our world," he said, "but seeing stories of transformation, and having the privilege of getting to be a small part of that keeps me fired up." In speaking to his personal goals, Rexford cited the importance of both lifelong learning and family — when his children were younger, he regularly brought them along on international building trips —and noted the importance of faith, purpose, community and relationships to his work.
The trio also provided advice to students — a group of whom were watching the virtual panel from the Friedman Center's Raffini Commons — about how they could continue to make a difference to their communities both at and beyond SPS, and, as with past panels, imagined what advice they might give to their SPS selves. Rexford urged students to think about "who before what," and said if he had to do it again, he would put more energy into figuring out his character, faith and values and how to be anchored in these before deciding what he was going to do. Wilkinson said she would tell herself to be brave; to dare; to try things that tugged at her heart or inspired her, even if they did not fall along the path she had originally set out for herself. Sanneh cautioned students, and her SPS self, against setting the bar too high regarding how one defines "service," noting that, over the course of her life and career, the most meaningful things she has done have involved nothing more than putting herself in proximity to need.
"I think that's where you can learn the most about your own capacity and where you can really make a difference," she said. "By turning down the temperature and the volume of what we think it means to be a citizen of the world … . If we just step back and have some humility, there's some really amazing things you can do that are just simple things."
The next conversation about service to the greater good will take place on Feb. 21, when Rector Giles will be joined by novelist and playwright Lorene Cary '74 and photographer-filmmaker Peter McBride '89. You can learn more and register here.