Established in 1997 by the Executive Council to recognize and honor those alumni who have been a credit to the School and its teachings, the Alumni Association Award is the highest distinction that can be bestowed on an alumna or alumnus by the association.
Recipients are those living alumni who, through outstanding service, have improved the quality of life in a community on a local, national, or global level.
Recipients are selected by the Alumni Association's Presidents Council, which includes the president and past presidents, as well as the executive director and past executive directors.
Read more about the 2022 recipients of this award: Peter Wright '60, Ted Landsmark '64 and Judy Jordan '79.
Peter Wright '60
Healthcare Visionary
As a clinician, teacher and researcher, Peter Wright '60 has devoted more than 50 years to the fields of pediatrics and infectious disease.
At the end of the first year of his residency in pediatrics at Boston Children's Hospital, Peter Wright '60 had an opportunity to spend what he thought would be two years at the National Institutes of Health.
That turned into three years (1968-71) at the Laboratory of Infectious Disease at NIH and launched Dr. Wright's keen interest in the field to which he has since devoted more than 50 years. At the end of his fellowship in infectious disease, Wright took an opportunity to travel to Haiti to work in a rural hospital. He has returned dozens of times in the ensuing years and is currently engaged, at age 79, in developing a maternal-infant healthcare system for Haiti to help the country meet 2030 sustainable development goals established by the United Nations.
Prior to returning to New Hampshire in 2008 to join the Department of Pediatrics at Dartmouth-Hitchcock Medical Center, Wright spent 35 years in Nashville, where in 1974 he established the Division of Infectious Diseases in the Department of Pediatrics at Vanderbilt. The program is regarded as one of the outstanding pediatric infectious disease programs in the country. It was during those years that Wright established himself as a "triple threat" — as a clinician seeing patients, as a researcher and as a teacher. In the program's infancy, Dr. Wright and one other colleague made up a clinical staff, which eventually grew to 18 doctors.
"I'm quite proud of that work," says Wright, a 2022 recipient of the SPS Alumni Association Award. "Many of those who worked with us have gone on to quite remarkable careers. A number of people who were very central to the development of the COVID vaccines were members of our group earlier in their careers."
In his years in Nashville, Dr. Wright served the director for the Center for International Health (1997-2005); Shedd Professor of Pediatric Infectious Disease (2004-08); professor of microbiology and immunology (1999-2008); and professor of pathology (1998-2008) at Vanderbilt School of Medicine. He also led the Division of Infectious Diseases in the Pediatrics Department until 2008. He currently is professor of pediatrics at Dartmouth's Geisel School of Medicine, where his work is supported by grants from the Gates Foundation, the Kellogg Foundation, NIH and the World Health Organization (WHO).
Maintaining a clinical practice, Wright says, helped him evaluate firsthand infectious agents that were presenting in his pediatric patients. In the early 1980s, he and a colleague began seeing children who had unexplained recurrent fevers. After describing the disease, they were able to contribute samples from multiple patients, which eventually contributed to identifying genetic markers for what is now known as pediatric fever syndrome. Wright also has dedicated a significant part of his career researching vaccines for respiratory syncytial virus (RSV). In the late 1980s, he spent a year at the WHO in Geneva, where he got a "40,000-foot view of how international health is structured," including perspective on the polio vaccine. He served for a decade as chairman of the Polio Research Committee, directing efforts at disease eradication.
"I went to [the WHO] to think about appropriate new vaccines to introduce into this global health program," he says, "and ended up spending a lot of time trying to figure out why the polio vaccine was less effective in developing countries."
The decision of Wright and his wife, Penny, to leave Vanderbilt for New Hampshire involved a homecoming of sorts. He grew up in New York City before arriving at St. Paul's School as a Third Former in the fall of 1956, while his wife had roots in Vermont. Wright stayed in New Hampshire to pursue his A.B. in biology and biomedical science from Dartmouth before earning his M.D. from Harvard Medical School. He describes his SPS years as formative. "I've always thought I learned how to study and think at St Paul's," he says. Among his many career mentors was fellow SPS alumnus John Enders (Form of 1915), a Nobel Prize winner known as the father of modern vaccines.
"He was toward the end of his career at that point," Wright recalls. "He would sit down at a microscope and look for hours, trying to figure out what was going on with a virus called hepatitis B. Just seeing how he approached science and recognizing the contributions he'd made to polio and other viruses way back at the beginning was just remarkable."
In his multi-decade career, Wright's work has earned him many significant honors, including the Children's Prize in Global Health, the Distinguished Alumni award from Geisel School of Medicine and the Grant W. Liddle Award for Outstanding Contributions in Clinical Research at Vanderbilt. He now adds the SPS Alumni Association Award to his list of accolades.
"It actually means a great deal," he says, noting that the support of Penny and their sons has been vital to his success, "because St. Paul's meant so much to me. I have had other honors, but this is quite a special one."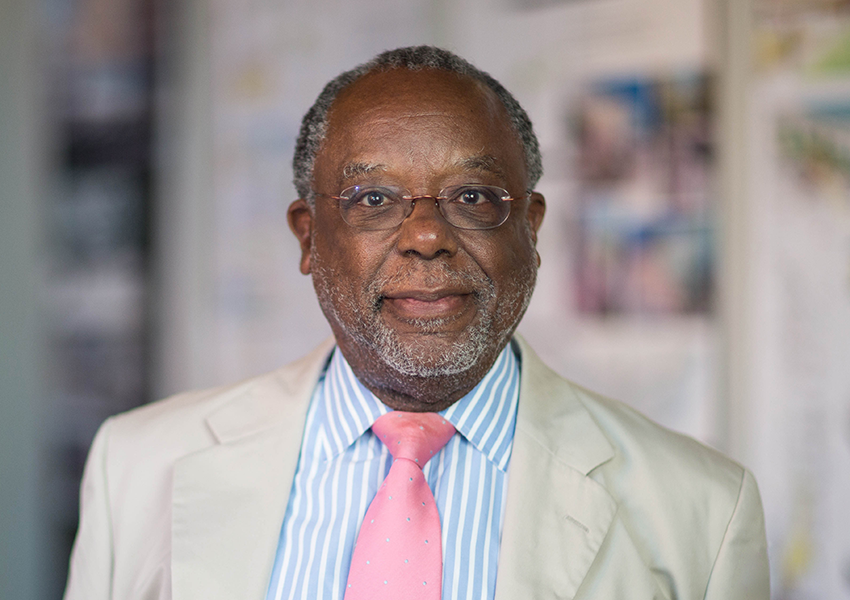 Ted Landsmark '64
Social Justice Hero
As a professor, social justice activist and visionary, Ted Landsmark '64 has made a career of public service.
In 1976, Ted Landsmark '64 was the subject of a Pulitzer Prize-winning photograph that became transformative in his life.
Raised in Harlem, Landsmark was a recent Boston transplant when he was assaulted outside Boston City Hall by an anti-busing protester wielding a flagpole that bore the American flag. Landsmark, then only 29 and fresh out of Yale Law School, was on his way to a meeting inside the building at the time of the attack. The photo, taken by Stanley Forman, was picked up by news outlets internationally and became a symbol in the fight for civil rights.
"One of the things I realized was that the photograph, and the opportunities I had to speak out on social justice as a result, created openings for me in Boston to address the City's racial history," says Landsmark, a 2022 recipient of the SPS Alumni Association Award.
Landsmark began his career as an associate at Hill & Barlow, a progressive law firm that accelerated his work in public service. His first boss at Hill & Barlow was Massachusetts governor and U.S. presidential candidate Michael Dukakis, whose Center for Urban and Regional Policy Landsmark now directs.
In a career full of meaningful moments, Landsmark spent 17 years (1997-2014) as president and is now president emeritus of Boston Architectural College, where he secured accreditation for programs in architecture, interior architecture, landscape architecture and design studies. During his tenure, the BAC developed the first online Masters of Architecture degree in the U.S. and doubled enrollment. With Landsmark's vision, the school worked to diversify the professions, encouraging and supporting women and people of color to enter the design professions. He was elected president of the National Architectural Accrediting Board and the Association of the Collegiate School of Architects,has served as board chair of the Institute of Contemporary Art and as a trustee of the Boston Museum of Fine Arts and the American Architectural Foundation, and serves on numerous non-profit boards.
Prior to his tenure at the BAC, Landsmark was graduate dean and special assistant to the president at Massachusetts College of Art and Design (1983-89). He has served under three Boston mayors. In the early 1990s, Landsmark oversaw a program that reduced Boston's murder rate by 80% over a two-year period. He was involved in the "Boston Miracle," working with the city's diverse community to "eliminate the racist-elected Boston school committee and replace it with a committee that is now appointed by the mayor." He has managed training programs in Charlestown and South Boston aimed at upgrading the job skills of undereducated residents, and, as a member of the Mass Bay Transit Authority board, proposed a program that offered free public transportation in underserved neighborhoods. In 2014, Landsmark was appointed by Mayor Marty Walsh to the five-member Boston Planning and Development Agency Board.
"In my own fairly quiet way, whether it's around education or employment, inclusivity or early work on for the Equal Rights Amendment, I've contributed," Landsmark says. "All of us should be working in positive, progressive inclusive ways to make better the lives of people who are not as privileged."
In his current role as distinguished professor and director of the Kitty and Michael Dukakis Center for Urban and Regional Policy at Northeastern University, Landsmark leads the Open Classroom, a global online forum, exploring topics related to social justice that is free and open to the public. He teaches courses on public policy, voter access, community economic development and housing. He is actively involved with the education of the next generation of public servants.
While the iconic 1976 photograph represented one of many transformative experiences for Landsmark, he says the post-graduate year he spent at St. Paul's School in 1963-64 was "life-changing."
"One of the things I learned at St Paul's," says Landsmark, who was overcome with emotion when he got the call about the Alumni Association honor, "was that you cannot construe your life in a narrow sense; it's important to travel, to read, to develop an interest in the arts and care about the environment. My classmates had a sense of social purpose and a level of humility about who they were and who they would become. It gave me a sense of what I could aspire to be."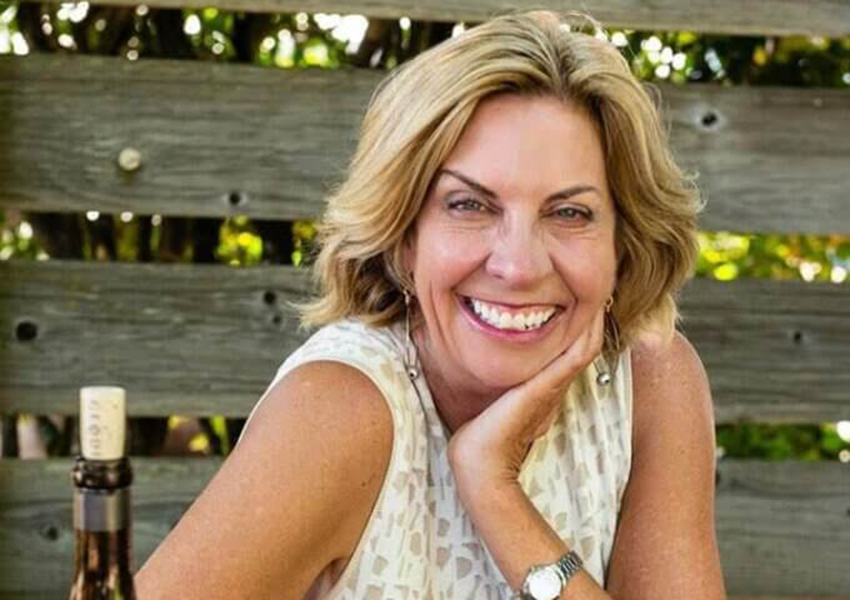 Judy Jordan '79, P'12
Social Champion
Judy Jordan '79, P'12 centers her next act around empowering young women.
In nearly 30 years of running her own winery, Judy Jordan '79, P'12 came to admire the work ethic of the men and women who helped her cultivate the land and the community they built through supporting the wine industry.
The impetus behind selling the successful J Vineyards and Winery in 2015 was a sense for Jordan that she was ready to begin what she calls her "second act." So, with the help of her former "J" chief operating officer, she started a nonprofit program, Women Gaining an Edge (WG Edge), "in gratitude to our agricultural community with the sole purpose of empowering the next generation of young women." To support the nonprofit, Jordan created a new wine brand, Geodesy, with 100% percent of profits supporting WG Edge.
"The program provides aspiring participants ("Edgers") with scholarships as well as connectivity to a network of women mentors," explains Jordan, a 2022 recipient of the SPS Alumni Association Award. "The result is an intergenerational village of female leaders."
WG Edge, which launched in 2019, serves high school graduates, who enroll at Santa Rosa (California) Junior College with the goal of earning a degree in agricultural or natural resources. The cohort is linked to a village of strong female leaders from various fields who are committed to "guide, inspire and open doors for the younger generation." Three years after its launch, WG Edge has grown so much that Jordan is now partnering with a larger organization that can amplify the number of young women supported.
"As our region faced difficult challenges — wildfires, COVID and drought, we witnessed incredible resilience in our Edgers and unwavering dedication from the leaders in our village," Jordan says. "They made the purpose and impact of the program even more powerful."
Jordan reflects on the idea of servant leadership that was instilled in her during her years at St. Paul's School. Though she knew little about the School when she applied as a teen from her home in Colorado, she found tremendous nurturing in the community and made close friends for life. One of those friends was Sarah Bankson Newton '79, who died suddenly in May 2021. Jordan credits Newton as the person who "inspired me and cheered me on as my team and I began this next act of creating a local village of women and mentors." She now shares the Alumni Association honor in spirit with her friend.
Though Jordan's family operated their namesake winery, she branched off on her own in her late twenties to start J. Building a winery tested not only her business acumen but also her management skills. In addition to finding joy in winemaking and in the customers who fell in love with J's offerings, Jordan came to cherish the company's in-house junior mentorship program, through which she first had a chance to work with the children of agricultural workers.
For most entrepreneurs, business success is measured through financial metrics. But for Jordan, ensuring the success of the next generation of agricultural leaders is the goal. By honoring the legacy of the families who have served as the backbone of Sonoma County's wine industry, she is giving back in a way that was ingrained in her at SPS.
"I really did not like Chapel four times a week at 8 a.m.," Jordan admits. "But, in retrospect, I appreciate that we were reminded to begin our days in community with faithful introspection and in service of others. Forty years later, community and service are foundational tenets to WG Edge. I like to think that a piece of our time in Chapel is being shared with each and every young woman in our program."